Mexican citizens are capable now to apply for an e-Visa online if they are arranging travel to Bahrain. If you don't form part of the group of countries exempted to visit the country you must need this document to pass over the frontier.
Luckily, visiting the embassy is not mandatory anymore if you want to get your Bahrain's visa. Count with iVisa's services and you will get your visa in almost no time delivered by email.
This blog post, is a big summary of everything you need to know: requirements, documents, processing times, prices, and all other things you should think before you make an application.

Frequently Asked Questions (FAQs)
As a Mexican Citizen, is it mandatory to get a visa to visit Bahrain?
It is, as a Mexican passport holder, you require an evisa to visit Bahrain. The good news is that you are capable to apply for your visa completely online.
Is it necessary to contact the Bahrain Embassy?
Not at all. Exists a better alternative to enter Bahrain and avoid any contact with the embassy. Bahrain embassy as an authority has only the responsibility of reviewing the traveling processes and decide the approvals or rejections of any visa. Nonetheless, you have the opportunity to apply with a professional visa company, the most recommended iVisa. Let me tell you that having the guidance of these types of company are a relief and the best decision. iVisa assists you to apply online and to obtain your visa, eliminating all the possibilities of having direct contact with the authorities. It is perfect, isn't it?
Once I have my evisa, how much can I stay in Bahrain?
As soon as you cross the frontier and enter to Bahrain, you can be in country for 30 days Per Entry.
How can I check my eligibility?
As we said before, Mexico now has available the online application to obtain a Bahrain e-Visa. However, it's recommended to always check this on iVisa's website.
In order to confirm your eligibility, you can utilize the Visa Checker. This is a tool designed by iVisa, it is very useful to know if you qualify for this e-Visa. You just Only write "Mexico" as your origin country and introduce Bahrain as your country destination. In this way, you'll know your eligibility automatically.
What are all the requirements?
iVisa process has a few steps. You'll have to prepare some documents, but nothing too hard to achieve. The following documents are required:
An officially valid passport – Mexican passport is a quite common document. Getting one is simple but if you have already one, please make sure that its validity lasts for at least 24 weeks from your arrival date.

A Valid personal e-mail address – We send you your e-Visa by e-mail, so you need to provide a well spelled and valid e-mail address. Make sure to check the spelling. The information must be accurate, otherwise, you could not receive the online document.

Return flight ticket – The Bahrain e-Visa allows you to be inside the country for a maximum of two weeks, the authorities need proof your return until your visa expires. This document is the perfect option to prove it.

Means of subsistence for your trip – This is a commonly requested document at the immigration offices. You need to provide a bank statement or any other document that proves you have the capability of supporting yourself during the trip. That way you cannot be suspected of going to Bahrain for illegal work.

Means of payment – Once you are ready to submit your application, you will need to make the payment. It will cover the cost of your visa and the services provided by iVisa. It is up to you. You are allowed to use a debit or credit card as well as your Paypal account.
How Long is My Bahrain Visa validity?
As any other document, this e-Visa has an expiration. So this one is available for 30 days after issued.
What are the fees and processing times regarding this document?
The total price of your Bahrain e-Visa is determined by the processing time you choose. iVisa offers, three options, all of them worth. However, be aware, that the faster you wish your visa to be processed, the more money you will need to pay. These are the options:
Standard processing lapse – This is the least expensive option, its cost is just USD 116.49, but takes 7 Business Days to get your e-Visa. Despite this, it is a great option if you plan your trip with anticipation.

Rush processing time lapse – With this option, you just need to wait 6 Business Days, and the total price is USD 175.99.

Super Rush processing time lapse – you can select this alternative if you are in an emergency or rush. The evisa will be processed in 5 Business Days. Clearly, the price is higher. You will pay USD 185.99. Trust me, it totally worths.
Delays are not common, but it is better to be one step ahead and prevent any inconvenience. This why we suggest you apply for your Bahrain e-Visa with anticipation. As an example, if you select Rush, the best option applying 8 days before your departure date. Do not worry, if there is any delay, w will notify you.
How long is the application process to apply for the Bahrain e-Visa?
You will take 15 minutes or less. Complete the application form is easy. Your Bahrain e-Visa will be ready sooner than you expect.
How is the procedure to apply for a Bahrain e-Visa?
Many people imagine that it is a complicated process, but iVisa makes it easy and simple. There is no hard process at all, iVisa created a process with just three steps you need to follow:
First You need to fill all the general information: such as an address, name, passport info, phone, etc. After that, you need to choose the processing time of your preference.

Second You need to revise all the information provided. Please, check it carefully before sending it to iVisa, any mistake can invalid your application. Also, you will have to answer a short questionnaire, we suggest you be honest to avoid any inconvenience.

Third Make the payment and finally *click the submit button**. This is it! Pack your things and prepare for your trip with any stress.
How many times can I visit Bahrain with my e-Visa?
With your Mexican Passport, you'll get a Multiple Entry e-Visa, you can travel to Bahrain as many times as you want.
Just remember Bahrain e-Visa expires 30 days after issued.
Can I see a sample of my future eVisa?
Here, you can see one: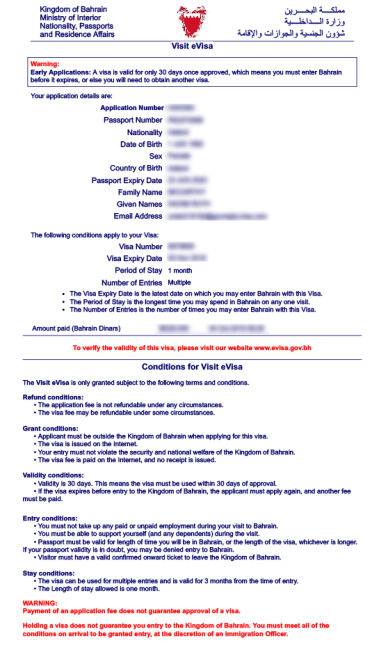 Is it necessary to visit Bahrain on the exact date stated in the application form?
It is not, just don't forget you can travel within the period specified in approved e-Visa document.
How do I know if my Bahrain e-Visa is valid for travel?
If you have applied for the Bahrain e-Visa, you can use iVisa's website to find out the current status of your e-Visa. You will need to log in in order to make this inquiry and renew your e-Visa if necessary.
Is there any Vaccination Requirement?
You may need a Yellow Fever Vaccine when traveling to Bahrain. To check that, you can enter this link: https://www.who.int/ith/ITH_Annex_I.pdf
If I have already a valid Bahrain e-Visa, may I apply once more?
You can't have a new visa, it is linked to your passport. You will need to wait until your current Bahrain e-Visa expires. On the other hand, if you have the bad luck of losing the passport in which the current evisa is linked, then a new application is needed, as well as payment. But don't worry you will only need to pay the fee by this time.
Where can I have more info?
If you have unresolved questions or doubts, click here and you will get more information about the country, tourism, and the application process. As another alternative, you can also talk with our customer service agents by clicking here. We will be happy and pleased to help you.
As you see, getting a Bahrain electronic visa is quite simple. Not challenging at all. Remember, you also count with our iVisa's support service, it is available anytime.
Remember that you're permitted to be in the country for a maximum time of 30 days Per Entry and have Multiple Entry.