Bahrain's visa policy is quite simple and effortless for certain citizens, including Polish. This is possible because you only need a Tourist eVisa to enter this exotic country. Nevertheless, you should consider that there are still some rules to follow, just not as hard as it could be for a consular visa.
In this post, we will explain all the things you need to know before you apply for your eVisa.

Frequently Questions (FAQs)
Is it mandatory to get a visa to travel to Bahrain if I'm from Poland?
Yes, Polish requires the Bahrain visa to travel to the country. The good thing is that now you can apply for an online visa.
What is a Bahrain eVisa tourist document?
It is an approved official document. The Bahrain Tourist e-Visa permits you to visit the country and it is linked to your passport electronically.
How much can travelers be in Bahrain with this evisa?
You are able to be in Bahrain for a maximum 30 days Per Entry
May I know the requirements to apply for Bahrain Tourist e-Visa?
iVisa provides one of the most simple services you will ever find. However, that doesn't mean you won't do any effort, a small one will be needed. You just will need to provide what is necessary for the process to move forward. Here is the short list of requirements:
Passport Personal Details Scan

Return Air Ticket

Proof of Accommodation

Most recent 3 months bank statements (if applicable)

Last Page of Passport (if applicable)

Justification Letter (if applicable)

GCC Residence Permit (if applicable)

Work Certificate (if applicable)
Remember that you will receive your Bahrain eVisa via e-mail in PDF format, this why you must provide a valid e-mail address with a correct spelling. You also need a valid payment method to pay the fees, and this method can be a credit/debit card or a PayPal account.
How long is the Bahrain eVisa validity?
The document has a validity of 30 days after issued.
Can I know the price for the Bahrain Tourist eVisa?
Of course, during the process of your application for a Bahrain Tourist Visa is necessary to select a time of processing. This action will be on the first step. Your choice will determine the cost of the eVisa. The faster you want your eVisa, the more money you need to pay. Check here the three options available for you:
Standard processing option – Your eVisa will be ready within 7 Business Days, and its price is USD 114.00.

Rush processing option – This processing time is faster than the previous one, in only 6 Business Days you will receive your visa, this is why the cost is higher too. You'll pay USD 144.00.

Super Rush processing option – The fastest processing time available in iVisa, within just 5 Business Days you will have your visa in your hands, but as you possible expect, it is the most expensive option. The total price is USD 179.00.
How long is the application process for this visa?
You will take 20 minutes or less to get ready for your Bahrain Tourist e-Visa.
How can make my application?
When you gather all the required documents and data needed, you can continue by filling in the application form. The process is quite simple and easy. If you have any problem or you need some help, do not hesitate and contact our amazing support service, they will be pleased and happy to help you 24/7.
To complete your application, you just need to follow three easy steps:
In the first step you will need to introduce all your personal information, but only the general, such as name, address, e-mail address, passport info, and others. During this step you will have to select the processing time of your preference.

In the second step you will need to review and do payment. You must insert the information you are asked to provide as accurate as possible. As soon as the visa is linked to your passport electronically, changes are no longer an option.

In the last step you will need to answer a short questionnaire and upload the additional documents. Any extra document depends on the specific situation. As an example: You decide to travel with your kids and they are minor, so in that case you will need for their applications an authorization letter from the other parent (or a spouse death certificate if the person has deceased.) After you finish al the previous processes, just submit your application, we will notify when your visa is ready.
As you can see, the process could not be simpler. You can start your online form here.
Since when I'm able to know if my Bahrain Tourist e-Visa is ready to use?
Once you complete the application form, you will receive an email when the Bahrain Government approves the eVisa.
Can I see a sample of my future Bahrain eVisa? Of course, Here you have one: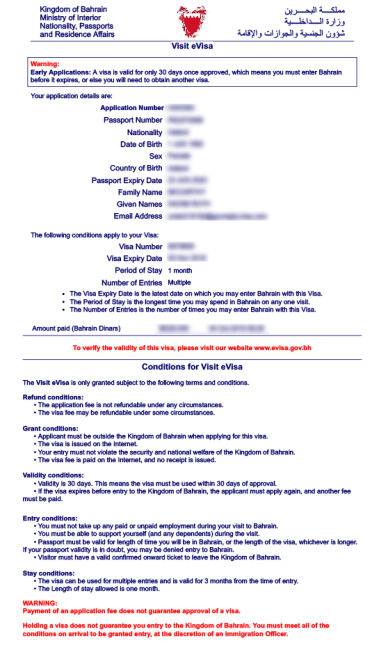 Is it necessary that Polish Citizens enter Bahrain on the exact date specified in the electronic Visa application?
Not at all. You can indeed visit Bahrain since the date specified in your electronic visa but it doesn't mean that you are not able to visit Bahrain when you wish. You can travel on any date within the validity period of your evisa.
How safe to apply with iVisa?
iVisa has a high rate of protection and also an advanced method for ensuring that all customer's information protected and private. If you're worried about your personal information being revealed, trust in iVisa, we will protect not only your data but the whole process as well. We always want to provide the best service for our customers.
If I need more information about this eVisa where I can fin it?
If you require more info or you have doubts, you can always check here for more details. On the other side, you can also talk with one of our customer service agents, if you want this option just click here, we will very happy and pleased to guide you.
You can be ready for your trip today! Just apply online with iVisa and it will be possible!