Plenty of nationalities, including Portuguese, can get a Bahrain eVisa that allows a maximum stay of 30 days Per Entry. This is an excellent option if you're planning a trip to this country and you want to stay only for a month or less.
With iVisa it is possible to get this eVisa in only 3 business days if you're in a rush. Do you want to know how to apply for this eVisa? Then keep reading the information below.
Frequently Asked Questions / FAQs
I'm Portuguese, do I need a visa to enter Bahrain?
Yes, Portugal is one of the countries that require a visa to visit Bahrain. However, you can simply apply for an online visa, better known as Bahrain Tourist eVisa
What is a Bahrain Tourist Visa?
The Bahrain Tourist e-Visa is an authorized document that allows you to travel and enter Bahrain with an electronic system linked to your passport.
How long can I stay in Bahrain?
If you're Portuguese, you can stay in Bahrain for 30 days Per Entry
What requirements do I need?
You will never find an easier service than iVisa. However, that does not mean you do not have to make a small effort. It requires you to provide the necessary documents to proceed with your application. Here is a list of what you need:
Passport Personal Details Scan

Airline Confirmation

Proof of Accommodation

Most recent 3 months bank statements

Last Page of Passport (if applicable)

Justification Letter (if applicable)
Before submitting your application, you will be asked to make the payment. You can use a credit or a debit card, and if you have a Paypal account, iVisa accepts that as well.
Also, keep in mind that the Bahrain eVisa will be sent to your e-mail in PDF format, which is why you have to offer a valid e-mail address.
How long is the Bahrain eVisa valid for?
This eVisa is valid for 30 days after issued.
What is the price for the Bahrain eVisa?
When you apply for the Bahrain Tourist Visa you must choose a processing time in the first step. Your selection will determine the total price of the eVisa. In simpler words, the faster you want your Tourist eVisa, the more you have to pay. Here are your options with iVisa:
Standard processing time – Your document is ready in 7 business days, and the price is USD 114.00.

Rush processing – the processing time is faster this time, you'll wait 5 business days and you'll have to pay USD 144.00.

Super Rush processing – This is the fastest processing option, it only takes 3 business days for your eVisa to be processed, but as you might expect, it is also the most expensive alternative. You'll be charged USD 179.00.
How long does it take to apply for this visa?
In only 30 minutes or even less, you'll be ready with your Bahrain e-Visa.
How can I apply?
Once you get everything you need, you can proceed to fill in the form. It is an easy process, and if you require any help, iVisa puts at your disposal an excellent support service that is available 24/7.
The process consists of three simple steps:
The first one will ask you to insert your general information such as name, address, e-mail address, passport info, and others. Also, during step one, you will need to choose a processing time. Do not forget that your selection will determine the price of the eVisa.

The second part of the application process consists of revision and payment. The information must be as accurate as possible. This part is important because once the eVisa is linked to your passport, you won't be able to change anything. not even a typo. Double-check the spelling to feel sure about it.

Last but not least, the third step will require you to answer a set of personal questions and upload additional documents. The questionnaire is simple, but the additional documents depend on the situation. For example, if you travel with your child, you will need an authorization letter from your spouse (or a death certificate if the spouse is deceased.)
Once you complete all the steps, click on the submit button and wait for the eVisa to arrive in the timeframe you chose.
If you're ready to start this process, click here.
How will I know if my Bahrain Tourist e-Visa is approved?
Once you finish your application form, iVisa will send you a verification email as soon as the Bahrain Government approves the eVisa.
How does the Bahrain e-Visa look like?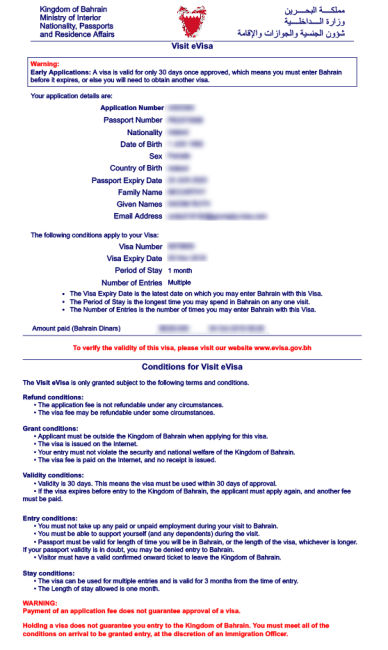 Do Portuguese Citizens have to enter Bahrain on the exact date specified in the e-Visa application?
No, they don't need to do this. The valid period of your Bahrain Tourist Visa counts from the date you specified in your approved e-Visa.
Is it safe to apply using iVisa's service?
iVisa has an advanced system to ensure that all user's information is private and safe. You can trust iVisa to protect not just your information, but also all of the online process. You can verify this information by reading our testimonials.
Where can I find more information about this eVisa?
If you still have doubts about this process, you can check here more useful FAQs. On the contrary, if you want to talk to one of our customer service representatives, then click here, we'll be very happy to assist you.
As you can see, the process could not be simpler. The Bahrain visa for Portuguese you receive is valid for 30 days after issued and allows you Multiple Entry. Get ready for your trip today!