Thai who wants to visit Bahrain for their next travel are now able to request for their visa online. If you are from a country that needs a visa, you are no longer required to go to Bahrain's embassy in order to get one. Simply APPLY ONLINE WITH iVisa and have your visa sent via e-mail in as fast as three business days.

Frequently Asked Questions (FAQs)
Is it necessary to contact the Bahrain embassy for any travel arrangements?
You don't need to contact the authorities directly, there is no need to visit an embassy. The Bahrain embassy is only involved in two steps, regarding the whole process of a visa application: application revision and the decision of approval or rejection. All the other section will be managed by you, but do not worry we know that it could be a stressing procedure, this is why applying with a professional visa company like iVisa ensure you a successful application, we provide the complete service for you so you won't need to visit an embassy.
Do I need a visa if I am a Thailand passport holder
Yes, Thailand is one of the countries that need a visa to enter Bahrain. To check requirements, click here.
What is a Bahrain Tourist Visa?
The Bahrain Tourist e-Visa is an official document that offers authorization to travel and enter Bahrain. This document is electronically linked to your passport.
What are the requirements to apply for Bahrain Tourist electronic Visa?
iVisa provides the simplest service available online. It is effective and easy. We apply for you and take care of the entire application process but also we will need some things that you have to provide. Here is the list of what is needed:
A Valid passport – obtaining a passport is not difficult, and probably you have already one. Please, always check the expiration date. The passport needs to remain valid for at least another 6 months from your date of departure. Otherwise, your application could be denied.

Return flight ticket – since the maximum stay is 30 days Per Entry, Bahrain's immigration office needs to make sure that Thais will follow that rule. You can do this by showing them a return flight ticket. It may not be the most solid proof, but plane tickets are not cheap, so it is a start.

Means of subsistence – you may be required to show a bank statement to prove that you can support yourself during your trip.

Means of payment – before submitting your application, you will be asked to make the payment, both for the visa itself and for the services provided by iVisa. You can use a credit or a debit card, and if you have a Paypal account, iVisa accepts that as well.

Valid e-mail address – the Bahrain eVisa will be sent to you via e-mail in PDF format, which is why it is crucial that you insert it correctly. Double-check the spelling for your peace of mind.
How Much Does it Cost to Get A Bahrain Tourist E-Visa?
When applying to your Bahrain Tourist Visa you have to choose a processing time during step one. Keep in mind that your selection will determine the price of the visa. Here are your options:
Standard processing – this is the cheapest option you have. Your application will be processed within 7 Business Days, and it costs USD $140.99 (or the equivalent of the currency you have in your country)

Rush processing – this time the timeframe is cut in half. You must wait for 6 Business Days until your visa is ready, but the price is higher as well. The total amount you need to pay is USD $181.99.

Super Rush processing – in case of emergency, you can select this processing time. Your application will be processed within only 5 Business Days. As you can expect, the price is higher this time. You must pay USD $229.99.
How long does it take to apply for this visa?
Within just 20 minutes or even less, you'll be ready with your Bahrain e-Visa.
How do I apply for this e-Visa?
After you have everything you need, you can proceed to fill in the application form. Even if it is an easy process, you can get in touch with iVisa's excellent support service that is available 24/7 if you require any help.
The process is divided in three simple steps:
The first one will ask you to insert your general information such as name, address, e-mail address, passport info, and others.

The second step of the application process consists of revision and payment. It is imperative for you to insert necessary information as accurately as possible. As soon as the visa is linked to your passport, changes are no longer possible.

Lastly, the third step will require Thai citizens to answer a set of personal questions and upload additional documents. The questionnaire is simple, but the additional documents are a case to case basis, so consider it carefully.
How many times can I enter Bahrain with my Thai passport?
While you have a valid Thai passport and your Bahrain e-Visa, you'll be able to have a Multiple Entry access.
What should I do if I travel with my children to Bahrain?
If you travel with minor children, you will need an authorization letter from the other parent (or a death certificate if the spouse is deceased.) Once you are done with all that, you submit your application and wait for it to arrive in the timeframe you chose.
Can I extend my electronic Visa if I want to stay longer in Bahrain?
If you want to extend the valid time of your Bahrain e-Visa you must visit the General Directorate of Nationality, Passports & Residence (NPRA) so they can help you with this process.
How will I realize if my Bahrain Tourist e-Visa is ready?
Just as soon as you finish your application form, we will send you an email when the Bahrain Government approves your document.
How does my Bahrain e-Visa will look like?
This is a sample of the visa: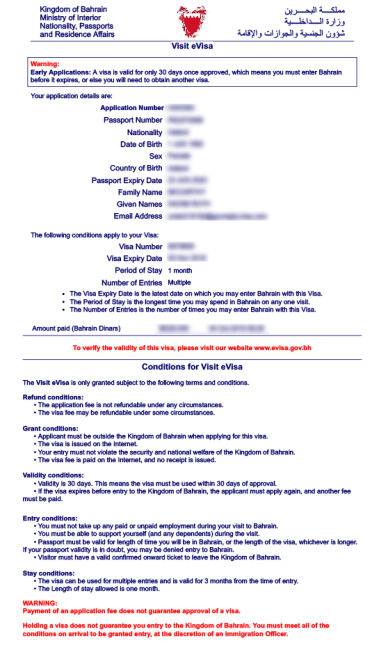 Do Thai citizens have to enter Bahrain on the exact date specified in the e-Visa application?
Not necessarily. Keep in mind that the valid period of your Bahrain Tourist Visa counts from the date you specified in your approved e-Visa document. In other words, you can enter Bahrain on any date within this validity period.
How Secure is the Application Process with iVisa's services?
iVisa has a high rate in security and also a top-notch method for ensuring that all user accounts are private and totally secure. If you're worried about your personal information being exposed, you can trust iVisa to protect not just your information, but also all of the process for you to always receive the best.
Where can I find more information about Bahrain?
There's no problem if you still have questions. You can check here more information about Bahrain and its visas, or even its tourism. On the contrary, if you want to talk personally to one of our customer service agents, then click here, we'll be very glad to assist you.
As you can see, the process could not be simpler. The Bahrain visa for Thai is valid for 30 days and allows you multiple entries. It is easy to obtain, and iVisa does an excellent job of servicing you.