Every Turkish who wants to go and sightseeing Bahrain now are able to make an application online for a Bahrain electronic Visa. So there is no longer required for you to visit any embassy. To obtain your evisa, all you have to do is use the services provided by iVisa.
Nevertheless, there's some basic information you should consider before applying online, including the requirements and the price you have to pay for your eVisa. You can learn this information by reading the following information

Frequently Asked Questions / FAQs
I am a Turkey citizen, is it necessary to get visa to travel to Bahrain?
If you're from Turkey is mandatory to get a visa, but avoid despair, you can apply for an eVisa online.
Is it necessary to visit the Bahrain Embassy for Travel Arrangements?
Absolutely not – there are better options to visit the country, and visit an embassy is not involved in it. The Bahrain embassy is only responsible in the regulation of the visa approval, definitely, count with the assistance of a professional visa company like iVisa ensures avoiding any visit to foreign embassies.
What is a Bahrain Tourist electronic visa?
It is an official document. The Bahrain Tourist e-Visa allows the entrance to Bahrain.
How long can I stay in Bahrain?
As a Turkish, you can be in the country for 30 days Per Entry.
May I know what are the required documents?
The online application is easier. Nevertheless, you still gather som info and documents. Do not worry, they are accessible to get and are just a few of them. These are the requirements:
Passport Personal Details Scan

Return Air Ticket

Proof of Accommodation

Most recent 3 months bank statements (if applicable)

Last Page of Passport (if applicable)

Justification Letter (if applicable)

GCC Residence Permit (if applicable)

Work Certificate (if applicable)
The dynamic of this evisa is different. The visa will be electronically attached to your passport, once it is approved. By the time your visa is approved, we'll send you a hardcopy to be printed. It will be requested at the airport. The delivery is made via e-mail, so make sure that you provide a valid e-mail address for this.
You also have to pay iVisa's fee, which is why it is so important to count with a valid payment method. You can pay with credit/debit card or even PayPal.
How long is this eVisa valid for?
You can use your Bahrain eVisa for 30 days after issued.
Can I know the fees and processing times?
The amount of money you have to pay for your Bahrain eVisa is determined by the processing time you choose. You may select between the three options available in iVisa. Don't forget, the faster you wish your eVisa, the more money you will have to pay for it. Here you can see the options:
Standard processing time – You will wait 7 Business Days, to get your eVisa and only for USD 114.00. This option worths if you like to plan ahead.

Rush processing time – The evisa will be ready in 6 Business Days, and the price is USD 144.00.

Super Rush processing time – The eVisa will be grant in only 5 Business Days. This is the fastest options, and that's why the price is the most expensive too. You will need to pay USD 179.00.
How can I make my application?
the visa procedure is straightforward. You just need to follow three easy steps. In case, you want assistance, the iVisa's support service is ready to answer your calls 24/7.
In the first section The application form has to be completed with your personal info. This is an easy task and it should take you about five minutes. At this point, you also need to select a processing time. Remember, your selection will modify the price of the Bahrain eVisa.

Second step in this part, the application requires careful revision and you will need to pay. Ensure all the information provided is correctly spelled and complete. By the time the application is processed, you won't be able to modify any data, as well any payment will be refunded.

Finally you will need to answer some questions and upload some documents. These extra documents will be different in every particular case, so it is not equal for everyone. Do not worry, we'll notify if extra info or documents are necessary.
The process does not present any challenges. If you feel ready to start, click here.
*In case, I want to travel with my kids to Bahrain, what procedure do I need to follow?**
If this is your case, a consent letter from the other parent (or a death certificate if the person is defunct) will be necessary.
How does my Bahrain Electronic Visa will look like?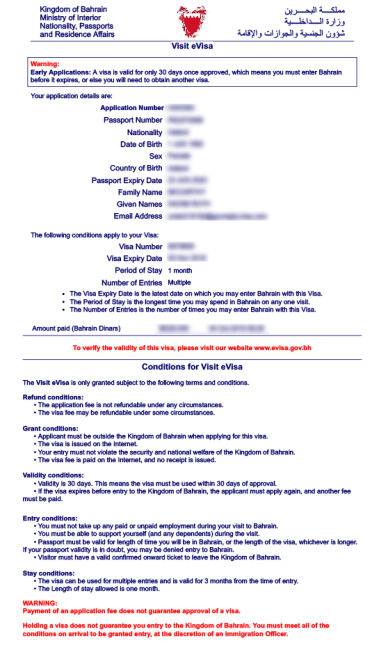 How safe is using iVisa to make my application?
We have an excellent security rate and a top-notch system to protect all user's information. Our data, including yours is private and safe. Do not worry about your basic info. It won't be leaked. Don't get stress, trust in us. iVisa will protect your personal info properly.
If I need more information about Bahrain, what can I do?
In case, you have more questions or doubts, then don't bother. Click here to find more details about Bahrain's eVisa. In case, you prefer to have a direct communication with us, you can always call our customer center, click here, they will be very glad and pleased to guide you.
The iVisa application system is the easiest option. The Bahrain visa for Turkish Citizens will be ready faster than if you apply in a traditional way. Use your time to relax and do your favorite activities. We will do the whole process. the only thing you need to focus on is your trip!