Bahrain - Open for Tourism, here's what you'll need
Bahrain - Open for Tourism
Trustpilot recommended. We lead the industry in innovation and reputation
Learn More: Tourist eVisa
Apply Today for a Bahrain eVisa (Tourist Visa) with us!
Last updated: May 2023
The Kingdom of Bahrain is a favorite getaway for weekenders from Saudi Arabia and Formula 1 Grand Prix fans. In this mosque-studded country, UNESCO World Heritage sites coexist with skyscrapers and luxury hotels.
Whether you're visiting the Persian Gulf for tourism or business, it's essential to check the Bahrain Visa requirements before you pack your bags. Luckily, we are here to give you the most up-to-date information for your upcoming trip and help you get your Bahrain Tourist eVisa online without hassle.
Read more about the process and the Bahrain eVisa below and apply instantly online!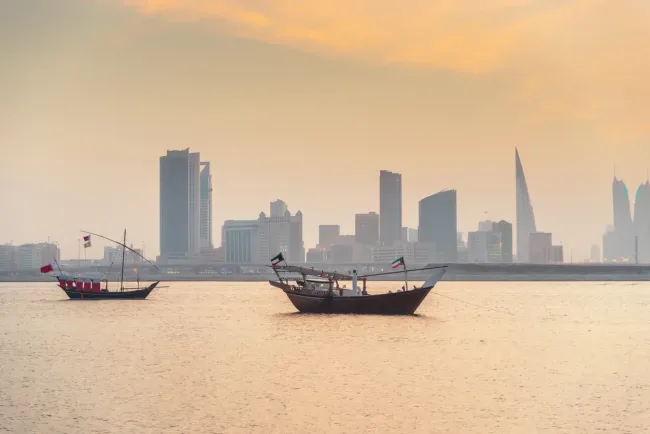 What is the Bahrain Tourist eVisa?
The Bahrain Tourist Visa, also called the Bahrain Visit Visa, is an electronic travel document for which you can apply 100% online, without visiting an embassy or consulate. Instead of placing a stamp or sticker, your passport is digitally linked to your electronic visa.
We offer two types of Bahrain Tourist eVisas, the multiple- and single-entry visas.
Once you have a valid visa, you can visit Bahrain without an invitation letter. This does not apply for the Bahrain Visa on Arrival issued at ports and airports.
What you can do with the Bahrain Tourist eVisa:
Explore the country, watch a Formula 1 race, and other tourist activities.

Visit family and/or friends residing in the country.

Business purposes.
It will only take around 20 minutes to fill out our simplified form online. Get your visa now!
Who needs the Bahrain Tourist eVisa to enter the country?
The Bahrain eVisa is available to citizens from over 100 countries, including Australia, New Zealand, many European countries, Singapore, the United Kingdom, and the United States.
You must be outside Bahrain to apply online. Children and minors also need a valid Bahrain visa if they are from an eligible country, parents or legal guardians are responsible for their application.
If you want to know if you can apply for this visa, use our convenient Visa Checker Tool and apply instantly with us!
How long is the Bahrain Tourist eVisa valid?
We offer two types of Bahrain Visas:
Multiple-Entry Visa, valid for 90 days after arrival and allows you to stay for a maximum of 30 days Per Entry in Bahrain.

Single-Entry Visa, valid for 30 days after arrival and allows you to stay in Bahrain for two weeks.
You must have used your previous visa, or it should have expired, before you can apply for another Bahrain Visa. It is not possible to have more than one visa issued per passport, at a time, for Bahrain.
You can apply for each of these Bahrain eVisas online with us by clicking here.
Bahrain Tourist eVisa requirements and documents
To start the online application process for the Bahrain Tourist Visa, you need to provide the following documents and information:
Your valid passport. Make sure the validity period is for at least 6 months, starting from the day you arrive in Bahrain. It also needs to have at least one blank page.

Copy of the photo page of your valid passport. Additionally, if you have an Indian passport, you will need a copy of its last page.

Copy of your return flight ticket.
Please note, depending on your nationality, you may also have to provide the following supporting documents for your Bahrain Visa application:
Copy of your hotel booking confirmation or a copy of a relative's CPR Reader's printout. The dates in this document must match the travel dates selected during the application process.

Copies of stamped bank statements in the traveler's name from the past three months, with an end balance of not less than US$1000.

Copy of a valid GCC residence permit that's still valid for at least three months.

**Copy of a valid visit visa for the United Arab Emirates, United Kingdom, United States, Saudi Arabia (excluding Hajj and Umrah Visas), a Schengen Member state, or a U.S. Green Card.
How to apply online for the Bahrain Tourist eVisa
Get your Bahrain Tourist Visa in three easy steps with us:
First, fill out our easy online Bahrain Visa application form. Then, choose the preferred processing time.
Tip: Download the iVisa app for iOS or Android, for an even smoother experience from your mobile device.
Second, double-check and verify your information. Then, pay the iVisa processing fee (see below for more information on service fees).

Third, upload the supporting documents and click on the submit button to apply for your Bahrain Tourist eVisa.
Once the online application is submitted, we'll update you about your Bahrain eVisa status. Once approved, a confirmation of your Bahrain eVisa document will be sent via email. The eVisa will also be electronically linked to your passport.
We still advise you to have a printed copy and to also download it on your electronic device, just in case you need to present it at Bahrain International Airport.
Please note: When you apply for this visa, you need to be outside Bahrain.
Bahrain Visa status: How to track your application
Our team will contact you by email if we need more info for your application, and we will update you as soon as your visa decision has been made. However, if you wish to track your Bahrain Visa status, simply enter your details here.
Cost and processing time of the Bahrain Tourist eVisa
We are ready to help you get your Bahrain eVisa before departure. We offer three options of processing times to choose from depending on your budget and how fast you need your Bahrain eVisa:
Standard Processing Time: This option takes max. 10 days and costs USD $83.99. It is a perfect choice for travelers whose arrival date is at least a few weeks in the future.
Rush Processing Time: You will receive your eVisa faster than the standard option, in just 7 days, for USD $125.99.
Super Rush Processing Time: If you need the document urgently before travel, you can use this express option, which will take only 5 days for a fee of USD $172.99.
Please note that a government fee of US$79.00 is included in the total online price, so you can pay all at the same time.
The prices you see in this section are a reference. They can change according to your nationality.
Apply now to check the exact fees during the application process!
Do I need a Bahrain eVisa if I'm transiting through the Kingdom of Bahrain?
No, you don't need to apply for the Bahrain e-Visa to transit at the airport, as long as you hold confirmed plane tickets and the necessary travel documents for your destination country.
If you are going to stay more than 8 hours at the airport, you will need a transit visa. Contact your nearest Bahrain Embassy or Consulate for more info.
Benefits of getting the Bahrain Tourist eVisa with us
Application 100% government-compliant: Our iVisa team will review each one of the answers you give on the form and adjust them to be 100% compliant with the government requirements.

Simplified form: Complete a simplified form with clear questions, instead of answering tedious and confusing questions on the government website.

Fill out at your own pace: Make changes whenever you want, save your progress, and take a break whenever you want.

iVisa values your safety: We have a solid security system to protect your personal information.
COVID-19 requirements and restrictions in Bahrain
Travel to Bahrain is again possible. All COVID-19 testing and quarantine requirements are lifted for visitors, regardless of their vaccination status.
There's also no need to prove your COVID-19 vaccination status to visit Bahrain.
Other visas for Bahrain
Bahrain offers a range of visas to cater to different purposes of travel. Here are some of the common visa types available:
Bahrain Tourist eVisa: This visa, available online with us, is suitable for individuals planning to visit Bahrain for tourism, family visits, or business meetings. It is typically valid for a short duration, such as two weeks or one month, and can be extended if required.

Bahrain Business Visa: Specifically designed for individuals traveling to Bahrain for business purposes, this visa allows participation in meetings, conferences, or trade events. It usually has a longer validity period compared to a Tourist Visa.

Bahrain Work Visa: Intended for individuals who have secured employment in Bahrain, typically sponsored by the employer.

Bahrain Family Visa: The Family Visa allows spouses, children, parents, and other close relatives to join a primary visa holder in Bahrain.

Bahrain Student Visa: This visa is for international students who have been accepted into a Bahraini educational institution.

Bahrain Transit Visa: Travelers transiting through Bahrain to another destination can apply for a Transit Visa for 48 hours or 72 hours, depending on the circumstances.
It is advisable to consult the official website of the Bahraini authorities or contact the nearest Bahraini embassy or consulate for the most accurate and up-to-date information regarding long-term visa options.
Can I extend my Bahrain Tourist eVisa?
Extension of the Bahrain Tourist eVisa is possible for eligible visitors. You can extend the visa on the Kingdom of Bahrain's online portal, by filling out your passport number, and other details.
What else should I keep in mind before traveling to Bahrain?
Bahrain is an important business and tourist destination in the Middle East. While Bahrain locals are accepting of foreigners and visitors of other faiths, just as in many countries in the Middle East, travelers should familiarize themselves with the country's culture and local laws to avoid offending their hosts.
Dress code in Bahrain
Just as in every country with a majority-Muslim population, avoid violating cultural and religious norms and make sure to dress conservatively in public.
Women should cover their shoulders, knees, and midriff and avoid wearing any clothing that shows underwear. While men face fewer restrictions, it is generally considered inappropriate to wear shorts in public.
More questions about the Bahrain Tourist eVisa?
If you need assistance or would like to talk to one of our visa experts about your application for your upcoming trip to Bahrain, don't hesitate to contact our customer service team. They are available via online chat or email at [email protected] to answer all your questions.
Required Documents to Apply
Passport Scan. Make sure it is valid for at least 6 months, starting from the day you arrive in Bahrain.

Copy of your return flight ticket.

Copy of your hotel booking in Bahrain (if needed).

Copy of relative/friend's ID reader (if needed).

Copy of your bank statements from the last three months.

Copy of at least 3 months valid GCC residence permit (if needed).

Copy of a valid visit visa to the UAE, UK, USA, KSA (excluding Hajj and Umrah visa), Schengen, or USA Green Card. (For certain nationalities.)
According to your nationality, you will be required to upload some additional documents.
Important Instructions
The Bahrain e-Visa is a Multiple Entry visa.

The Bahrain e-Visa is valid for 90 days after arrival and you can stay in the country a maximum of 30 days Per Entry.
After your visa is approved, you need to use it during the first 30 days, or it will expire. The validity of this visa will be recognized when you enter the country.
With this visa, you can visit family and do tourist and business activities.

You can't do remunerated activities (work) during your visit to Bahrain.

Make sure your passport is valid for at least 6 months, starting from the day you arrive in Bahrain to apply.

Applicants must be outside the Kingdom of Bahrain when applying for this visa.

If you are a citizen of the Golf Cooperation Council (Kuwait, Oman, Saudi Arabia, United Arab Emirates) you won't need this visa to visit Bahrain.

Children also need to apply for this Bahrain Tourist eVisa.

If you want to know if you can apply for this visa, use our handy Visa Checker Tool.

You must enter Bahrain through the airport. You cannot use this visa to enter Bahrain via the King Fahad Causeway.

You must have a valid/confirmed onward travel ticket to leave Bahrain.

Your visa must expire before you can apply for another. Note that visas are issued one at a time.

iVisa is a legitimate company, accredited and recognized by the International Air Transport Association (IATA). For more information, see the FAQs below.