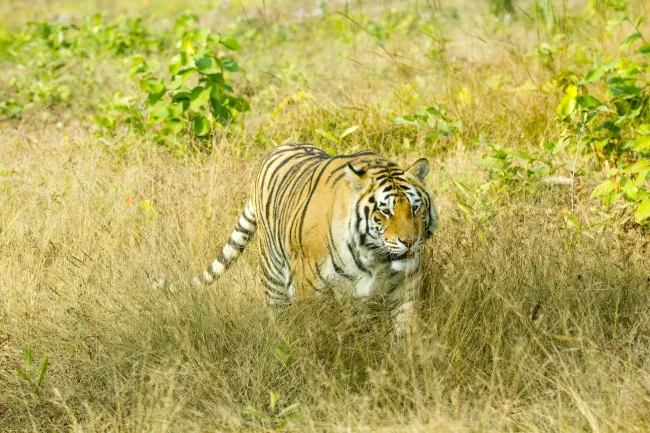 Bangladesh offers a variety of tourist attractions ranging from its beautiful beaches, ancient temples and mosques, wildlife, and rich cultural heritage. However, if you're a French citizen seeking to visit Bangladesh as a tourist, you'll need a Bangladesh Tourist Visa.
The visa application process is overwhelming and time-consuming. But you can get a Bangladesh Guided Visa with our professional support for a smooth visa application.
This guide will give you all the information you need to apply for a tourist visa to Bangladesh. Get your Bangladesh visa and be prepared to explore this fascinating destination!
Do French citizens need a visa for Bangladesh?
You may ask: "Is there a visa requirement to visit Bangladesh?". The answer is affirmative. The Bangladesh government requires an official visa for visitors from many countries, including France.
Bangladesh visa for French citizens
Here are the most popular Bangladesh Visa categories for French citizens:
Bangladesh Tourist Visa
Looking to visit Bangladesh for tourism purposes? We've got you covered with a guided visa application to get your tourist visa. Choose a single-entry, double-entry, or multiple-entry visa. Whether you're planning to enjoy a vacation, visit family or friends, or travel for religious affairs, we'll help you get your travel document quickly and hassle-free.
Bangladesh Business Visa
For those traveling on a business trip, the Bangladesh Business Visa is the right choice. You can visit business establishments and meet with partners, employees, or government officials. Plus, we'll help you with the guided visa application to get this visa easily.
Bangladesh Student Visa
Are you interested in studying at Bangladesh educational institutions? The Bangladesh Student Visa can make that dream a reality. We'll help you with the visa application process, which includes a financial guarantee to support your stay. The visa allows you to stay for up to a year in Bangladesh.
Bangladesh Employment Visa
The Bangladesh Employment Visa is for foreigners aiming to work with government, semi-government, foreign, and commercial organizations. We're happy to provide expert guidance to ensure your visa application process goes smoothly.
Bangladesh Visa on Arrival
French nationals can get a Visa on Arrival for travel purposes such as official duty, tourism, business, and investment. This visa permits you to stay in the country for up to 30 days. However, you can only get this visa upon arrival at the airport in Bangladesh, so you risk traveling and being denied a visa upon entry.
Visit the Bangladesh Embassy website for additional information on administrative entry restrictions and other Bangladesh visa applications.
All about the Bangladesh Tourist Visa for French citizens
The Bangladesh Tourist Visa is the gateway for French citizens to discover Bangladesh's natural beauty and temples. You must meet some requirements, complete an application form, and attend a visa appointment to get this visa.
We know that applying for a tourist visa can be complicated, but don't worry - we've got you covered. Our Bangladesh Guided Visa makes the application process smooth and stress-free. Our iVisa experts will assist you every step of the way. Keep reading for all the necessary information.
Am I eligible to get a Bangladesh Tourist Visa in France?
Yes, the Bangladesh Tourist Visa is available for French citizens. However, foreign nationals from other countries should use our Visa Checker Tool to verify if they're also eligible for this visa.
What is the Bangladesh Guided Visa for French citizens?
Planning a trip to Bangladesh is exciting, but applying for a tourist visa can be stressful. The good news is that our Bangladesh Guided Visa is here to help! Our visa application process provides professional guidance to make getting your Bangladesh Tourist Visa easy.
We understand your time is valuable, so we've simplified the process. With our comprehensive instructions and personal iVisa expert, you'll have guided assistance throughout the application.
Not only do we offer assistance with tourist visas but also Business, Study, and Employment visas. Learn below how we can offer you a stress-free application process.
Benefits of applying with iVisa
At iVisa, we understand that applying for a visa can be complicated and time-consuming, so we've created a service that makes the process simple and stress-free. Here are some of the benefits of using the Bangladesh Guided Visa:
100% government-compliant: Rest assured that your visa application is 100% compliant with government requirements as we meticulously review all information.

Personal iVisa Expert: Have a personal iVisa expert who will guide you through each step of the application process and answer your questions.

Simplified form: Our simplified form only includes essential questions, which means you can complete the application up to 50% faster than usual government forms.

Fill out the form at your own pace: Take your time filling out the visa form. Save your progress, make changes, and return to it later whenever you need a break.

Step-by-step guide: Receive a PDF manual with tips to answer tricky application sections and a step-by-step guide to help you get your document hassle-free.
How long is the Bangladesh Tourist Visa for French Citizens valid?
The Bangladesh Tourist Visa validity is 90 days after issued, allowing you to visit Bangladesh and stay for up to 30 days in Total.
How many times can I enter Bangladesh on a Tourist Visa?
It depends on your visa type. Choose between a single-entry, double-entry, or multiple-entry visa. They all have the same visa validity.
Bangladesh visa requirements for French
You must meet some visa requirements to be eligible for a Bangladesh visa. We provide you with a list of the necessary documents for your Tourist Visa application based on your specific situation, ensuring that all details are covered. Meanwhile, here are some of the essential documents you'll need for a Bangladesh visa application.
Required documents for the Bangladesh Tourist Visa for French citizens
You'll need the following documents:
Original passport

A recent passport photo. Use our Passport Photo Service if you need one.

Proof of a return ticket

A completed Bangladesh visa application form (online)

A valid email address

Proof of accommodation or hotel itinerary

Proof of visa fee payment

A letter of invitation (if applicable)
Visa for Bangladesh: Passport requirements for French citizens
Your original passport must be valid for at least six months after you arrive in Bangladesh.

Your valid passport must have at least two blank pages for Bangladesh visa stamps.

Your passport can't be damaged or have marks that may invalidate it.

If you have traveled to Bangladesh before, you must provide copies of previous visas and entry stamps.
Bangladesh photo visa requirements
Take a photo in color against a white background.

Keep a neutral facial expression with your mouth closed.

Your face must be centered and cover 70-80% of the photo area.

Your eyes must be open, visible, and free of reflection or glare.

Your entire head, including your hair, must be visible.

Headwear is only allowed for religious reasons and should not cover any part of your face.

Glasses are allowed but can't obstruct your eyes, and the lenses can't cause reflection or glare.

The photo must be 45 mm x 35 mm in size.
Check out the Bangladesh Photo Requirements Guide for more details. Also, you can always count on our Passport Photo Service app for a 100% government-compliant photo.
Bangladesh Tourist Visa requirements for children from France
Children must apply for the Bangladesh Tourist Visa too. In this case, parents and legal guardians can complete it on behalf of the child.
When should I apply for a Bangladesh Guided Visa?
We recommend applying for a Bangladesh Guided Visa two months in advance of your intended date of arrival in Bangladesh to ensure a successful visa application. This will allow sufficient time to account for processing delays and gather all necessary documents and information.
Ready to visit Bangladesh? Apply for a Bangladesh Guided Visa now!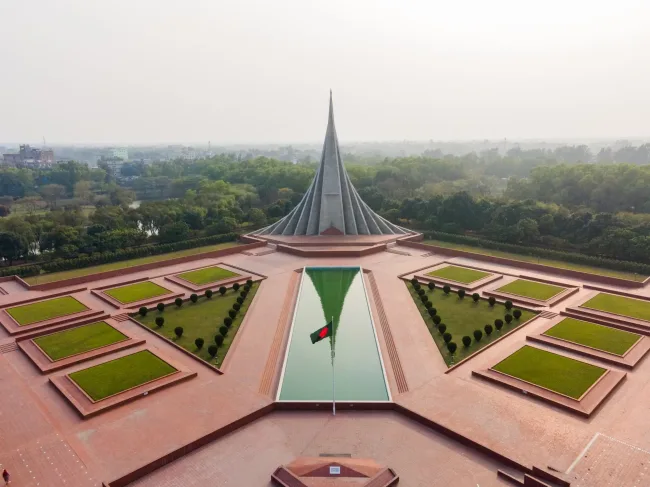 Bangladesh Tourist Visa application form: How to apply in France
You don't have to deal alone with a long and confusing government application. Please apply for the Bangladesh Tourist Visa with our guidance for a smooth process. All you need to do is follow these three simple steps:
Step 1: Fill out the visa application form online with personal and travel information such as passport number, hotel reservation, and flight tickets.

Step 2: Review your information and pay our visa service fee using a credit or debit card. Note that you must pay the Bangladesh government visa fee separately during your visa appointment.

Step 3: On the day of the visa appointment, bring your supporting documents to the visa application center. Depending on the situation, you may be required to attend an interview.
Relax! We'll give you detailed instructions and tips to accurately fill out your online form and prepare for your visa appointment and interview.
Bangladesh Visa appointment for French citizens
The next step to get a valid visa is scheduling an appointment at the Bangladesh Visa Application Center in France. Don't worry! We'll provide you with all the necessary instructions to schedule your appointment and prepare for this crucial step in the application process.
The visa appointments in France usually take place at the following address:
Embassy of the People's Republic of Bangladesh in Paris
Address: 109 Avenue Henri Martin 75016 Paris
Tips for a successful Bangladesh visa interview in France
We want to help you succeed in your visa interview, so we've put together some tips to keep in mind:
Dress professionally to leave a positive impression on the visa officer.

Arrive at the visa application center on time for your scheduled appointment.

Bring all the required documents and supporting materials, including your passport, visa application form, and other relevant documents.

Understand your travel itinerary and be prepared to discuss it during the interview.

Speak clearly and confidently during the interview to show that you're a credible applicant. And, of course, answer the visa officer's questions truthfully.

If additional information or documents are required after the interview, follow up promptly to avoid delays in processing your visa application.
What is the Bangladesh Tourist Visa processing time in 2023 for French citizens?
When applying for the Bangladesh Guided Visa, you have a standard processing option that varies according to your nationality. It's enough time to complete the online visa application form, review documents, and schedule a visa appointment.
Standard processing time for French applicants:

9 days
After your visa appointment, you must wait for the government processing time for French citizens, which may vary depending on the Bangladesh embassy's workload. On average, it takes less than two weeks.
Bangladesh Tourist Visa fee: Visa cost for French citizens
The Bangladesh Guided Visa has a service fee, which varies according to your nationality.
Bangladesh visa service fees for French citizens:

USD $81.99
At your visa appointment, you must pay the government visa fee. The current visa fees for French citizens vary according to the visa type:
Single-entry visa: US$33

Double-entry visa: US$33

Multiple-entry visa: US$105
What should I expect upon arrival in Bangladesh?
When arriving in Bangladesh, you will go through immigration, where the officials will check your passport, visa, and other necessary documents required for French passport holders. They may ask you some questions about your stay, so ensure all documents related to your travel purpose are easily accessible.
Can I extend my Bangladesh Tourist Visa?
You can extend your Bangladesh Tourist Visa for up to 30 days by applying at the Department of Immigration and Passport. However, if you have a study, employment, or business visa, the visa section will review extensions on a case-by-case basis.
My Bangladesh Tourist Visa was denied in France. What should I do?
Visa applications can be rejected for various reasons, such as incomplete or inaccurate information, insufficient funds for the trip, or security concerns. If your visa application is denied, it's essential to identify the reason before taking any further action. Once you have identified the reason for the denial, you can consider the following options:
Submit a new application for a Bangladesh Tourist Visa with additional documentation.

Apply for a Bangladesh Guided Visa to receive professional assistance throughout the process. Our team can help you identify any issues and help you submit a flawless visa application, increasing your chances of getting an approved visa.
Tips for French travelers visiting Bangladesh
First, check out the Bangladesh Travel Guide for detailed travel tips about this fascinating destination. Here are some additional quick tips to ensure a smooth and enjoyable visit to Bangladesh:
*Local customs and traditions: Bangladesh is an Islamic republic with diverse cultural customs and traditions. Be mindful of your dress, behavior, and interactions with the locals.

*Safety: Be aware of Bangladesh's political unrest and security issues, and avoid crowded areas or political rallies. Keep your valuables safe and avoid traveling alone at night.

Local cuisine: Bangladesh is famous for its spicy curries and seafood dishes. Don't hesitate to explore and indulge in the local cuisine.

Itinerary: Research and plan your itinerary before traveling to Bangladesh to know what to expect and avoid surprises. Book your accommodation and transportation in advance.

Natural disasters: Bangladesh is in an active seismic zone and can be prone to earthquakes. Consider packing an emergency kit with essentials in case of an emergency.

French Embassy: In an emergency, knowing the location of the nearest French Embassy or consulate is crucial. Do your research and keep this information handy during your trip.
And don't forget to get a Bangladesh Tourist Visa to travel stress-free!
I still have questions. Who can I contact?
If you have questions about the Bangladesh Tourist Visa, feel free to contact our customer service team. The same applies if you're of Bangladeshi origin and are seeking a Schengen visa or another France visa. Our iVisa experts are always available via online chat or email [email protected].