The beauty of the Caribbean lies in each countries ability to combine history, culture, and the food that makes them unique. People usually think that any place in the Caribbean is only a destination for sunbathing and drinking coconut water by the pool. This is incorrect, Barbados, like any other island, has so much more to offer.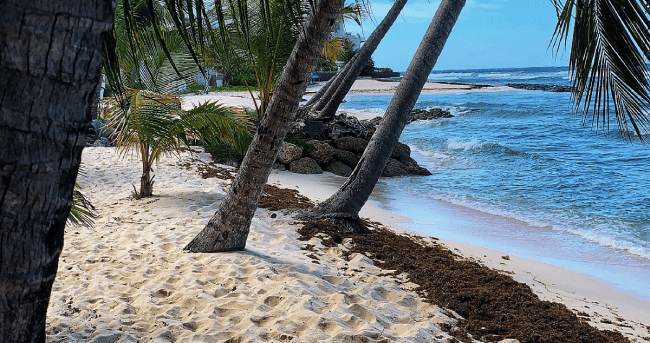 Discovering hidden caves and exploring rainforests are a great way to enjoy the island's nature and keep a safe distance from other people. That is only a small part of all the attractions and highlights citizens of the United Kingdom can find in the beautiful country of Barbados.
After a long wait, they are now able to reopen their borders and provide access to the island easily. Coronavirus has made each person, business, and the entire country adapt their regular procedures and regulations for clients and visitors. The same goes for countries that are letting visitors arrive in their homelands again.
The government only has a few requests so that may allow entry. They are asking the incoming visitors is to have a Barbados ED card, and their COVID-19 negative test results from a certified laboratory. These work as a pre-screening for travelers to ensure that there's less to no risk of spreading the virus throughout the land.
Follow this article to discover useful information about how citizens of the United Kingdom can enter Barbados during the Coronavirus. Find tips on how to apply for their ED card, and how to get results faster with iVisa.com.
Frequently Asked Questions
What is the purpose of the Barbados Embarkation/Disembarkation Card?
The Barbados ED (Embarkation/Disembarkation) card is a pre-screening document needed from all arriving visitors to Barbados during Coronavirus. Part of this travel authorization application process is to present proof of a certified laboratory COVID-19 negative test results.
The ED card will keep the local authorities informed of the percentage of people visiting from a low, moderate, or high-risk country of possible contagions.
How can citizens of the United Kingdom enter Barbados during Coronavirus?
United Kingdom citizens can enter Barbados during Coronavirus easily and with the only requirement of presenting their Barbados ED card and their PCR COVID-19 negative exam outcome.
When they arrive on the island, they must take another PCR COVID-19 test and wait for those results to be delivered. Because the United Kingdom is categorized as a moderate risk country, its citizens can move around Barbados freely once their negative results are in. They do not need to stay 14 days in quarantine but they will be asked to take their temperature twice a day and report it as part of the monitoring they'll be under.
Do I need a COVID vaccine or vaccination certificate to enter Barbados?
COVID vaccination passports or certificates are no longer mandatory to enter Barbados. Since information may change quickly, we advise you to follow up on the latest Barbados travel updates and/or contact your local embassy.
Do I need a COVID-19 test result to enter Barbados?
COVID testing requirements: There are no testing requirements.
Do I need to quarantine once I arrive in Barbados?
Quarantine requirements: There are no quarantine requirements.
Which documents are needed to enter Barbados during Coronavirus?
To enter Barbados during Coronavirus the visitor must apply for an ED card. As part of this application process the document you will need are your COVID-19 negative test results.
The other part of the information that you will be asked while filling out the application questionnaire is:
Contact information so you can receive your results.
Details about your previous trips, if any, in the past month.
Information about your health and any possible contact with the COVID-19 virus.
How soon can I have my Barbados ED card results?
We currently do not have the exact price of the Barbados ED card application process. But we can give you details on the iVisa.com options to speeding up your document process.
Standard process alternative (

USD $48.49

-

24 hours

): This is the cheapest option for an average time of document delivery for your documents before flying.
Rush process alternative (

USD $84.99

-

4 hours

): This is a faster speed to get your application revised.
Super rush process alternative (

USD $149.99

-

30 minutes

): This is the most expensive yet fastest option on iVisa.com to revise your documents, and be able to deliver your results in no time.
Which is the application process of a Barbados ED Card for citizens of the United Kingdom?
The United Kingdom citizens that want to visit Barbados during Coronavirus must [apply for an ED card] before departing their country of origin. To do so, the process is very simple and only requires the following four simple steps:
The first step is to fill in the ED authorization application form with your contact information and select the preferred iVisa.com processing option you want to use on your documents.
The second step is to attach your PCR COVID-19 test results as part of your application. If you've been in other countries before Barbados in the past month you will need to mention them.
The third step requires you to review and accept the legal requirements which mention that passengers will be taking a COVID-19 test on arrival, and will have to stay in quarantine until the results are delivered.
Finally, you must pay the online fee and submit the form.
Can I vacation in Barbados if my COVID-19 results are positive?
All citizens of the United Kingdom that want to enter Barbados during Coronavirus must present their approved Barbados travel authorization card. They must also have an official laboratory certificate that shows the COVID-19 test results. And once they arrive in Barbados, they will be requested to take a new COVID-19 test to validate that their results are now negative.
If, at any point, your PCR COVID-19 tests are positive, you will be taken to isolation for 14 days. After that time, travelers must take another test to ensure they are no longer holders of the virus before getting to enjoy Barbados.
How secure is the iVisa.com website with my data?
The main advantage of the iVisa.com platform is the safety software it has. It allows you to complete your online application form with personal data without putting the information at risk. You can see some of our client reviews on our services to confirm it.
Is there more info about how citizens of the United Kingdom can enter Barbados during Coronavirus?
You can discover more details on how citizens of the United Kingdom can enter Barbados during Coronavirus on the iVisa.com website. To address specific requests and questions about the topic, you could send us an email at [email protected] or message via chat.