Visa Policy for Belarus
Many foreign travelers require a visa to enter Belarus. This country issues transit, short-term, and long-term visas depending on the reasons for the visit and length of stay. It also offers single-entry, double-entries, and multiple-entry visas. Additionally, some citizens can enter this country without a visa if it is designated by International agreements.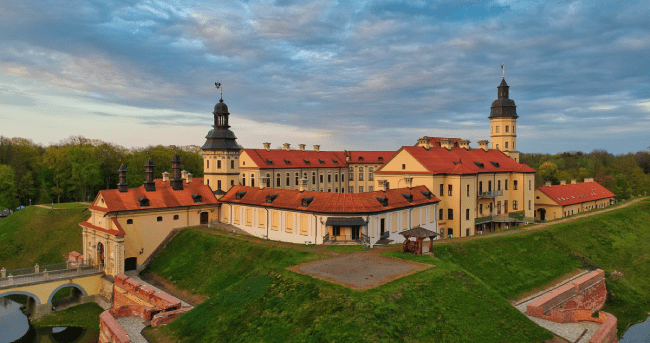 Belarus also has many visa-free travel programs with different duration and terms of stay. Therefore, travelers who would normally need a visa to enter Belarus can visit this country by starting an easier process.
Over 45 countries can enter Belarus without a visa, with the only condition of staying there according to the limit offered. As for the limit (maximum stay allowed), it can be 30 days or 15 days depending on the traveler's country of origin. Most of the time, travelers can stay in Belarus without a visa for 30 days if they cross the Belarusian border via Minsk National Airport. Otherwise, they can stay only up to 15 days in other tourist zones, including the country's large cities of Grodno and Brest.
Visa-free entry is not useful to foreigners who enter Belarus to work, do business, or study. In that case, travelers must visit a Belarussian embassy or consulate to obtain the corresponding visa.
To obtain more information related to the Belarus Visa Policy, we recommend reading the lines below.
Tourist Visa Policy for Belarus
Travelers of many countries, who generally require a visa to enter Belarus, have an opportunity to enter the country under an uncomplicated procedure today. Such trips have become possible thanks to the newly launched visa-free travel regulations in Belarus.
Foreign citizens wishing to enter Belarus might need a visa from one of the Belarusian diplomatic missions unless they come from one of the visa-exempt countries (according to the official information of the Belarus Visa Policy) or if their visa on arrival had been approved in advance.
Over 28 countries can enter any part of Belarus without a visa, but the length of stay can vary from 30 days (including 30 days by following certain conditions) to 90 days. However, if the traveler decides to access Belarus through Minsk National Airport, there's a higher chance of not needing a visa, as more than 35 countries don't need a visa to visit this specific part of Belarus.
There's also the chance of entering the "Brest-Grodno" region by applying for the Brest-Grodno Visa, but as the name implies, it allows the visitors to visit only this part of the country.
Belarus also offers Visas on Arrival, but only to certain countries and by following specific conditions.
Get more information about the Belarus Visa Policy
Visa Free Access
Numerous nations around the globe can enter Belarus without applying for a visa. Nonetheless, there are some aspects to keep in mind, including the length of stay and the minimum requirements needed to visit the country.
The Visa-Free Access to Belarus is divided into Indefinite stay, 90 days stay, 30 days stay, and 30 days stay with conditions. We remind travelers that the conditions can also apply for 90 days visa-free entry, but it depends on the nationality. The conditions Belarus often requires are:
The visa can be used for a maximum total of 90 days if it happens within any one-year period.
The visa is available only for holders of MSAR passports or MSAR Travel Permits
It is available if the traveler has an invitation letter or a tourist voucher.
Besides, the 30-day visa with conditions (the third condition in this case) is available only for the citizens of North Macedonia.
The following countries can enter Belarus without a visa and stay there for 30 days:
Albania
China
Cuba
Ecuador
Hong Kong
Macao
Montenegro
Qatar
Saint Kitts and Nevis
Serbia
Turkey
the United Arab Emirates
These countries can visit Belarus for 90 days without a visa:
Argentina
Brazil
Israel
Mongolia
Ukraine
Venezuela
Lastly, the following countries can enter Belarus without a visa and for an indefinite stay:
Armenia
Azerbaijan
Georgia
Kazakhstan
Kyrgyzstan
Moldova
Russia
Tajikistan
Uzbekistan
Most countries around the world can enter Belarus without a visa by going through the Minsk National Airport, except for flights departing to and from Russian airports. The permitted length of stay is 30 days, with mandatory registration for stays exceeding 5 days in length. Travelers must also depart from Minsk National Airport, and departure by train (for example) is not permitted. As for the number of visa-free entries, it is unlimited. To see which countries are eligible for it, we recommend using our visa checker.
Brest-Grodno Visa
It is a single visa-free territory established by a presidential agreement in August 2019. With this visa, visitors can stay for up to 15 days in the Brest-Grodno territory. The list of eligible countries is the same as that for the visa-free program through the Minsk National Airport, only without the same restrictions as mentioned for that type of visa.
Visa on Arrival
The Belarussian Ministry of Foreign Affairs issues visas on arrival as well, but only if the support documents were submitted not later than 3 business days before the expected date of arrival. The exception goes for travelers who arrived for serious illness or the death of a close relative or family member. In that case, the visa support documents can be submitted at the moment of application for an entry visa. However, fees are significantly higher than at the consulates.
See more information about the Belarus Visa Policy here
Other Visa Information for Belarus
In July 2019, Belarus announced a plan to launch an eVisa system in 2020. But, since the coronavirus pandemic affected many countries around the globe (including Belarus), this agreement had to stay on hold. The Ministry of Foreign Affairs declared that it should be ready within a few months starting in the last semester of 2021, so that many travelers who need a paper visa can apply for the eVisa once it is ready.
Belarus government and the Healthcare Ministry endorsed certain restrictions to foreign travelers so that the spread of coronavirus infection can be stopped. This is already an important part of the Belarus Visa Policy. Therefore, some travelers may need a Health Declaration to enter Belarus. It is possible to confirm this information by checking iVisa.com and taking advantage of the visa checker.