Traveling to Bermuda is always an attractive thing, especially when it comes to taking a relaxing vacation. Due to the COVID-19 pandemic, it's important that when planning a trip to this destination, you don't overlook applying for the Travel Authorization Form. If you want to know how to apply for this document, also known as Bermuda 14 day quarantine requirement, then continue reading the information in this article.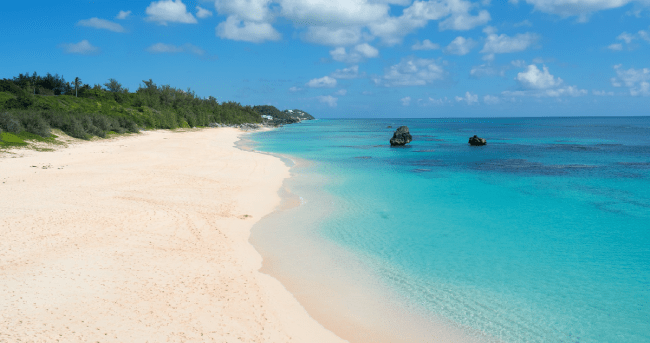 To obtain this document it's necessary to follow a few steps through an online process. The easiest way is to complete the online application that iVisa.com offers to be ready in just a few minutes.
Also, iVisa.com makes your travel planning a lot easier because you don't have to spend a lot of time completing the typical tedious paperwork that official government processes give you. Find out more with the FAQs below.
Frequently Asked Questions (FAQs)
What is a Bermuda Travel Authorization Form?
The Bermuda Travel Authorization Form is a document that allows you to enter this country obeying the guidelines that are COVID-19-related. This document is the Bermuda 14 day quarantine requirement that's needed to avoid problems with the authorities at the airport.
You can apply for your Bermuda Travel Authorization through a simple and fast online process.
Do I need a COVID vaccine or vaccination certificate to enter Bermuda?
No, you don't. As of today, COVID-19 vaccination passports or certificates are not mandatory to enter Bermuda. Now if you are a COVID-19 vaccine certificate holder, you will only need to follow a quarantine until you receive a negative result in your arrival PCR test.

Accepted vaccines are Pfizer BioNTech, AstraZeneca, Serum Institute of India, Jansen/Johnson & Johnson, Moderna Sinopharm/BIBP Sinovac. Mixing of vaccines is accepted.

You are considered vaccinated if all doses of a vaccine against SARS-Cov-2 have been administered for at least two weeks before traveling.
Do I need to go to the Embassy to receive this document?
You can receive this document online, so you don't need to go to any Bermuda embassy. You can complete the online process from anywhere, even from your home or office, since the amount of time required is minimal compared to a trip to a diplomatic entity.
Keep in mind that you can also apply with iVisa.com, which is a lot easier than applying with a Government website.
What documents do I need to apply online for my Bermuda Travel Authorization Form?
As you read above, the online process for this document is quite easy, so the list of documents you need is easy as well. These are:
A valid passport and a visible copy of it.
Email address.
Payment method, which can be a credit or debit card. You can also use a Paypal account.
Do I need to take a PCR COVID-19 test before traveling to Bermuda?
COVID test prior to arrival: PCR within 4 days.
COVID tests after arrival: Unvaccinated travelers will be tested on arrival and day 13. Fully vaccinated travelers will be tested on arrival, day 4 and day 10.
COVID test exemptions: Children under 2
Do I have to quarantine once I arrive in Bermuda?
Self-isolation requirements: 14 days at home for unvaccinated travelers. Fully vaccinated travelers must quarantine at home until receipt of negative arrival test result.
How much will I pay for this document?
At iVisa.com, we understand that the most important thing with travel documents is knowing their price and the amount of time it'll take to obtain them. For this, we inform you that we have 3 options that will allow you to obtain your document as fast as you want. Of course, keep in mind that prices also vary depending on the speed. In other words, the faster you want the document, the more expensive the payment will be. However, we don't have the exact price information given that this is in conjunction with the fees that the Bermuda Government may require.
Still, remember that we won't charge you the process without your confirmation, so before submitting your online form, you'll always know the exact price of your travel authorization.
These are your options with iVisa.com:
Standard Procedure:

USD 95.00

-

2 days

.
Rush Procedure:

USD 95.00

-

36 hours

.
Super Rush Procedure:

USD 95.00

-

24 hours

.
How can I apply for the Bermuda Travel Authorization Form?
You might think of something boring or even tiresome when "online forms" cross your mind. But, for your convenience, you won't feel like that with iVisa.com because the online process is easy. Here's the list of steps you have to follow:
The first step is to offer your basic information and choose the procedure time of your preference.
The second step is to pay the fees after you check your information (make sure that everything is correct).
The third and last step is to upload and attach the required documents so you can send your online form.
Note: don't forget to always check the spelling of your information to avoid issues in the future.
How much time do I need to apply online?
You won't need to spend more than 20 minutes on your online form because iVisa.com has an excellent and modern system. The online form is user-friendly, so you won't spend a lot of time completing it.
What should I do after I get the email?
Every information related to the Bermuda Travel Authorization Form is delivered via email. You can download the information you receive through this email if you prefer, that's up to you.
Remember that this document is essential when entering Bermuda. Aside from that, you might also need to complete a 14-day quarantine after your entry is approved. There are other instructions that you'll have to follow, but that information will be ready at the airport with the Immigration officers.
How safe is to apply with iVisa.com?
If you want to enjoy your vacations in Bermuda, we suggest you rely on a service like iVisa.com to get your Travel Authorization Form. Consider that iVisa.com's service includes professional customer support that can help you anytime. This is only part of the things we offer because we have at our disposal a modern system that keeps your information safe. This way, the details you see and also share through our website can't be leaked. You can verify that by reading our reviews on this link.
I have extra questions, where can I get more details?
Don't worry if you still have other questions to solve, you can reach out to our customer service support, or you can check iVisa.com's website to read other important travel information.
Get your Bermuda Travel Authorization Form now and forget about paperwork! You're just one click away from enjoying your trip.