Visa Policy for Bhutan
For a journey to the Kingdom of Bhutan, travelers will most likely require a Bhutan Visa. Traveling to this country is regulated under the Bhutan Visa Policy of "High Value, Low Impact Tourism". This happens because the Bhutanese government is doing hard work trying to keep the country's cultural heritage well-preserved.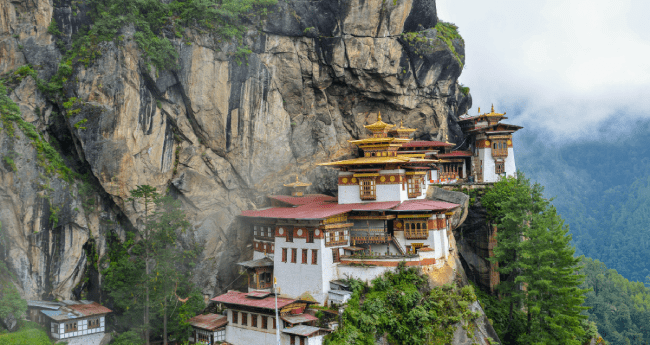 The Visa Policy for Bhutan was created to reduce the impact on the nation's unique society and nature. Therefore, this policy ensures that only a few tourists enter the country at any time, preventing the country from being too overwhelmed by mass tourism. If mass tourism happened in the country, it would alter its character and environment.
All countries, except those neighboring Bhutan, will have to apply for a Bhutanese visa before entering its territory. This visa is available only by booking a tour, which tends to be expensive (USD 200 per day), but that's because the tours offer a lot of services to get to know the country the best way possible. Plus, these tours include things like accommodation, meals, and transport.
To learn more about the Bhutan Visa Policy and what requirements are needed to apply for a Bhutan Visa, we recommend continuing to read the information below.
Tourist Visa Policy for Bhutan
Maldivian, Indian, and Bangladeshi citizens can get a permit to enter Bhutan at the port of entry. This is possible only if these citizens have a passport with a validity of 6 months (minimum). However, Indian citizens can also use their Voters Identity Card (VIC) to enter Bhutan. Besides, these citizens still need to pay a "sustainable development fee" of around US$17 per day while they stay in Bhutan.
The rest of the countries must get a visa clearance before they visit Bhutan. These visas are processed via an online form and only by an authorized Bhutanese tour operator, which should be linked directly to the Tourism Council of Bhutan.
It is required to send a photo page of the passport to the tour operator to apply for the designated visa. This visa will be prepared by the Tourism Council of Bhutan (TCB) once the complete payment of the holiday (including a USD 40 visa fee) has been transferred and accepted in the TCB bank account.  Once the approval is received, the visa will be processed within 72 hours. 
This visa clearance letter must be shown at the point of entry in Bhutan so that the authorities can confirm everything is correct and then stamp the actual visa into the passport.
Travelers can enter Bhutan only through Phuntsholing, Gelephu, and Samdrup Jongkhar if they're coming by land or Paro if they're coming by air.
We must remind all travelers that the cost of USD 200 a day may increase to USD 260 if they're visiting Bhutan during peak season. The good news is that there are discounts available, including for children and large groups.
The only people who do not have to book a tour to visit Bhutan are those considered "citizens of standing". The same goes for travelers that work as volunteers. This is also available for those who come as visitors of the Bhutanese government.
Check more information about the Bhutan Visa Policy Visa Permit Required
All travelers (except citizens of Bangladesh, India, and the Maldives) must obtain a visa before visiting Bhutan.
Citizens of India, Bangladesh, and the Maldives can enter Bhutan with just their passports, but their passports must be valid for at least six months. Also, they need to pay a "sustainable development fee" of USD 17 per day while they stay in Bhutan.
Tourists who are not from the three aforementioned nations must pay a USD 65 sustainable development fee. This fee is based on the Minimum Daily Package offered by tour operators.
To process the visa, the traveler must send a photo page of the passport to the tour operator. The tour operator will apply for the visa once the payment is done. Once the process is done and approved, the traveler will receive a letter which should be shown at the airport before getting the actual visa stamped.
The visa is valid for single entry and it lasts the same number of days valid for the tour.
This is the list of countries that do not need a visa to enter Bhutan:
Bangladesh
India
Maldives
Online Regional Permit System
To facilitate the visits into Bangladesh, especially for Bangladeshis, Indians, and Maldivians, the Department of Immigration, Ministry of Home and Cultural Affairs, and the Tourism Council of Bhutan launched the Online Permit System. This system speeds up the online processing of permits for regional tourists through authorized Bhutanese tour operators and TCB-certified hotels. This program is offered as an optional channel to prepare permits for visitors from the region and is appropriate for entry from Paro and Phuentsholing.
Travelers who take advantage of this program will be able to obtain their permit clearances and route permits before they arrive in Bhutan, which is quite similar to international tourists.
See more details about the Bhutan Visa Policy
Other Visa Information for Bhutan
As part of the Bhutan Visa Policy, travelers from Switzerland and Thailand that arrive with diplomatic or official/service passports can enter the country without a visa. Their visits can be extended for up to 90 days.
Due to the coronavirus pandemic, Bhutan also launched a special and mandatory document for all travelers coming from abroad, including Indians, Maldivians, and Bangladeshis. This document is known as the Bhutan Health Declaration. It is possible to apply for the Bhutan Health Declaration online so that the traveler can get a step closer to this destination.