Please note Brazil has discontinued the eVisa for all countries as of June 17, 2019. For US, Canadian and Australian citizens, we strongly suggest registering your trip with your embassy.
When you plan your vacation, one of the first things you need to do is research your destination's visa policy. You do not want to end up without all the required paperwork a week before departure and jeopardise your trip. If you choose Brazil as your destination, there are good news for you. There are four countries whose citizens can obtain an electronic visa, which basically means you are no longer required to go to the consulate and get one.
For now, only US CITIZENS, AUSTRALIANS, CANADIANS and JAPANESE CITIZENS enjoy this privilege, but inevitably in the future, the list will become longer.

ABOUT BRAZIL E-VISA
Applicants will receive their visas via email, after filling the application form with the necessary information after the online payment by a credit or debit card is completed.You can get a Brazil e-Visa in as little as 4 business days and apply for it from the comfort of your home or office.
PROCESSING TIME OPTIONS
iVisa acknowledges the fact that there are people with different needs, which is why they created three excellent options for anyone's time and, of course, budget:
1. Standard Processing: 10 business days.
It costs only 35 USD (or the equivalent in your state's currency.) However, you must wait 10 days for your application to be processed. It is a relatively short amount of time compared to how long you have to wait at the embassy, and if you usually like to plan ahead, you should have no issues with getting your visa on time. We recommend that you apply at least 12 days before your departure date.
2. Rush Processing: 8 BUSINESS DAYS.
This option provides a shorter waiting time. It costs more than the previous option, 65 USD to be more precise, but your application will be processed faster, within 8 business days. Just like with the previous processing time, we recommend you to apply 8 days before your departure so in case of any delays, you do not have to change your departure date.
3. Super Rush Processing: 6 business days.
This option is destined to satisfy the needs of people who need their visa as fast as possible. Let's say that you have family in Brazil and there is an emergency. Ten or six days may be too long to wait for your visa, which is why this option guarantees that your Brazil evisa will arrive within just 6 business days. This option will cost you 100 USD.
As you can see, the Brazil e-visa processing time is more than reasonable. You have options, which is something you do not see very often, and the urgency fees are not that high. Moreover, it would be quite tricky to get a Brazil visa in only six days by going to the embassy, which means that iVisa provides the best possible solution to your problem.
Here is how it looks like your Brazil e-Visa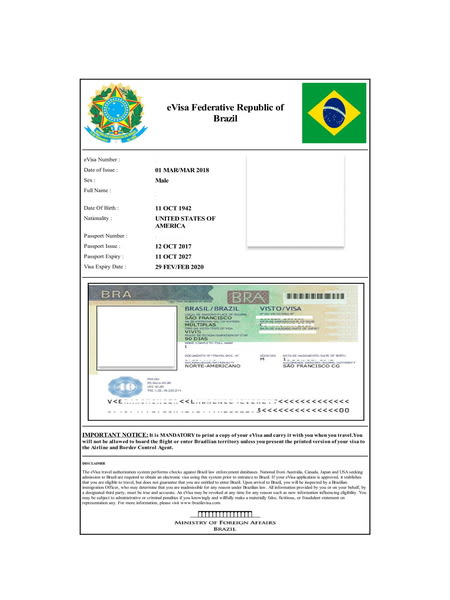 CONCLUSION
It's always happy news when another country relaxes their visa requirements, or otherwise simplifies the process of obtaining a visa to travel there. If you plan on travelling to Brazil, we recommend you to initiate the e-Visa application as early as possible to save yourself the stress of waiting.