For some people, it's not challenging to get a Brazilian visa because they don't need a consular visa. However, there are still some countries that do require a consular visa, which can still be tricky to get. At iVisa.com we're working hard to help you to go through the process online, even when there's no visa available.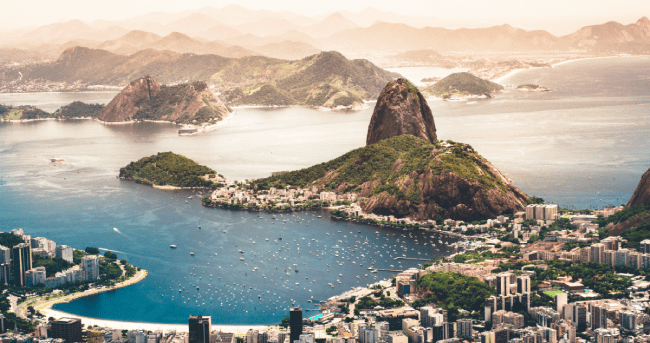 By now, you can only apply for a Brazil Embassy Registration, which is an easy process that shouldn't take you much time. As for the Brazil Visa Application Form, we don't have one on this website, and in case you need a consular visa, we still advise you to visit the local embassy.
Another thing we recommend you to do is to read this article to check some valuable information about the Embassy Registration and what could be necessary in case we launch a Brazil Visa Application Form.
Frequently Asked Questions (FAQs)
What could a Brazilian eVisa be?
This document could be launched in the future, so you should know that a Brazilian e-Visa would simply be an electronic visa. This document would allow citizens of certain countries to travel to Brazil only for tourism purposes.
Currently, we cannot offer the eVisa because this system isn't available in Brazil. We only offer embassy registration.
What is Embassy Registration?
Embassy Registration is an online service provided by the government. This service allows you to record information about your upcoming trip to Brazil. You can do it by yourself by visiting the embassy or by joining a long queue at the airport, which is why we recommend you apply on iVisa.com. By doing so, you'll be able to save a lot of time.
How can I check if I'm eligible for a Brazil eVisa?
This is the main thing to consider before applying: eligibility. You need to check that first before deciding where you want to go on vacation. Some countries are visa-exempt, like Chile or El Salvador. In fact, citizens of more than 93 countries do not require a visa if they plan to stay in Brazil for 90 days or less. But there are other remaining nationalities that do need a visa.
If you want to check if you need this visa, or if you'll be able to apply for it in the future, simply use iVisa.com's checker tool here.
What documents or items do I need to apply online?
Since many countries don't need a Brazilian visa, there's a huge chance for them to enter with a passport when traveling to this country. However, there are still some countries that need a visa to travel there, and while we can't inform you in detail about the whole list of required documents, we can leave you with what possible things you should have before applying:
A valid passport: in case you don't have one, it shouldn't be a big problem. And if you already have it, make sure that it is still valid.
A digital copy of your passport: the most important thing to scan is the information page.
A passport photo: in this case, you could use iVisa.com's passport photo to get help.
A valid e-mail address: remember that your visa would probably arrive via e-mail which is why you need to check the spelling of your email address. Otherwise, you will not have access to the document.
Means of payment: iVisa.com accepts various means of payment. You can use a credit or a debit card, and since many people have a Paypal account, iVisa.com accepts that too.
Sometimes, the immigration officers can ask for other documents as well, and that's why you should be prepared. Although this happens on a case-by-case basis, you should also be able to provide proof of return flights, proof of accommodation (hotel reservation or a letter from a host,) bank statements (means of subsistence,) a copy of your ID card, or even previous passport copies (if you have any.)
What are the processing times and prices with iVisa.com?
It's no lie that trying to receive a visa from a consulate takes time, so getting one online is faster and easier. But, you still have a price to pay. At iVisa.com we always work hard to give you the best options according to your needs.
Currently, we can't give you a specific cost and processing time since there are no digital Brazilian visas available, but remember that when possible, we could offer you these processing options:
Standard Processing: which is the most affordable yet financially comfortable option.
Rush Processing: by choosing this service you'll have your visa in less time but pay a little bit more.
Super Rush Processing: this is the most expensive option of the three, but you'll have your visa as soon as possible.
How could I apply for an online document on iVisa.com?
Government application forms are not the most accessible. We all get confused sometimes, and the office clerk that's supposed to help us might give us a dirty look because we don't understand what it says on a piece of paper. iVisa.com, on the other hand, designed one of the simplest application forms you are ever going to come across.
The Brazil eVisa application form could be easily broken down into these simple steps:
The first step would ask you to fill in your personal information like name, address, nationality, passport info, and so on. You'd also have to select the processing time at this point.
The second step would consist of a revision of everything you did in step one. You should check the spelling because it matters more than you think. Also, you'd have to make the payment at this point.
The third and last step would ask you to upload the documents and that's it!
What should I do once I finish the online process?
Once you complete the application form, that's pretty much all you have to do. As you can see, the Brazil eVisa application form shouldn't be difficult, and if you don't understand something or you need help, iVisa.com has an excellent support service that's ready to jump in and help you 24/7.
How safe is iVisa.com?
iVisa.com is a reliable online website that can offer you travel requirements on time. The service we offer on this website is quite safe because we work with an updated platform that safeguards our databases. You can apply online here without any stress or fear.
Where can I find more information about the Brazil Visa Application Form?
If you want to get more information about the Brazil Visa Application Form or other travel documents, we invite you to check our blog page here.
Nevertheless, don't forget that you can contact our customer service at any time for personal attention.