You came to the right place if you are searching for "how citizens of Chile can enter Brazil during Coronavirus". For any Chile citizen, it's quite easy to travel from Chile to Brazil; all they require is to get a Traveler's health declaration form and a negative COVID-19 PCR test.
This document is mandatory for any foreign citizen who wishes to enter Brazil at this time, especially due to the Coronavirus pandemic.
Apply for the health declaration through iVisa.com and learn how citizens of Chile can enter Brazil during Coronavirus.
Trust us to serve you the best way to get your travel documents processed in time. We know that people are getting used to the new normal and we are here to make your travel experience better.
Note: Since May 2022, the Brazil Traveler's Health Declaration is no longer necessary to enter the country.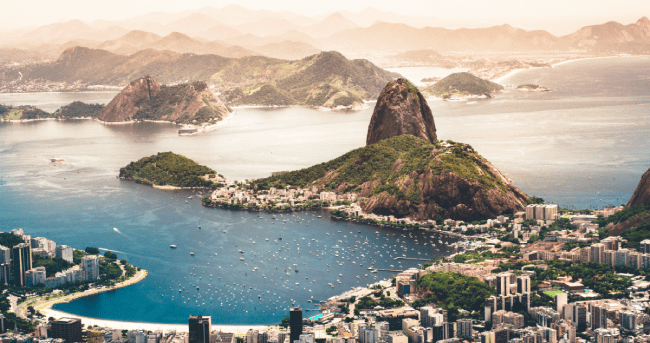 Frequently Asked Questions
HOW CAN I GET MY HEALTH DECLARATION WITH IVISA.COM?
Visit the application page.
You fill out some basic information about yourself and your trip.
Select a processing time.
Our experts review your application and let you know if there are any problems. Receive your document via email.
Print or display your travel document at the airport.
Document at the airport.
Don't wait till the last moment to apply for the health declaration form. Complete the process through iVisa.com and our team of experts will process your travel documents in time.
To get more views on the travel requirements to Brazil refer to the section below Start your application here to see how citizens of Chile can enter Brazil during Coronavirus.
Do I need a COVID vaccine or vaccination certificate to enter Brazil?
It is not mandatory to be fully vaccinated to travel to Brazil. Since information may change quickly, we advise you to follow up on the latest Brazil travel updates and/or contact your local embassy.
Do I need to take a PCR test before traveling to Brazil?
Unvaccinated travelers must get a mandatory PCR or antigen test taken within 24 hours from arrival. All unvaccinated travelers need to present proof of the negative PCR test before boarding.

Fully vaccinated travelers with proof of vaccination, and children under 12 are exempt from presenting a negative pre-departure test result.
Do I have to quarantine when I get to Brazil?
Quarantine requirements: There are no quarantine requirements.
WHAT IS TRAVEL HEALTH DECLARATION FORM FOR CHILE CITIZENS?
Travelers must present a medical declaration issued by a health authority that certifies that the passenger is not infected with the SARS-CoV-2 coronavirus (COVID-19). The Brazilian government recommends that the traveler have the medical declaration with the date as close as possible to the day of departure.
The Brazilian government announced that a COVID-19 test and a health declaration form will be required for entry starting Dec. 30. You need to fill out a Health Declaration Form to enter Brazil.
These forms state that you are free from respiratory diseases and that you are fit to travel. If you become infected during your travels, the information you submitted in your Health Declaration Form will help health officials control the spread of the virus. The data also allows them to contact relevant organizations and communicate with anyone that could have been exposed.
If you want to get your health certificate instantly, it's recommended to fill out the Health Declaration Form before entering the country. Luckily, iVisa.com offers such facilities to fill the Health declaration form, even at the comfort of your home. Apply now to find out how citizens of Chile can enter Brazil during Coronavirus.
ARE THERE STILL ANY RESTRICTIONS FOR ENTRY THROUGH LAND AND WATER?
Yes. The restrictions upon land and water entries have been extended for an indefinite period of time, but under some circumstances, there are exceptions too.
Follow this link for more updates and learn how citizens of Chile can enter Brazil during Coronavirus.
DO I REQUIRE VISA IF I AM HOLDING THE TRAVEL AUTHORIZATION CERTIFICATION?
Yes. This health declaration form will not replace the requirement of a Visa; it's a part of the required documents you need to enter Brazil. You will be asked to present the visa when you board thereby immigration officers.
See this link for more details on how citizens of Chile can enter Brazil during Coronavirus.
WHAT ARE THE PROCESSING TIME AND FEES WITH IVISA.COM?
A Health Declaration Form is an essential document to travel to Brazil.
iVisa.com offer you three processing options and you can choose any of them:
Standard Processing (

USD $23.99

): It'll process your document in 24 hours (

24 hours

) for the least expensive price.
Rush Processing (

USD $42.99

): By choosing this alternative, you'll just have to wait a few hours (

8 hours

), but the price will be a bit more expensive.
Super Rush Processing (

USD $70.99

): This option is the fastest (

4 hours

), but it has the most expensive price.
WHAT ALL ARE THE ESSENTIAL STEPS TO BE FOLLOWED ON APPLYING WITH IVISA.COM?
We created an easy-to-use application form so you can save a lot of time for your trip. That's why we advise you to iVisa.com to apply for your travel to Brazil. You can also visit our website to learn how citizens of Chile can enter Brazil during Coronavirus.
The steps to follow aren't difficult; you only need to do the following:
First, go to the application page, fill in the basic contact information required, and choose the processing time.
Second, verify your basic details to avoid mistakes and then pay for the service with your favorite payment method, which can be your PayPal account or your credit/debit card.
Third, finish the process by uploading the required documents.
You can contact our customer service team, if you need help.
WHAT ARE THE REQUIREMENTS TO GET THE HEALTH DECLARATION FORM?
The online form we created is easier than other websites because you don't need to spend much time on complicated questionnaires. Ours is short and straightforward, which is why it only takes 15 minutes to complete.
However, you need to provide a few documents for that. The good thing is that these documents aren't hard to find, and you probably have part of them:
You need your passport with 6-month validity.
You also need a valid email address.
A credit/debit card or a PayPal account to pay for the application fees.
HOW SAFE IS SERVICES WITH IVISA.COM?
You can have a reliable service that speeds up the visa process, without having to stress with complicated websites or time-wasting queues. That's why we invite you to use iVisa.com's online form because this online form will be a great alternative to get your requirements to enter Brazil during these pandemic conditions.
Our company extends an up-to-date system that will always protect all the details you see and offer on the website. That's why many clients have trusted us, and you can see that in our reviews.
FROM WHERE TO I DO GET MORE INFORMATION ABOUT HOW CITIZENS OF CHILE CAN ENTER BRAZIL DURING CORONAVIRUS?
You can contact iVisa.com's customer service page if you still have questions in mind about this document, or even if you want to learn how citizens of Chile can enter Brazil during Coronavirus.
Get started on your application now.