If you are planning on visiting Cambodia, you will need to get a Cambodia eVisa in order to enter the country. We suggest you keep reading this article to be sure of the requirements to enter the country, as well as have more clarity on the Cambodia eVisa cost.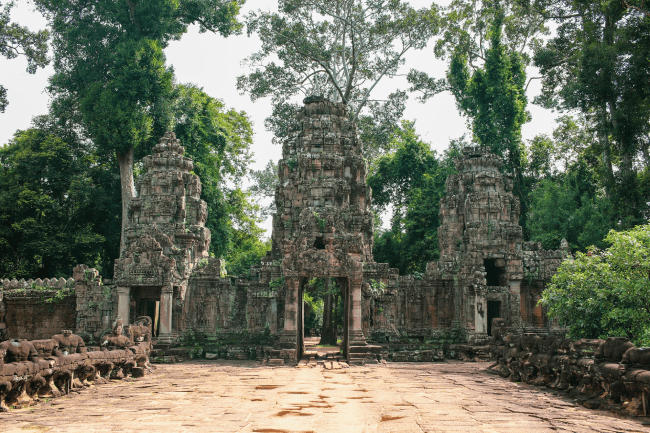 Having access to the information you need regarding your Cambodia eVisa will be easy with the help of iVisa.com. Our team will provide you with the opportunity to do it fast, simple, and worry-free. Not only will you be able to see the Cambodia eVisa cost, but you will also have access to our team of experts who will walk you through the process at each step.
For more information on the Cambodia eVisa cost, keep reading our FAQs below.
Frequently asked questions
What are the COVID-19 restrictions to enter Cambodia?
Cambodia reopened borders on 3rd of May 2022 and these are the COVID restrictions.
Vaccination card or full vaccination scheme (with some).
All unvaccinated travelers are obliged to present a negative RT PCR test. If entering by air, they must complete a 7 day quarantine and get tested on day 7. If the unvaccinated traveler is entering by land, they must quarantine for 7 days as well and get two COVID-19 PCR, one prior to entering quarantine and the other one 7 days later, the last day of quarantine.
Get the most updated information regarding Cambodia's COVID-19 regulations by visiting our FAQ section.
What is the Cambodia eVisa, and how do I apply for it?
Once you arrive in Cambodia, you are obliged to have a valid passport as well as be a holder of a visa. When you apply for a Cambodia eVisa you get to avoid long lines in embassies or consulates.
Applying with the help of iVisa.com will grant you the comfort of doing it from the place you're sat at and can be easily done by following these 3 simple steps:
Step 1: Provide basic information about yourself and your trip by answering a couple of questions. Make sure you are selecting the correct document you wish to apply for.
Step 2: Once you've made sure you have all the necessary documents to get a Cambodia eVisa, and have delivered the correct information, choose the processing time. Then, you can pay the fees easily using a credit or debit card.
Step 3: Finally, add the documents, and click 'Submit'.
You will receive an email with a PDF confirmation that has a QR code attached that our team will send you. Once you arrive in Cambodia, you only need to show it with the other solicited documents at the airport, and you can begin your journey.
What documents do I need to apply for?
To get a Cambodia eVisa, you must have in hand:
Passport Personal Details Scan.
Last Page of Passport (if applicable).
Applicant Photo.
Proof of Travel Medical Insurance (if applicable).
Medical proof of COVID-19 vaccination (if applicable).
Proof of Accommodation.
What is the Cambodia eVisa cost and its processing times?
With iVisa.com, you get to pick between 3 different processing times and pricing options:
Standard Processing:

5 Business Days

-

USD $85.99

.
Rush Processing:

3 Business Days

-

USD $127.99

.
Super Rush Processing:

2 Business Days

-

USD $177.99

.
Can I trust iVisa.com?
Absolutely! Visit our customer reviews section at iVisa.com to learn more about our customers' experiences using our services.
You have more questions and would rather talk to someone?
If you have more questions regarding the Cambodia eVisa, we invite you to contact our customer service team. They're available 24/7 through our website to answer any of your questions.
iVisa.com Recommends
When visiting Cambodia, make sure you go to Angkor Wat, this is one-of-a-kind UNESCO World Heritage Site, located 5.5 kilometers outside the city of Siem Reap.
It's hard to believe Angkor Wat is, to this day, the largest place of worship on the planet. As legend would have it, the construction of Angkor Wat was made as a gift by the ruler Indra for his son Precha Ket Mealea. According to the 13th-century Chinese traveler Zhou Daguan, some believed that the temple was constructed in a single night by a miracle of God as its architect. Though most people consider that to be untrue today, at its peak in the 12th century, when London had a population of 18,000, Angkor was home to hundreds of thousands, and its size makes up to four or five times the size of the Vatican. It is the largest center of worship for Buddhism.
Angkor Wat is made up of two basic plans of Khmer temple architecture: the temple-mountain and the later galleried temple. It is designed to symbolize Mount Meru, home of the devas in Hindu and Buddhist cosmology. Most Angkorian temples are oriented to the east, but Angkor Wat is oriented to the west, though scholars don't have an answer to the significance of this. The temple is admired for the grandeur and harmony of its architecture, extensive bas-reliefs, and the statues of Buddhas and devas that adorn its walls. Simply a voyage worth experiencing.
Stop overthinking it, and apply now!