Cambodia is a great destination for most of the travelers around the world. Before planning your trip, you must know if you need a visa to enter the country. iVisa can help you with that, you just need to go to the Visa Checker and see if you need or not a visa. Just select your nationality and choose Cambodia for your destination. There you will find out if you can apply online.

Frequently Asked Questions (FAQs)
Why choose us?
We facilitate the process of obtaining your visa, without the necessity of processing any document with the Embassy. Thanks to our service, you can focus on planning your trip, while we take care of the rest!
How long can foreign citizens stay in Cambodia with an eVisa?
You can stay in this country for 30 days in Total with a validity of 90 days after issued. This means that after the issuance of the visa, you have 90 days to enter Cambodia.
What do I need to apply for a Cambodia eVisa?
For this type of document, you do not need to provide too many documents. Here is what we need:
A valid passport scan - it needs to maintain its validity for at least another 6 months from the date of arrival you will have in Cambodia.

A credit/debit card or a PayPal account.
The Government of Cambodia will, on some occasions, request additional documents such as a health certificate. If that happens with your application, we will notify you by email or call.
How long does it take to get a Cambodia Visa and what is its price?
It depends on the processing time you choose. We offer three options:
Standard Processing: It is a modality that allows you to process the application within 5 Business Days and has a cost of USD $94.99.

Rush Processing: This one allows you to get your eVisa in less than 3 Business Days. All this for a cost of USD $152.99.

Super Rush Processing: The cost of this process is USD $227.99, because it is done faster and the percentage of obtaining your visa faster is higher. It only takes 2 Business Days to get your Cambodia eVisa.
Click this button and start now!
How long does it take to apply for a Cambodia eVisa?
It takes no more than 10 minutes to fill and submit your application form.
How can I apply to a Cambodia visa?
The application process is not difficult to complete because at iVisa we have simplified everything in just 3 steps:
Complete your general data. Also, select the processing time from the options aforementioned.

Make the corresponding payment. We have implemented these online payment options: credit/debit card or Paypal account.

Submit your application and wait for our response to the status of your eVisa. We will send you the document via email when we get the response of the Government.
We recommend that you make at least one copy of the eVisa before you board the plane. Upon arrival at the Cambodian airport, immigration officials will ask you for your eVisa to place the corresponding access stamp. If you need any help with the processing of your visa, please contact our support service 24/7.
View Cambodia eVisa sample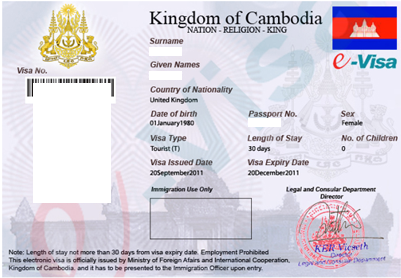 Do I need to get a Cambodia eVisa for my kids too?
Yes. Everyone requires their own eVisa prior to their travel to Cambodia.
How can I apply for my family or friends?
Just make sure you have all the required documents to apply. In case you need to apply for more than one person, click on 'Add new applicant' in the application form and completing the required data.
What can I do if I make a mistake in my application?
It depends on when you realized the mistake. If you saw this mistake when entering your data online, then you can contact us and we will assist you. On the other hand, if we have issued your application already, then you can NOT make any changes and you will have to apply again. We will NOT charge you another service fee.
Is it safe to use iVisa to get my Cambodia eVisa?
Of course, it is! In iVisa you have the opportunity to obtain your document in less time and the service is guaranteed. In addition, we have a specialized database that prevents the exposure of your personal information on the Internet. Learn more about us by clicking here and discover the positive feedback our customers send us.
I have more unresolved questions, where can I find more info?
You can start a chat conversation with one of our customer service team in this button. Also, for more answers, you can see our extra FAQs here.