If you are planning on visiting Cambodia, but aren't sure whether it's better to get a Cambodia eVisa or Visa On Arrival, we recommend you keep reading this article to make sure what will be the best option for you.
One of the requirements to enter the country is getting a Cambodia eVisa to enjoy all the natural beauty and temples the country has to offer.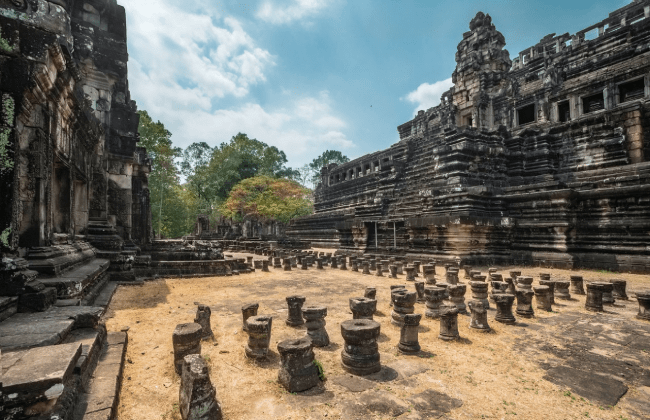 Besides providing you with all the information to help you decide if you should get the Cambodia eVisa or Visa on Arrival, iVisa.com makes it easy to apply for it. You will be able to apply for your Cambodia eVisa or Visa On Arrival in a few minutes, and receive access to our team of experts that will take you through every step of the process.
For more information on whether you should get a Cambodia eVisa or Visa On Arrival, keep reading our FAQs below.
Frequently asked questions
What are the COVID-19 restrictions to enter Cambodia?
Cambodia reopened borders on 3rd of May 2022 and these are the COVID restrictions.
Vaccination card or full vaccination scheme (with some).
All unvaccinated travelers are obliged to present a negative RT PCR test. If entering by air, they must complete a 7 day quarantine and get tested on day 7. If the unvaccinated traveler is entering by land, they must quarantine for 7 days as well and get two COVID-19 PCR, one prior to entering quarantine and the other one 7 days later, the last day of quarantine.
For more details, we invite you to get more updated information regarding Cambodia's regulations on our FAQ section.
What is theCambodia eVisa or Visa On Arrival, and how do I apply for it?
When traveling to Cambodia, you must decide first if you want a Cambodia eVisa or Visa On Arrival. Regardless of that, once you arrive in the country, you are obliged to have a valid passport as well as be a holder of a visa. The main difference between both is that you can get there, make long lines, and try to communicate in another language to do so.
On the other hand, applying for your Cambodia eVisa online will grant you the comfort of doing it from the place you're sat at, as well as a fast and guaranteed entrance to the country.
Applying for a Cambodia eVisa can be easily done, with the help of iVisa.com by following these 3 simple steps:
Step 1: Provide basic information about yourself and your trip by answering a couple of questions. Make sure you are selecting the correct document you wish to apply for.
Step 2: Once you've made sure you have all the necessary documents to get a Cambodia eVisa, and deliver the correct information, you just have to choose the processing time. Then, you can pay the fees easily using a credit or debit card.
Step 3: Finally, upload the documents, if required, and click 'Submit'.
You will receive an email with a PDF confirmation with a QR code attached that our team will send you. Once you arrive in Cambodia, simply present the document alongside the other requested documents at the airport to begin your trip.
What documents do I need to apply for?
To get a Cambodia eVisa, you must have in hand:
Passport Personal Details Scan.
Last Page of Passport (if applicable).
Applicant Photo.
Proof of Travel Medical Insurance (if applicable).
Medical proof of COVID-19 vaccination (if applicable).
Proof of Accommodation.
What are the costs/processing times for a Cambodia eVisa?
With iVisa.com, you get to pick between 3 different processing times and pricing options:
Standard Processing:

5 Business Days

-

USD $85.99

.
Rush Processing:

3 Business Days

-

USD $127.99

.
Super Rush Processing:

2 Business Days

-

USD $177.99

.
Can I trust iVisa.com?
Yes, you can! Head to the user reviews section for confirmation and check out our past customers' experience with our services at iVisa.com.
You have more questions and would rather talk to someone?
If you have more questions regarding the Cambodia eVisa or Visa On Arrival, we invite you to contact our customer service team. They're available 24/7 through our website to answer any of your questions.
iVisa.com Recommends
Admittedly, Koh Ring isn't on anyone's list of places to visit as they enter Southeast Asia through Bangkok. Most people tend to follow the Khao San Road and either head north to the vibrant rainforest or to the parties of the southern islands. The strange thing is that Cambodia is a fraction of the cost and has buses leaving to the same locations on Khao San road.
A short 6-hour bus ride will take you to the border of Thailand and Cambodia from Bangkok. However, a visa stamp will be required as you step off the bus. Head further two more hours, and it will take you to Siem Reap, where the adventure can finally begin!
Definitely, being in Cambodia provides you with a wide range of choices that do not only involve temples and spectacular beaches. Siem Reap opens up in the pungent smells of street food, the loud bars of pub street, and finishes on the rooftop of the Max Monkey hotel. Prepare for a night on pub street by taking one of their famous grenade cocktails or their grungy drink and of course, end your night with either the special local pizza or the fried cockroaches!