Nationals of the Netherlands are eligible to apply for a Cambodian eVisa, which signifies that as a Dutch passport holder, you can apply online for your visa when you travel there. iVisa helps you with the whole process! In this article we will answer some doubts.

Frequently Asked Questions
What is a Cambodia eVisa?
It is a document issued by the Government of Cambodia that provides authorization to travel to and within Cambodia. It is also electronically linked to your passport.
What are the requirements?
The advantage of this virtual application procedure is that you avoid a lot of bureaucracy. Fortunately, you do not need much. Only the following:
Valid passport – Provide a passport that maintains its validity for at least another 6 months from the date of arrival in Cambodia. If the document expires sooner than that, you will need to renew it.

Digital passport photo – Take a photo that meets the standards of a passport photo. Make sure that it is taken against a white background, and you look straight at the camera. Do not wear glasses and unless you have religious reasons, you can not take the photo with a headwear.

E-mail address – Make sure that you introduce a valid email address you have access to. The reason is because we will send you the document in the email account you provide us.

Means of payment – We accept multiple methods of payment such as credit and debit cards or Paypal. Alipay and WeChat are also available options for the payment we have online.
What is the cost of obtaining this eVisa with iVisa? what are the processing times?
iVisa have three options for you. Remember that your decision determines the total price of your Cambodian eVisa. These are your options:
Standard processing – The application takes 5 Business Days to be processed. The cost is USD $89.99 which includes the service we provide and the cost of the visa.

Rush processing – The good thing about this process is that you can get your eVisa in 3 Business Days. The price is a little different from the previous one with a total cost of USD $146.99, including the service fees.

Super Rush processing – This one has a little more preference, because it is fastest. You have the chance to get your eVisa in only 2 Business Days, and all for a cost of USD $196.99.
How's the online application form?
When you notice that you meet all the requirements, you can proceed with the application form part and complete it with your details. That should take you only about 20 minutes. If you have any problems filling out the data, you can contact us at any time. We will be happy to attend you.
You have to complete three steps:
Complete your general data. Also, select the processing time from the options aforementioned.

Review your info and make the corresponding payment. We implement these options of online payment: credit/debit card, Paypal, Alipay, and WeChat.

Answer a questionnaire. And add other documents (this may change depending on personal cases.)
Click here to begin. Submit your application and wait for it to arrive in the timeframe of your choosing.
How long is this eVisa valid for?
Dutch passport holders can enter Cambodia in 90 days after issued.
How many entries am I allowed? How long can I stay?
You're granted a Single Entry as a Dutch passport holder. Don't forget that you are only allowed one single entry to the country. You are not allowed to enter more than once, nor to exceed the 30 days in Total that this eVisa allows you.
Can I enter through any entry point in Cambodia with this e-Visa?
Unfortunately, no. Cambodia has selective points for travelers to come in with a visa:
Phnom Penh International Airport
Siem Reap International Airport
Poi Pet (Banteay Meanchey)
Bavet (Svay Rieng)
Cham Yeam (Koh Kong)
Tropaeng Kreal Border Post (Stung Treng)
Sihanoukville International Airport
How does this eVisa look like?
In the image below, you can find more details of how an eVisa Cambodia looks like: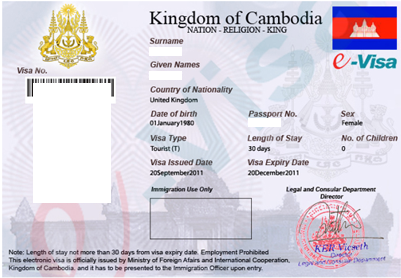 Where can I find out more information?
You can get in touch with one of our customer service team and they will be glad to attend you in any question or concern you may have. If you want more information, you can also click here.
For Dutch passport holders it is less complicated to obtain a visa for Cambodia, plus we can minimize the waiting time you might have if you apply with the Embassy. Don't wait any longer and start your process with us. We save you the time so you can start planning your trip!