The Cambodia electronic visa is available for many nationalities, and Italian passport holders can too apply online for a Cambodia visa. That spares you the time and effort to go to the Cambodian embassy or to stay in line at the visa on arrival counter. iVisa can help you with the online application process so that you can obtain your travel document in only 24 hours. In this article we'll review some answered questions on this inquiry!
Frequently Asked Questions
What is a Cambodia e-Visa?
The e-Visa is an official document that allows you to travel to and within Cambodia. This document is electronically linked to your passport.
What are the requirements for getting a Cambodia e-visa for Italian passport holders?
You will be happy to know that the list of requirements for a Cambodia e-visa is not long, and the items on it are almost effortless to acquire. Here is what you will need during the application process:
Valid passport – to be able to apply for a Cambodia e-visa, you must be a passport holder. However, check its expiry date to make sure that it remains valid for at least another 6 months from the date of arrival in Cambodia. You also need to scan the passport's information page. You will be asked to upload it during the online application process.
Digital passport photo – the picture must follow some basic passport photo guidelines. For example, it needs to be taken as recently as possible, on a white background, and so on.
E-mail address – you will receive your Cambodia visa via e-mail in PDF format, which is why the address you give when you fill in the form needs to be valid and spelled correctly. You have to print out at least two copies before your departure.
Means of payment – you will be happy to learn that iVisa is versatile as far as paying for services goes. You can use multiple methods such as credit/debit cards, PayPal, Alipay, and WeChat as well.
What are the processing times and fees offer by iVisa?
iVisa gives you three options for you to choose which one suits you the best! But keep in mind that whatever choice you make, it affects the cost of your Cambodia visa. They are as follows:
Standard processing – most people go for this option because it's the cheapest. It costs only

USD 56.00

, and your application is processed within

4 Business Days

.
Rush processing – the amount of time you need to wait for your Cambodia visa is

2 Business Days

, and the fee is

USD 86.00

.
Super Rush processing – the fastest option you have is also the priciest. Your request is processed within only

24 hours

, but as you can imagine, the fee goes higher as well. You will be charged

USD 116.00

.
How is the the online application form for a Cambodia e-visa?
What comes next? You have to fill in the application form, of course. However, you should not experience any difficulties completing that task. And even if you do, iVisa's customer support service is at your disposal 24/7 and free of charge. Contact us anytime, at any day!
The application form consists of three easy steps.
Step one asks for your personal information, as well as travel details and passport information. You also have to select a processing time for your application at this point.

The second step is reserved for payment and revision.

And the third expects you to provide iVisa with the necessary documents that support your application. You will receive instructions on how to upload them.
After you finish doing that, you can submit your request and iVisa will take things further.
How long is the e-Visa valid for?
The Cambodia e-Visa for Italian passport holders has a validity of 90 days after issued.
How many entries am I allowed? How long can I stay?
You are granted a Single Entry as an Italian passport holder. Meaning you can only enter once and can stay a maximum of 30 days Total.
Can I enter through any entry point in Cambodia with this e-Visa?
No. These are the only ports of entry that allow the e-visa:
Phnom Penh International Airport
Siem Reap International Airport
Poi Pet (Banteay Meanchey)
Bavet (Svay Rieng)
Cham Yeam (Koh Kong)
Tropaeng Kreal Border Post (Stung Treng)
Sihanoukville International Airport
How does this e-visa look like?
Here is a sample: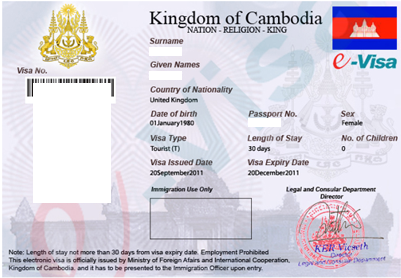 I have more questions, where can I find out more?
If you have any more doubts, feel free to contact our customer service. If you want more information, you can also click here.
The bottom line is that obtaining a Cambodia visa for Italian passport holders does not imply too much of an effort when you use the services rendered by iVisa. You will be sent an e-visa that is valid for 90 days since issue. It grants a single entry and you can stay in Cambodia for no more than 30 days. iVisa helps you along the way to make this process a stress free one! Our company is a trustworthy service, just check out our testimonials! Allow us to help you have a wonderful trip!