As stated by Cambodia's visa policy, South African citizens are eligible for an electronic visa when they travel to Cambodia. As a result, you can apply online for your visa using the service rendered by iVisa. However, remember that the eVisa is only valid at the following points of entry: Phnom Penh International Airport, Siem Reap International Airport, Poi Pet (Banteay Meanchey Province), Bavet (Svay Rieng Province), Cham Yeam (Koh Kong Province), Tropaeng Kreal (Stung Treng Province), and Sihanoukville International Airport.

Frequently Asked Questions (FAQs)
As a South African citizen, do I need a visa to enter Cambodia?
Yes, citizens holding a South African passport needs to apply for a Cambodia eVisa.
What is the Cambodia eVisa?
It is a document issued by the Government of Cambodia that provides authorization to travel to Cambodia.
How long can South Africans stay in Cambodia?
South African nationalities can stay in the Cambodian country for 30 days with a single entry type. This means that you can only enter the country once.
For how long is the Cambodia eVisa valid for?
You have 90 days (counting from the moment you issue the visa), to enter Cambodia. After that number of days, you will not be able to enter the country.
What do I need to apply for a Cambodia eVisa?
The documents we require from you are just a few:
Valid passport scan– Provide a passport that maintains its validity for at least another 6 months from the date of arrival in UAE. If the document expires sooner than that, you will need to renew it.

Passport photo – Take a photo that meets the standards of a passport photo. Make sure that it is taken against a white background, and you look straight at the camera. Do not wear glasses and unless you have religious reasons, you can not take the photo with a headwear.

Valid email address – Make sure you have access to your account since you need to print out the document. The e-visa will be sent to your email account.

Means of payment – Do the corresponding payment online. We currently accept credit/debit cards and Paypal.
How long does it take to get a Cambodia Visa and what is its price?
We offer three processing alternatives for its applicants:
Standard – We process your application in 5 Business Days all with a total price of USD 87.99.

Rush – We send you the eVisa within 3 Business Days. The cost of this alternative isUSD 123.99.

Super rush – We provide you the eVisa in only 2 Business Days, but with a charge of USD 164.99.
Can I travel to Cambodia with a refugee travel document instead of a passport?
No, an ordinary passport is required for this type of visa. If you have a refugee document, we recommend that you apply with the Embassy/Consulate directly.
What are the ports of entry & exit to Cambodia that I may use when using the eVisa?
You can enter the country using these entry points:
Phnom Penh International Airport.

Siem Reap International Airport.

Poi Pet (Banteay Meanchey).

Bavet (Svay Rieng).

Cham Yeam (Koh Kong).

Tropaeng Kreal Border Post (Stung Treng).

Sihanoukville International Airport.
How long does it take to apply for a Cambodia eVisa?
It does not take too much time to complete the application. Just dedicate 10 minutes to your visa process application, and after that we will work on the rest!
How can I apply to a Cambodia visa?
Start your application with us in our iVisa website. The process is very easy and it will take you only 10 minutes to complete it.
This application has only three steps:
First: Fill in your general data. You also have to select the processing time from the options mentioned before.
Second: Check your information.
Third: Process and complete your payment.
When you finish this part, you just need to wait for you evisa that we will send it via email.
View Cambodia eVisa sample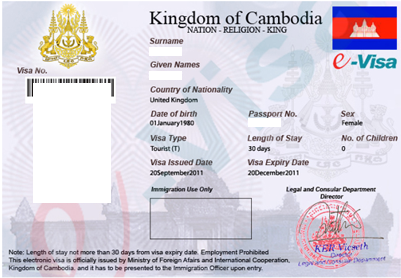 Do I need to get a Cambodia eVisa for my kids too?
Yes, because every passenger must have an eVisa regardless of their age.
How can I apply for my family or friends?
Just apply here introducing his/her data and with the documentation required. In case you need to apply for more than one friend or family member, you need to click on 'Add new applicant' in the application form and add their information.
What can I do if I make a mistake in my application?
You will need to contact our customer service team as soon as possible to assist you.
IMPORTANT NOTE: If we already submitted your application, you can NOT make any changes. In this case, you will need to apply again.
Is it safe to use iVisa to get my Cambodia eVisa?
Yes, totally! We are a professional service provider issuing official Cambodian eVisas a long time ago. We have extensive experience in this business and our team is always ready and prepared to help our clients. In addition, we offer confidentiality, security and guarantee in our services. You should not feel concerned about the information you send us, as everything will be safeguarded and not exposed on the Internet.
I have more unresolved questions, where can I find more info?
If you still find any questions or concerns during the application process, then you can contact us and we will be more than glad to assist you. There is also more information about this document in this button.