Besides its temples and ancient ruins, Cambodia is known as one of the most traditional and cultural countries to visit. If you want to join the adventure of visiting this country, you must take into account that for some nationalities it is necessary to apply for an eVisa. One of them is Belgium, that must obtain this document by an online application In order to help you to get your Cambodian eVisa now, we have implemented a list of answers to frequently asked questions that will inform you about the whole process.

Frequently Asked Questions
What is a Cambodia eVisa?
The Cambodia eVisa is required for certain nationalities, who wish to travel to and within Cambodia. This is an electronic document, so you do not need to apply with an Embassy in person.
What are the requirements for a Cambodia eVisa for the citizens of Belgium?
Before you start, remember to get the documents shown below:
Passport

Digital passport photo

Email address

Means of payment
What are the fees and processing times offered by iVisa?
iVisa came up with some alternatives to fit your needs. The one you choose will not only determine the timeframe in which your Cambodia visa is ready but also its cost:
Standard processing USD $87.99 – takes 5 Business Days.

Rush processing USD $141.99 – takes 3 Business Days.

Super Rush processing USD $188.99 – takes 2 Business Days.
How is the online application form given by iVisa?
As soon as you believe yourself to be ready, you can start with the application form. Completing it should not give you any headaches, nonetheless, if it is like that, you can contact us.
The form is structured in three sections:
The first part covers the basics, however, you may also choose the processing time.

Next, you must make the payment and check if your information has any mistakes. You should know that the details you provide must be correct if you do not want to end up with an invalid visa.

The third and last section will request that you upload your passport and photo.
Additional documents may be required and these will vary on each applicant's application. At the end of the form, just click on submit to finish.
How long is the Cambodia eVisa valid for?
The Cambodia eVisa can be used for 90 days (after the document has been issued.)
How many entries am I allowed? How long can I stay in the country?
The eVisa to visit Cambodia, allows you to get a Single Entry and stay for 30 days in Total.
Can I enter through any entry point in Cambodia with the eVisa?
No, you cannot enter this country through any entry/border. You are only allowed to enter by:
Phnom Penh International Airport
Siem Reap International Airport
Poi Pet (Banteay Meanchey)
Bavet (Svay Rieng)
Cham Yeam (Koh Kong)
Tropaeng Kreal Border Post (Stung Treng)
Sihanoukville International Airport
How does the Cambodia eVisa look like?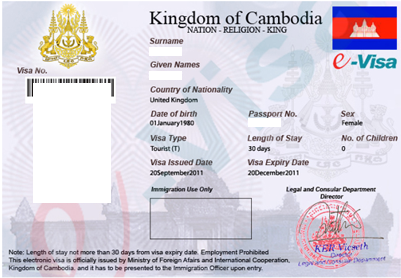 Where can I find out more information?
There are two ways you can clarify the doubts you have, the first is by calling our support team or by starting a chat with one of the guys from our customer service team.
Applying for a visa for the citizens of Belgium is an effortless process when you do it with us. We will help you through the whole process, from start to finish, so you can get it in a short time.