Portuguese citizens who plan to spend their vacation in Cambodia do not have to worry about going to the nearest embassy to get their visa. That is because as a Portuguese, you are eligible for a Cambodia eVisa, which means that you can apply for it online. iVisa provides a short and straightforward application process and, as a result, the travel document can be yours in just 24 hours.
Frequently Asked Questions
What is a Cambodia eVisa?
A Cambodia eVisa is an authorization document that gives you the permission to visit Cambodia. It's electronically linked to your passport once issued.
What are the requirements to obtain a Cambodia eVisa for the citizens of Portugal?
Before you get started, there is something that you need to do. We are referring to making sure that you have everything required for a successful application process. With that being said, here is what you will need:
Passport – to apply for a Cambodia visa, you must have a passport. However, before you start the application process, make sure that it is valid for at least another 6 months from the date of arrival in Cambodia. At the same time, you must have a scan of the passport's information page.
Digital passport photo – as far as this requirement is concerned, the only thing you need to make sure of is that the picture meets all the guidelines for a valid passport photo. For example, it needs to be taken recently.
E-mail address – if you undergo the online application process, you will receive your eVisa via e-mail in PDF format. That is why you are required to have a valid address. Also, before your departure, do not forget to print out at least 2 copies.
Means of payment – you will find that when you apply with iVisa, covering the costs is incredibly convenient. That is because iVisa accepts multiple methods of payment. You can use a credit or a debit card, but we also take PayPal, Alipay, and WeChat.
What are the processing times and fees to obtain this eVisa?
The cost of your Cambodia visa depends on the processing time you choose. iVisa offers three options:
Standard processing – this is the cheapest option you have at your disposal, but it is also the slowest. Your application is processed within 4 Business Days, but the cost is only USD 56.00.

Rush processing – if you want your Cambodia visa a little faster, then this may be the option for you. You receive your travel document within 2 Business Days, and you pay USD 86.00 for it.

Super Rush processing – as you can imagine, this is the fastest option, but the most expensive as well. Your request is processed within only 24 hours, and the cost is USD 116.00.
How's the online application process?
iVisa created a simple and short application form so that you do not spend too much time on it. However, in case you have questions or concerns, you can always contact iVisa's customer support. It is available 24/7 and free of charge.
The application form consists of three easy steps.
The first one requires you to provide general information about yourself and some details regarding the trip and passport, but you also need to make up your mind as far as the processing time for your application is concerned.

The second step wants you to handle the payment and review your form to make sure it does not include mistakes. It is crucial that all the information you provide is 100% accurate.

The last step only wants you to upload your application's supporting documents.
Once you are finished, you can submit your request and iVisa will take it from there.
How long is the Cambodia eVisa valid for?
The Cambodia eVisa for citizens of Portugal has a validity of 90 days after issued.
How many entries am I granted? How long can I stay?
With this Cambodia eVisa you have a Single Entry. This means you can only enter once, and staying a maximum of 30 days Total.
Can I enter through any entry point in Cambodia with this eVisa?
No. These are the only ports of entry that will allow an eVisa:
Phnom Penh International Airport
Siem Reap International Airport
Poi Pet (Banteay Meanchey)
Bavet (Svay Rieng)
Cham Yeam (Koh Kong)
Tropaeng Kreal Border Post (Stung Treng)
Sihanoukville International Airport
How does the Cambodia eVisa look like?
Here's a sample: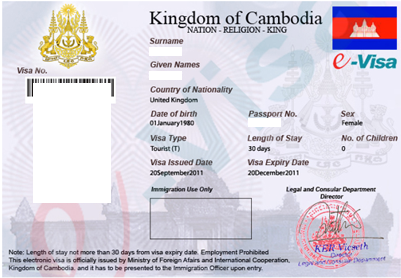 Where can I find more information?
If you have any more doubts, you can contact our customer support service for a more fast and private response. If you want more answered questions, you can go here.
As you can see, getting a Cambodia visa for the citizens of Portugal is incredibly accessible when you apply with iVisa. We make your trip possible by doing with the heavy lifting! Trust our team, and have a wonderful adventure.