According to Cambodia's visa policy, most nationalities that travel to Cambodia have access to an electronic visa. Sweden nationals are among them. Consequently, you can make an online application for a Cambodia eVisa, and iVisa can help with the process. You can have your much-needed eVisa in less twenty-four hours.

Frequently Asked Questions
What is an electronic visa for Cambodia?
The eVisa, better known as the electronic visa, allows citizens of certain countries to travel and enter Cambodia legally.
What do I need to apply for an eVisa?
If one thing is for certain is that you do not have to struggle in order to meet the requirements. That is because the list is not extensive, and the items on it are not challenging to acquire. Here is what you need to get the process started:
Passport
Digital passport photo
We also require that you provide us with a valid email address and a method of payment so that we can process your application. We are currently accepting: credit cards, debit cards, and Paypal payments.
About how long does it take to process the visa and how much does it cost?
We give you three options:
Standard processing – for USD $73.49 we process your application in 5 Business Days.

Rush processing – within 3 Business Days we obtain your eVisa but with a charge of USD $126.99.

Super Rush processing – in less than 2 Business Days you receive the Cambodian eVisa. This one has a total price of USD $159.99.
How does the Cambodia visa work for the citizens of Sweden?
You will notice that the page of the form designed by iVisa is divided into three steps. Before you get to them, we would like to inform you that we have an awesome team of customer service that is at your disposal 24/7.
The first step of the form expects you to fill in the blanks with personal information, travel details (arrival, departure), and passport info. At this point, you must also select the type of time you want to receive so that the cost of your Cambodia eVisa can be set.

When you get to the second step, you will be asked to cover the payment for the visa and service, and you have to carefully review your form.

The last step focuses on supporting documents. You will be required to upload them as per iVisa's instructions.
Once you are done, you are free to submit your request and iVisa will take things further.
How many days does the visa last?
The Cambodia eVisa can be used for 90 days (counting from the day your visa was issued). After those 90 days, your visa will no longer be valid and you will have to apply again.
How many times can I enter and what is the limit of days I can stay in Cambodia?
Swedes can stay in the country for 30 days with a single entry type. This means that you cannot enter Cambodia more than once.
What are the permitted entry points into Cambodia?
Here is a list of the corresponding information:
Phnom Penh International Airport
Siem Reap International Airport
Poi Pet (Banteay Meanchey)
Bavet (Svay Rieng)
Cham Yeam (Koh Kong)
Tropaeng Kreal Border Post (Stung Treng)
Sihanoukville International Airport
Example of an approved Cambodian eVisa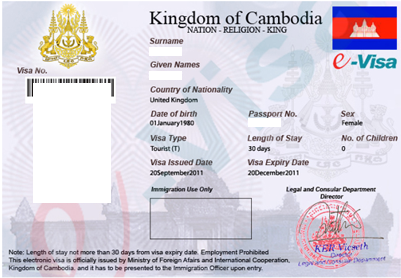 Who or where can I contact for more information?
You can call us or chat with us here. If you want to see other FAQs about Cambodia eVisa or other countries in general, you can go here.
What you need to keep in mind is that the online process of obtaining a Cambodia eVisa beats the one you come across to at an embassy. iVisa helps you with everything! Just give yourself time to plan an amazing adventure.