Cambodia is a destination known for its magnificent sanctuaries such as Angkor Wat, where religion, culture, and history unified to create a unique site for the world. The architecture and peaceful atmosphere will be unforgettable. You can also get enchanted by Buddhism and explore this spiritual journey without any restrictions.
We wouldn't blame you if you decide to get a visa extension in Cambodia just to keep exploring this special place. On other occasions, adding more days to a trip might be out of your hands when unexpected circumstances occurred and you are required to follow national guidelines to keep you safe. We will always advise you to keep a close eye to Cambodian government updates if you are in any of these cases as current visa extension procedures could change quickly.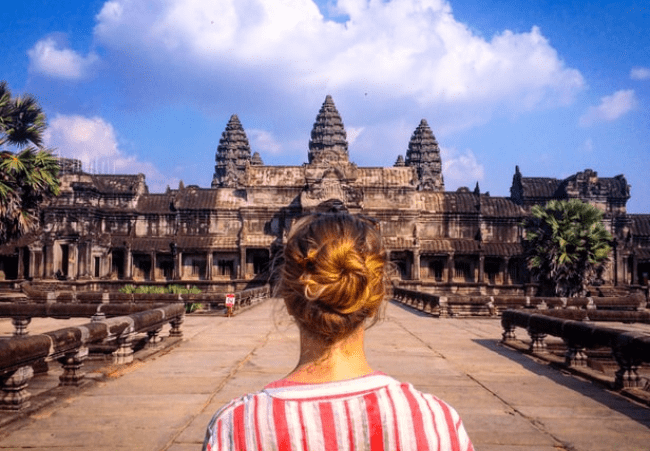 If you are thinking to get a visa extension, something we are sure about is that you will be required the proper documentation. You should be sure to have a Cambodia e-Visa and the recently required Health Declaration. These documents are necessary for your entry to Cambodia.
iVisa.com is offering you to get your e-Visa and Health Declaration to Cambodia with easy online forms. You will not waste any time and your documents will be ready without even noticing. Trust in our simple, reliable, and fast products. Learn more about them in our FAQs.
Frequently Asked Questions (FAQs)
What documents do I need to visit Cambodia?
If you are planning a trip to Cambodia be aware you will probably need a visa and definitely a Health Declaration. About the visa, you must check if your nationality might be among the countries that can request an electronic visa or e-Visa, go to our visa checker. In terms of the Health Declaration, this is a mandatory document for anybody entering Cambodia.
What is an e-Visa and a Health Declaration?
The Cambodia e-Visa or electronic visa is a document you can get online and once approved it is linked to your passport. This will allow you entry into the country according to the travel dates you request in your application.
The Health Declaration is a document to detail your contact information and your health conditions before entering the country. This is very important to continue a safe trip within the country and to comply with any health guidelines put in place by the Cambodian government.
A failure to have either of these documents when traveling to Cambodia could result in an entry denial.
Don't wait any longer to have these documents with you, apply now with iVisa.com!
How long is my Cambodia Visa and Health Declaration valid?
The e-Visa is valid for 90 days after issued since the issued date but you can only remain in-country for a maximum of 30 days in Total.
What is the cost for my e-Visa and Health Declaration to travel to Cambodia?
We know your budget is important and we just charge you a minimum fee from iVisa.com, just to make your applications a little bit easier. For any of our applications, we give you the chance to choose between three options with different processing times. In the case of the Cambodia e-Visa and Health Declaration we can see:
Standard service: get your e-Visa in

5 Business Days

for a total of

USD $85.99

and your Health Declaration for

USD $79.99

.
Rush option: we can work faster and get your e-Visa in

3 Business Days

for

USD $127.99

and your Health Declaration at a price of

USD $110.99

.
Super rush option: in just

2 Business Days

for

USD $177.99

you will receive your e-Visa and for

USD $145.99

get the Health Declaration.
Remember that all these prices include the Cambodian government and iVisa.com fees.
Ready now to get your documents? Apply here!
Which documents must I present to get my Visa and Health Declaration?
For both procedures, you will be requested almost the same, which includes:
An applicant's photo.
A scan of your passport showing your personal details.
An email address which should be a valid one.
A payment method choose between paying by credit/debit card or Paypal account.
Any other document relevant for the application.
How does the process work for both documents?
In iVisa.com, we work tirelessly to give you the least difficult process you could ever find. We know you can always choose to get your documents directly with the Cambodian government, but you might find yourself lost with hard processes. For this reason, we have reduced the procedure to just easy to follow 3 steps:
Fill out the online form for your e-Visa and Health Declaration which will request some information like personal details, passport information, and port of arrival. In both cases, select a processing time to get a final quote.
Review your answers carefully and confirm all the information is correct. Think about paying with a Paypal account or a credit/debit card and process it.
Send all documents required and finish the form.
Even though steps seem easy you might have some questions along the way so don't hesitate to get in touch with our support team. We want you to have our full support, so please contact us at any time.
What answer will I get in my email?
Please make sure your email is checked regularly so you don't miss our responses. We will send your final documentation according to the time you had chosen to have them. Once you got the answer, have it with you at all times when arriving in Cambodia. You will need to show them upon arrival.
We know by now you are more than ready to start your application, why don't you click here and start!
Is it safe to use iVisa.com for my visa and Health Declaration?
We have a very trusting team working 24/7 for excellence. We are not new in this business and we keep updating our platforms and services every day. If you still have some doubts, please check on our previous clients' comments and find by yourself our online forms are the most reliable on the Internet. 100% reliable and made simple for you, we are here to help you.
Where can I get more information?
Keep on exploring our website and our application page. Still, we got support agents who can take care of any questions, don't be afraid to contact them any time soon.
With our super rush option, you can have your documents today so go and get them now here!