If you're planning your trip around South East Asia and you are eager to visit Cambodia, you're probably wondering where you can get and "How Long Does An eVisa Take for Cambodia. Whether you're arriving through air, land or water to this magical southeast asian country, you will need to be a holder of a Cambodia eVisa.
If you're interested in getting information and all you need to know on how to apply, we suggest you take a look at the information iVisa.com has compiled regarding the requirements to enter Cambodia.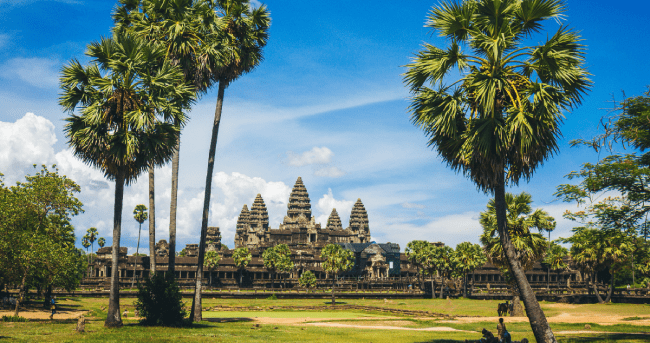 It will be extremely easy to apply when you use the help of iVisa.com, because our team of experts will take you through every step of the process, and you will be able to do it in a matter of minutes quickly, easily and stress free. The amount of time to process your eVisa depends on the choice you make.
Once you apply through us, you can sit back and relax while our visa team takes care of the entire Cambodia eVisa process, as well as be available to you 24/7.
For more details on How Long Does An eVisa Take for Cambodia keep reading our FAQs bellow.
Frequently asked questions
What are the COVID-19 restrictions to enter Cambodia?
Cambodia reopened borders on 3rd of May 2022 and these are the COVID restrictions.
Vaccination card or full vaccination scheme (with some).
All unvaccinated travelers are obliged to present a negative RT PCR test. If entering by air, they must complete a 7 day quarantine and get tested on day 7. If the unvaccinated traveler is entering by land, they must quarantine for 7 days as well and get two COVID-19 PCR, one prior to entering quarantine and the other one 7 days later, the last day of quarantine.
For more details, we invite you to get more updated information regarding Cambodia's regulations on our FAQ section.
"How Long Does An eVisa Take for Cambodia and how do I apply for it?
Applying can be easily done and at fast speed, with the help of iVisa.com following these 3 simple steps:
Step 1: Provide basic information about yourself and your trip by answering a couple of questions. Make sure you are selecting the correct document you wish to apply for.
Step 2: Once you've made sure you have all the necessary documents necessary to get a Cambodia eVisa, as well as having delivered the correct information, you just have to choose the processing times you are going for , so you can pay the fees easily using a credit or debit card.
Step 3: Finally, add the documents, if required, and click 'Submit'.
You will receive an email with a PDF confirmation that has a QR code attached that our team will send you. Once you arrive in South Arabia, you only need to show it with the other solicited documents if needed at the airport and you can begin your journey.
What documents do I need to apply for it?
To get a Cambodia eVisa, you must have in hand:
Passport Personal Details Scan.
Last Page of Passport (if applicable).
Applicant Photo.
Proof of Travel Medical Insurance (if applicable).
Medical proof of COVID-19 vaccination (if applicable).
Proof of Accommodation.
How Long Does An eVisa Take for Cambodia?
When traveling to Cambodia, you will necessarily have to present a Cambodia eVisa. The "How Long Does An eVisa Take for Cambodia, will depend on you and the amount you want it to take, when you apply with us.
With iVisa.com you get to choose between 3 different processing times and pricing options:
Standard Processing:

5 Business Days

-

USD 84.49

.
Rush Processing:

3 Business Days

-

USD 127.99

.
Super Rush Processing:

2 Business Days

-

USD 177.99

.
For more details we invite you to get more information regarding the Cambodia eVisa on our product page FAQ section.
Can I trust iVisa.com?
¡Yes, ou can, head to the user reviews section for confirmation and check out our past customers's experience with our services at iVisa.com.
You have more questions and would rather talk to someone?
If you have questions like "How Long Does An eVisa Take for Cambodia? or more questions regarding the Cambodia eVisa, we invite you to contact our customer service team. They're available 24/7 through our website to answer any of your questions.
iVisa.com Recommends
When traveling to Cambodia, you will bump into many wonderful things and a must see is Prasat Preah Vihear. This XI century hindu temple can be found on the border between Cambodia and Thailand and has been on the lips of people all over the planet for years, thanks to the stir caused by the battle between the two countries claiming it as their own. Regardless of these political issues, the temple originally built to honor the god Shiva, was declared a World Heritage Site by UNESCO.
Please be sure not to worry, even though things have been tense around the border in the past, nowadays things are very calm and you will find Police and Military officers surveilling the area on a daily basis, in order to keep tourism safe and flowing. When you arrive at Prasat Preah Vihear, you will be perplexed by a succession of sanctuaries connected through a structure of staircases and sidewalks that take up to 800 meters long. Although the site has been taken care of throughout the years after it was declared a World Heritage Site, you can tell by looking at it that it was its location and harmonious amalgame between nature and its carved stone architecture that have preserved it so well.
Prasat Preah Vihear may sound like another temple in Cambodia, but we assure you it is definitely worth seeing because it's one of a kind.