Siem Reap International Airport (Code: REP) is Cambodia's busiest airport, serving the city Siem Reap a popular port of entry into Cambodia for tourists since its proximity to Angkor Wat.
The airport consist of 2 areas located right next to each other.
There is a Domestic and an International area. They are located approx. 50 meters apart, so you can simply walk from the one to the other.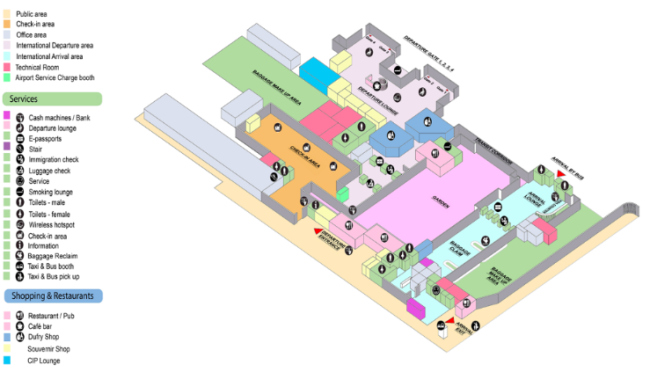 Here are our tips for a stress-free arrival to the airport:
Remember that prior to departure, your airline/cruise ship check-in agent will ask to see your eVisa document before checking in so make sure you have a hard copy with you. You can apply for the tourist visa to Cambodia online here: www.ivisa.com

Upon arrival in Cambodia, you will pass through immigration and get a stamp in your passport. It should take less than 5 minutes to verify all your details and to receive your entry stamp. We suggest that you print copies of all the documents you uploaded online as this may be required to verify your travel plans upon arrival in Cambodia.

The baggage claim area is in the next room after which you will pass through customs.

If you see that there is no customs officer then just slip your customs declaration form in the provided bin.

IMPORTANT: You should always be up to date on routine vaccinations when traveling abroad. The yellow fever vaccination is not required for everyone visiting Cambodia but we suggest that you consult a medical doctor in time to get the correct vaccinations such as Hepatitis, TB, Typhoid, Malaria, Japanese Encephalitis, Rabies, etc.

Zika is endemic in Cambodia, and even though the risk is low we suggest a pregnant woman take extra precautions to not get bitten by mosquitoes.
Final tips
Check the stamp in your passport as this indicates how long you can stay in the country, overstaying in Cambodia is not recommendable. You can get you into a lot of trouble, paying fines and unnecessary stress.

If you need a taxi on arrival, please note that you will be approached by a lot of tuk-tuk drivers and taxis. Simply pick a friendly-looking driver to take you on the short ride into town, less than 15 mins away.