If you are planning to visit Canada anytime soon you will be happy to know that there are a lot of nationalities that are visa-exempt. However, those travelers still need to have authorization to enter the country. With iVisa, you can do it online, but first, you need to check your eligibility. For that, you can use our Visa Checker by selecting your nationality and Canada as your destination.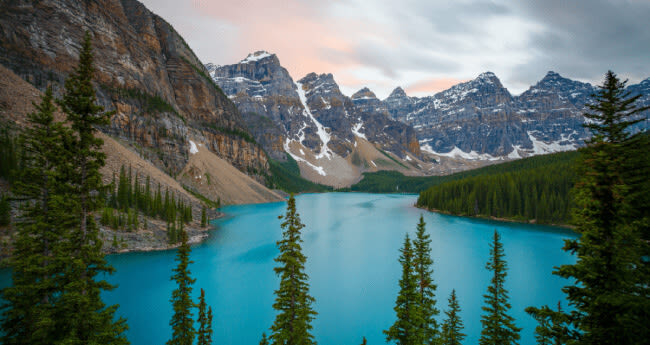 Frequently Asked Questions (FAQs)
What is a Canada ETA (Electronic Travel Authorization)?
An ETA is a new entry requirement for visa-exempt nationals who will arrive to Canada by air. From March 15, 2016, visa-exempt country nationals who fly/transit Canada will need the ETA. Exceptions include US citizens and travelers with a valid visa issued by the Canadian Embassy.
What do I need to apply for Canada ETA?
No documents are required to submit an ETA application. You will only need to have a valid passport, your email address and a credit/debit card or PayPal account for payment.
How Long Does a Canadian eTA Last?
The Canada ETA is valid for 5 years after issued or until passport expires. A new passport would require a new eTA. In addition, it is a Multiple Entry Visa and allows for a maximum stay of 180 days Per Entry.
What are the processing times and prices?
You will have three options:
Standard processing – your visa application is processed within 24 hours, and the price is USD 22.30 (service fees included).

Rush processing – you will receive your visa within 4 hours, and the total price of it is USD 55.30 (service fees included).

Super rush processing – this is the fastest option. You will get your (country visa) in only 30 minutes, and you will be charged USD 69.80 (service fees included).
Click here to start your application.
How does the Canada ETA work?
In March 2016, the Canadian Government introduced a new entry requirement known as an Electronic Travel Authorization (ETA). This new ETA has become a requirement for all citizens of visa-exempt countries who travel to Canada by air.
An ETA is electronically linked to a traveler's passport. It is valid for up to five years or until the passport expires, whichever comes first. With a valid ETA, you can travel to Canada as often as you want for short stays (up to six months at a time). The information entered will be sent electronically to the Canada Department of Immigration and we will send your Canada ETA online via email.
How long does it take to apply for a Canada ETA?
Less than 10 minutes. You just need to apply online and we do the rest of the job.
How can I apply for a Canada ETA?
The application for Canada ETA is really easy. It has only three steps:
The first step will ask you to fill in your general information. You also need to choose the processing time from the options mentioned above.

The second step will ask you to revise step one and make the payment.

The last step consists of a questionnaire and a photo upload. At this point when you need to upload your passport scan. Other documents may be required as well, but it depends on individual circumstances.
Click here to start. After you are done, submit your form and wait for your visa to arrive. In case you need assistance to fill your application, iVisa has a fantastic support service that you can call 24/7.
What happens after I have applied?
We will send you your ETA in the timeframe you choose, to the email provided, in PDF format. No need to deal with embassies!
I am traveling with a minor. Does s/he need an ETA?
Yes. All travelers, regardless of their age, will need the ETA when they travel to Canada.
Even if your child is on a parent's passport, a separate application still must be completed for the child.
How long should my passport be valid for if I want to apply for the Canadian ETA?
Your passport must be valid for at least 6 months from the date you intend to arrive in Canada.
Do I have to apply for an ETA each time I travel to Canada?
No, the Canadian ETA is valid for 5 years after issued or until passport expires. You can visit Canada as many times as you wish as long as the ETA is valid. Note that each visit is limited to a max stay of 180 days Per Entry.
Do I have to print and carry my ETA with me when I travel?
No, you do not, as it is electronically linked to your passport. However, it is advised that you carry a physical copy with you, just in case.
How does the Canada ETA look like?
This is how it will look like: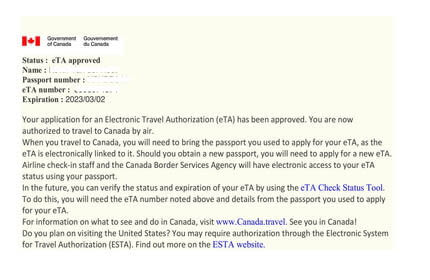 Is it safe to use iVisa to get my Canada ETA?
Many people think that online information leaks and that their personal info is at risk of getting into the wrong hands. However, that is not the case with our services. We provide maximum safety for your personal data, confidentiality, and we invest a lot in the security of our database. Your personal information could not be safer. You can check what hundreds of happy customers say about us here.
I have more unresolved questions, where can I find more info?
For a faster resolution click here and start chatting with one of our customer service representatives. Alternatively, you can find more info and FAQs here.
---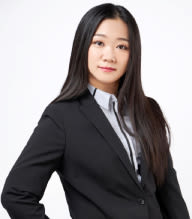 Yixi (Sophia) Li is the co-author of this article. She is a licensed immigration consultant (RCIC) who has been working with an immigration law firm since 2016. She is also a licensed paralegal in Ontario and a notary public. She has a Masters of Law. In 2018, she founded Mainstay Immigration Law Firm and Yixi Li Legal Firm.
---