Bulgarian citizens, like many other nationalities, are not required to apply for a visa before traveling to Canada for short stays. However, you do need to obtain a Canada ETA before you board a flight. The electronic authorization is available online, and with iVisa's help, you can have it approved in just 30 minutes.
Frequently Asked Questions
What is an ETA?
It is a permit required for visa-exempt nationals who will entry to Canada by air.
What are the requirements for a Canada ETA for the citizens of Bulgaria?
You will be pleased to find out that the Canada ETA is not a very demanding document to obtain. In fact, the list of things you need for the online application process is quite short. What is necessary is as follows:
Valid passport – you cannot apply for a Canada ETA unless you are a passport holder. But that is not all. The travel document needs to maintain its validity for at least another 6 months from the date of arrival in Canada, so make sure to check your passport's expiry date before you apply for your ETA.

E-mail address – you need to provide iVisa with a valid address because the ETA confirmation is sent via e-mail in PDF format. The ETA is electronically linked to your passport and you do not have to hold a physical copy. But most people prefer to print one out, just in case.

Means of payment – an online application process requires that you make the payment online as well. To that effect, you need to have a valid method of payment. iVisa accepts credit or debit cards, but you can also use PayPal, Alipay, or WeChat. Whichever you find most convenient.
What are the fees and processing times?
iVisa gives you three options, and each of them comes with its own individual cost. They are as follows:
Standard processing – if time is not an issue, you can opt for the slowest and cheapest choice you have at hand. By choosing this option, your application for a Canada ETA is processed within 24 hours, and the cost is USD 19.50.

Rush processing – speeding things up a little, this option delivers your Canada ETA within just 4 hours. The cost, on the other hand, goes a little higher. You are charged USD 49.50.

Super Rush processing – if you choose this option, you can apply for your Canada ETA on your way to the airport. Your application is processed within just 30 minutes, but you are charged USD 69.50.
How's the online application form?
Right after you make sure that you fulfill all the requirements, you are ready to move on and fill in the form. The task should not take more than 20 minutes of your time, but if you need assistance, iVisa's customer support can be reached via online chat or phone. The service is at your disposal 24/7 and is free of charge.
You will see that the form created by iVisa is divided into three parts.
The first one asks for general information about yourself as well as some details regarding your trip and passport. At the same time, you cannot move on to the second step unless you select a processing time for your application.

The second part of the application expects you to make the payment and go over your form for review. It is essential that all the information you provide is 100% accurate.

The third part requires you to upload the documents that are necessary to support your application.
When all three parts are complete, you are free to submit your request. iVisa will handle what follows.
What's the validity of this ETA?
The ETA is valid for 5 years after issued or until passport expires. This means you must enter Canada within this period.
How many entries am I granted? How long can I stay in Canada?
You're allowed a Multiple Entry. And you can stay maximum for 180 days Per Entry.
Do I have to apply for my kids?
Yes. Even if they are underage, every traveler regardless their age must obtain an ETA.
Can i see a sample of an eta?
Sure!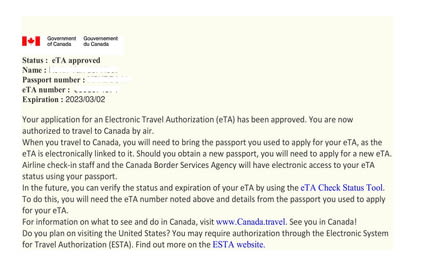 Do you have more unanswered questions?
For more information you can go to this link. Also, you can contact our customer service, 24/7!
The bottom line is that getting a Canada Visa for the citizens of Bulgaria is as easy as it can get when you apply with iVisa. We will help you have the time to plan your adventure!