Norwegian citizens who travel to Canada for short stays do not have to get a Canada visa. Instead, if you plan to travel there by air, you are required to apply for a Canada ETA. Fortunately, you can do that online, and if you use the services provided by iVisa, you can have your electronic authorization within just 30 minutes.
Frequently Asked Questions
WHAT IS A CANADA ETA?
A Canada ETA, or electronic travel authorization, is an entry requirement for visa-exempt nationals who will arrive to Canada by air.
What are the requirements?
The first thing on your mind should be meeting the requirements. But you have no reason for concern since the list is short and contains items that are not difficult to acquire. Here is what you will need for a successful application process:
Passport – all applicants who wish to obtain a Canada ETA must be passport holders. However, before you apply, check your passport's expiry date because it needs to maintain its validity for at least another 6 months from the date of arrival in Canada.
E-mail address – while the Canada ETA is electronically linked to your passport, you will receive a copy of the authorization via e-mail in PDF format. You are not required to have a physical copy on you, but you can still print one out just in case you need it.
Means of payment – during the online application process, you will be required to make the payment. iVisa is versatile as far as paying for its services goes, which is why you can use a credit or debit card, but PayPal, Alipay, and WeChat are also valid methods of payment. You can use the one that is most convenient for you.
What is the cost and processing times offer by iVisa?
You will be asked to choose between three options from different processing times in your application. The cost of your Canada ETA depends of this choice. These are the options:
Standard processing – if time is not an problem, you can choose the slowest and cheapest choice we have. Your application for a Canada ETA is ready within 24 hours, and the cost is USD 19.50.

Rush processing – this option is faster, it delivers your Canada ETA in just 4 hours. The cost does go a bit higher. You are charged USD 49.50.

Super Rush processing – if you are in a hurry, you might want to choose this option so you could apply for your Canada ETA on your way to the airport. It's processed within just 30 minutes, and you are charged USD 69.50.
How's the online application form for the ETA?
After you manage to put together all of the above, you can move on and access the application page to fill in the form. The task should not take you more than 20 minutes to complete, but if you have any questions, feel free to contact iVisa's customer support. It is at your disposal 24/7, and it is free of charge.
You will notice that the form on iVisa's application page is broken down into three steps.
During the first one, all you have to do is provide basic information, but you also have to choose a processing time for your application. Keep in mind that the choice you make determines the cost of your Canada ETA.

When you get to the second step, you are required to handle the payment, but be careful to review your form so that it does not contain any mistakes.

The third step is the point at which iVisa asks you to upload some documents that support your application.
As soon as you are through, you can hit the submit button and iVisa will send you the authorization in the agreed timeframe.
What's the validity of the Canada ETA?
The ETA is valid for 5 years after issued or until passport expires. This means you must enter Canada within this period!
How many entries am I allowed? How long can I stay in Canada?
You're granted a Multiple Entry. You can stay a maximum of 180 days Per Entry.
Do I have to apply for my children?
Yes. Even if they are underage, every traveler needs to apply for an ETA.
What does an ETA look like?
Here's a sample!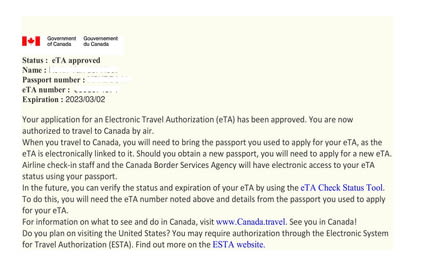 Do you have more questions?
For more information on this topic you can go to this link. Or you can contact our customer support service, anytime, any day.
What is important to remember is that the citizens of Norway do not need a Canada visa for short stays. You need, however, a Canada ETA to board your flight. The ETA is valid for 5 years since issue or until your passport expires if that happens first. You are granted multiple entries and you can stay in Canada for up to 180 days per visit.
Trust iVisa and we will gladly help you to have a stress free process and an enjoyable trip!