Whenever you want to apply for a visa or any other kind of travel permit, one of the concerns is the cost. However, you do not have to worry about the price of a Canada ETA. iVisa promises and delivers some of the most competitive fees for the document you need. Not to mention that you will get what you need by completing a short and straightforward application process.
Look up in iVisa's Visa Checker you eligibility! We The tool is located in the top right corner of the page. In the drag-down menu on the left, you need to select your nationality. In the one on the right, choose Canada. The result will tell you if you are eligible for an ETA or not, and if you are, you will be redirected to the online application page!
So, how much does a Canada ETA cost?
If you are wondering about the Canada ETA cost, there is nothing to sweat about. iVisa offers competitive prices for the best services you'll find online. You also have the possibility of choosing how much you want to spend on your ETA. Meaning that iVisa gives you three processing time options so that you can choose the one that suits you the most. Each option comes has different fees. Obviously, the faster you want your Canada ETA, the more you will to pay for it. Your options are:
Standard processing – this is the slowest yet cheapest option. By choosing this option, you agree to have your application processed within 24 hours. The cost of will be USD 19.50.

Rush processing – if time is an issue, you can choose this option and have your Canada ETA processed in just 4 hours. However, it will cost USD 49.50.

Super Rush processing – if this is an emergency this is the fastest processing time available. Your application is ready within 30 minutes, but the cost is higher as too. The fee for this option will be USD 69.50.
Being this an online application process we are talking about, the payment must be made online as well. iVisa accepts multiple means of payment. You can use a credit or debit card, or you can pay with PayPal, Alipay, or WeChat as well.
Frequently Asked Questions
What is the validity of the Canadian ETA?
The validity of this ETA is of 5 years after issued or until passport expires.
How many entries am I allowed and how long can I stay?
You are allowed a Multiple Entry and can stay maximum 180 days Per Entry.
How does a Canadian ETA look like?
Here's a sample: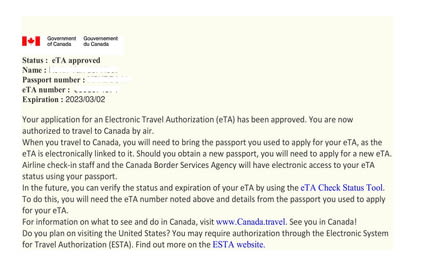 Is it safe to use iVisa?
Of course! iVisa is a trustworthy company and will assure you that your information will be private and safe. Check our testimonials and clear your doubts!
Where can I look up more information?
If you need any help you can always contact our customer service support for a more private chat! It's available 24/7 and free of charge. Or you can click here and look more answered questions.
Needless to say, the price of a Canada ETA is more than affordable, especially if you go for the Standard processing time option. After all, less than $20 cannot be considered a high fee considering the fact that your effort is minimal and iVisa does most of the work for you, don't you agree?