Do you want to renew your Canadian passport soon but do you want to avoid visiting the Canadian passport office? Then today is your lucky day! From now on, you can get a Canada passport renewal by mail. This process is very simple, and with iVisa.com, you will be able to enjoy doing most of the process at home!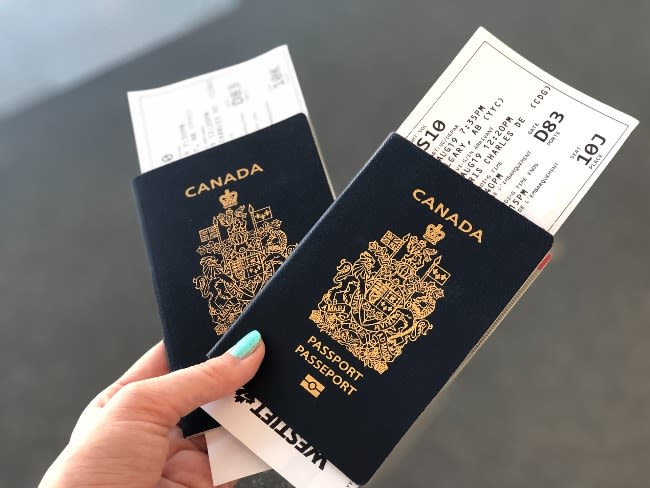 You'll only have to head up to the postal office to leave the complete kit with the expired passport once! Do you want to see how? Read the questions below.
Frequently Asked Questions
Who can enjoy this service?
This service is exclusive for Canadians that meet these requirements:
They have a Canadian passport.
They are Canadian citizens and they're 16 years old or older.
Their passport is expired or about to expire.
Their passport is in great condition.
They have two references to include on the form.
In case the passport has a valid visa in it, the applicant must let the Canadian government know that they want the passport back. It's enough to explain that the applicant wants the original passport to be returned to them because it has a visa.
It's also mandatory to have 2 passport photos to complete the process. These photos must be taken in person by a commercial photographer or studio and they must follow the valid requirements.
Learn more about the Canada passport renewal by mail below.
Why should I use a Canada passport renewal by mail?
You should take advantage of this service to avoid long queues at the passport office or the Canadian embassy. Besides, iVisa.com is a great alternative to renew your passport because it gives you an easy-to-understand online form that can save you considerable time.
You do not have to send us your old Canadian passport, you send it straight to the Canadian government through Canada post.
However, we help you understand this process properly thanks to our online kit that gives a shipping label and specific guidance on how to finish a Canada passport renewal by mail.
You have to print the shipping label we send you (at home or PO) and get the envelope to mail your current passport to the Canadian government. We include the shipping label in our fees, but iVisa.com will not pay for the envelope.
How does the Canada passport renewal by mail work?
This process is not complicated because it is based on these 4 steps:
Step 1. Fill out the online application form: Our agents will review the entire information and start preparing your application.
Step 2. Receive your renewal kit: Via email, including the prepaid shipping label and further instructions on how to mail your expired passport.
Step 3. Post your current passport to the government: Via Canada Post.
Step 4. Get your new passport: To your doorstep. You'll receive it from 6 to 11 weeks after sending your expired passport.
How much does the Canada passport renewal cost?
The Government Fee is CAN$ 120 / $96.81. This fee covers the standard 5-year adult passport. For iVisa.com's support, you'll have to pay another fee.
More information about the Canada passport renewal by mail is below.
Is iVisa.com safe?
Yes, we provide a safe platform to get your passport renewed. We also offer a reliable system that does not expose your private details. If you're still unsure about this info, visit our reviews section.
Where can I find more information about the Canada passport renewal by mail?
Check our website to get more details about the Canada passport renewal or contact our customer care agents for faster attention.
iVisa.com Recommends
Can you guess which country Canadians visit most? Well, it's not that difficult...it is the United States indeed, and it shouldn't be a surprise because it is a neighboring country. But, why is the US so popular?
It may be because of its huge size. The US is one of the largest countries in the world, and that's why it currently has 50 states covering a vast swath of North America, with Alaska in the northwest and Hawaii reaching the nation's presence into the Pacific Ocean. Thanks to its huge extension, the US is the perfect destination to enjoy almost anything: from noisy cities to relaxing villages, from golden-sand beaches to snow-capped forests, and the list goes on.
Besides, if you want to see how seasons change so drastically, then the US is your spot. This country offers a wide variety of towns and cities that can be very entertaining during different seasons. Do you want to enjoy snow falling during winter? No worries, Utah or even New York will fascinate you. Do you prefer sunsets during summertime? Then head up to California or Arizona!