Once you decide to renew your Canadian passport, you must follow some photo requirements to complete the process. The Canadian government requests 2 passport photos with a neutral facial expression. It should measure 50mm wide X 70mm high. Also, it must be recent, not older than 6 months.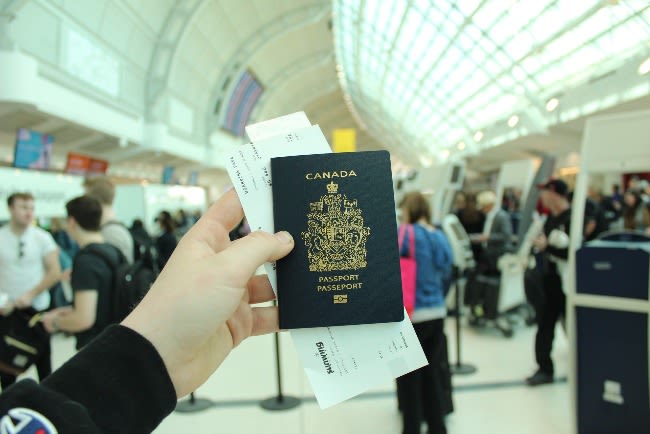 Don't worry! Because iVisa.com can take care of all these requirements. We will help you with your Canada passport renewal photo requirements and the application form. Enjoy an effortless process with an affordable fee.
Frequently Asked Questions
Who is eligible for the Canada Passport Renewal?
The eligibility criteria go as follow:
You must be a Canadian citizen.
You should be 16 years old or older.
Your current passport should be with you and has an expiration date on or after February 1, 2019. Your passport must not show any damage.
Keep learning more about the Canada passport renewal photo requirements.
Why is iVisa.com the best option for the Passport Renewal service?
iVisa.com has all you need in one place. Our platform has all the details about the Canada passport renewal photo requirements and the online form. You won't need to take other services to get them. Also, you have a team ready to solve all your doubts. In addition, our processes are safe, which means your payment and details are safe at all times.
How is the Passport Renewal Service?
The application process only has three steps:
Step 1: Fill out the online application with your details and upload your passport photo. Proceed to pay for the Canadian government fee and our service.
Step 2: Expect a kit with the required documentation and instructions you must follow. Head to the nearest mailbox with the documentation and your old passport.
Step 3: Track the process with the details we will share. The Canadian government takes 25 business days to process your passport.
Explore more about the Canada passport renewal photo requirements with us.
What is the cost of the passport renewal service?
First, you must pay the Canadian government fee of CAN$ 120 or USD 96.81 for a 5-year validity passport. The iVisa.com service only has one cost:
Standard shipping time: 1-2 days - CAN$ 40
Remember that you must wait 25 business days for your new passport to arrive.
What do I need?
Make sure to have these requirements:
Passport: The passport has expired on or after February 1, 2019.
Passport photo: We have all the information about the Canada passport renewal photo requirements.
Email address: We will send all you need to your email.
Method of payment: Pay with a credit or debit card.
Can I trust iVisa.com?
Positively! We have helped numerous passengers with all types of travel needs. Renewing your Canadian passport with us is the best decision you could make.
Explore our user reviews section for more details about our results. We can tell you more about the Canada passport renewal photo requirements.
Where can I find more information?
Reach out to our customer service team that can solve your questions about the Canada passport renewal photo requirements. We're available 24 hours a day.
iVisa.com Recommends
The Red Fort in New Delhi is the perfect spot to start your trip to India. The site was built in 1648 by Shah Jahan. It was the seat of Mughal power until 1857. The magnificent red sandstone used in its constructions gave the name to the fort. Explore the Lahore Gate and the Delhi Gate. Both are highly decorated and used by the emperor for processions. Make your way to Chatta Chowk, a bazaar that offers everything from jewelry to silk. We recommend taking a guided tour to learn more about the life during the Shah ruling and have a closer look at the Hall of Public Audiences.
Continue with the Gateway of India in Mumbai. The impressive construction of 26 meters tall overlooks the Arabian Sea. The structure was built in 1991 due to the visit of King George V and Queen Mary of England. The beautiful Indo-Saracenic design and its yellow basalt make it a must-see spot. The massive archway was also the main feature in 1948 when British soldiers passed by after India's independence.