Do you want to have the Canada passport renewal simplified? If your answer is yes, this article is for you! Here at iVisa.com, we help you answer all the questions that you have about this online process. Let's start with this new adventure for the Canada passport renewal simplified.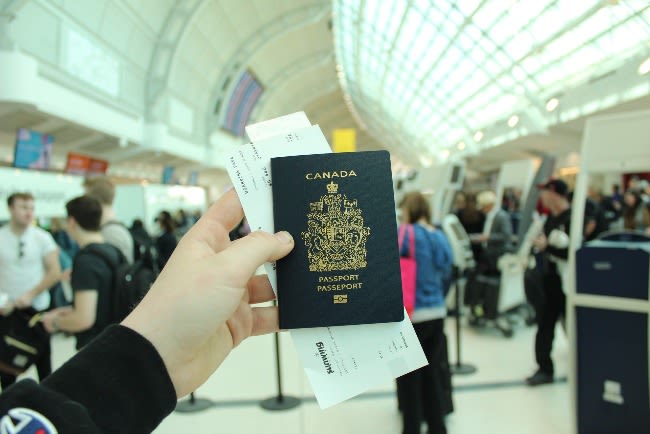 Frequently Asked Questions
How do I apply for the Canada passport renewal simplified?
For a simplified renewal passport application, you need to be an adult Canadian who applies in Canada or the United States. So follow these steps to complete your Canada passport renewal simplified. iVisa.com will send you a kit with the application.
Step 1: Complete and review the application form. Next, sign it.
Step 2: You need two printed passport photos and a digital shipping label for the envelope that will be sent via email. Then, follow the instructions on what to write on the back of each photo for the government to accept it. (Canada Post)
Step 3: Finally, you need to pay the government fee and the iVisa.comservice.
What documents do I need to do this process with iVisa.com?
For the Canada passport renewal simplified you will need to send the envelope with these items:
The old passport.
The signed form.
Two passport photos handwritten on the back.
A digital shipping label to the government through Canada Post.
Canada Post will ship it to the government in 2 days maximum.
Lastly, you need a credit/debit card to pay the fees. (Visa, MasterCard, and American Express cards are accepted.)
How much is the government fee?
The government fee is CAN$ 120 / $96.81. Your new passport will have 5 years of validity.
How much is the process for the Canada passport renewal?
At iVisa.com, we will charge you CAN$ 40 for helping you with all the processes.
How long will it take to have my new passport?
You'll receive the new passport in 6 to 11 weeks.
Important: Your previous passport will be canceled when your new passport arrives. The system will then make it invalid for travel.
Can I trust iVisa.com?
Of course! At iVisa.com, we have more than a decade helping with visa processes for people around the world. To feel more secure about starting the Canada passport renewal simplified process, we invite you to learn more about us in our review section.
I have other questions. How can I contact you?
If you have any other questions about Canada passport renewal simplified, we have a fantastic support team at iVisa.com 24 hours a day, 7 days a week for you.
iVisa.com Recommends
One of the best places to visit in the world is Switzerland, from the many attractions present there, it is hard to choose which are worth visiting. The country is famous for its beautiful landscapes and mountain views. If you're looking for something off the beaten path, visit one of the numerous castles found in Switzerland. From Bernese Highlands to Valais, you'll find numerous castles that will give you a grand sense of history and beauty. To experience Swiss culture and traditions, visit one of the smaller towns, such as Lucerne. Lucerne is home to some of Switzerland's best cheesemakers who create delicious cheeses from pasture-raised cows. Visit the Jungfrau If you're looking to ski, visit one of Switzerland's most famous mountains. The Jungfrau is a part of the Swiss Alps and is known for its breathtaking views worth capturing on camera. If you're more of a hiker, then this mountain will be perfect for you. It offers mostly easy trails that are suitable for beginners. As a bonus, other hikers post many photographs on various social media sites, so take your time exploring them! Visit any one of Switzerland's many ski-lifts Switzerland is home to great skiing facilities, including the world-renowned Jungfrau Ski-Lift. If you're looking for something more affordable, other nearby villages have smaller ski areas. There are also many restaurants nearby should you get hungry or thirsty after all that skiing! Everyone loves Switzerland's small coffee shops where locals hang out after work for a good drink and conversation.