If you are thinking about traveling around the world but need to renew your passport, this article will help you understand what you need to do to make this a reality. At iVisa.com, we help you with the entire process for Canadian passport early renewal.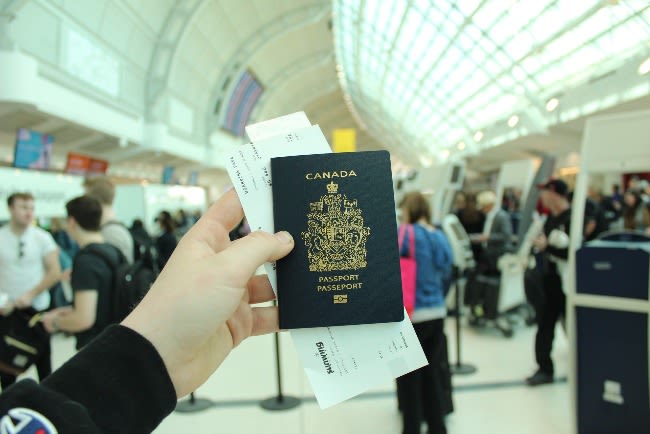 Let's start answering the most popular questions about it.
Frequently Asked Questions
Who is the service for?
This service of Canadian passport early renewal is for people who need to renew their old passport and are citizens of Canada or their nationality is Canadian.
How to apply for the Canadian passport early renewal?
To apply to renew your passport, you will need to follow these steps to complete your Canadian passport early renewal, theniVisa.com will send you a kit.
Step 1: Complete and review the application form. Sign it.
Step 2: You need two printed passport photos. Also a digital shipping label for the envelope with postage that will be sent by email. Follow the instructions on what to write on the back of each photo for the government to accept. (Canada Post)
Step 3: After completing this, you need to pay for the government fee and the iVisa.com service.
What documents do I need to do this process with iVisa.com?
For the Canadian passport early renewal you will need to send the envelope with the following items:
The old passport.
The signed form.
Two passport photos handwritten on the back.
A digital shipping label to the government through Canada Post.
It would take Canada Post 2 days maximum to send it to the government.
Finally, you need a Credit/debit card to pay the fees (Visa, MasterCard, and American Express cards are accepted.)
How much is the government fee?
The government fee is CAN$ 120 / $96.81. Your new passport will be valid for 5 years.
How much is the process for the Canadian passport renewal?
At iVisa.com, we will charge you CAN$ 40 for helping you with all the processes.
How long will it take to have my new passport?
You'll receive the new passport in 6 to 11 weeks.
Important: Your previous passport will be canceled when your new passport arrives. The system will then make it invalid for travel.
Can I trust iVisa.com?
Absolutely! At iVisa.com, we have many years of experience helping with visa passport processes. To feel more secure about giving this step with us for the Canadian passport early renewal, we invite you to know more about us in our review section.
I have other questions. How can I contact you?
If you have any other questions about Canadian passport early renewal, we have an amazing support team at iVisa.com that is for you at any time of the day. So feel free to write to us.
iVisa.com Recommends
You know about the Canadian passport early renewal. Now, these are our recommendations if you consider using the new passport for travel. If you are looking for a great holiday, then we can recommend you to go to Germany. It is a beautiful country, and everything here seems to be neatly painted and decorated. There is an incredible variety of food at the restaurants. Here you will always find something that suits your taste.
The museums are interesting, and there are plenty of them in every city. It is also a very safe place because everyone takes their job seriously here. The roadside cleanliness is something you will notice right away, no matter how big the street is.
And if you want to taste what German culture means, visit one of the many beer gardens where people drink lots of beer, eat sausages, and dance on tables while singing 'Ein prosit der Gemütlichkeit.'
A great advantage about Germany is that you can wear your regular clothes there and no one will care. You won't find anyone looking at you as if you were from another planet. Actually, everybody speaks English too!
The people are very friendly and polite. Some of them even go the extra mile to help a tourist with directions or information. These small things make a big difference for travelers because they save lots of time and energy during your trip!
Also, if you need some excellent souvenirs, visit the flea markets where old toys, stamps, coins, and all kinds of other stuff are sold cheap everywhere. And not to forget: Germans do have the best beer in the world!