As a Canadian citizen, it doesn't matter where you live you can apply for the new Canadian Passport overseas. It is an easy process you can do from home.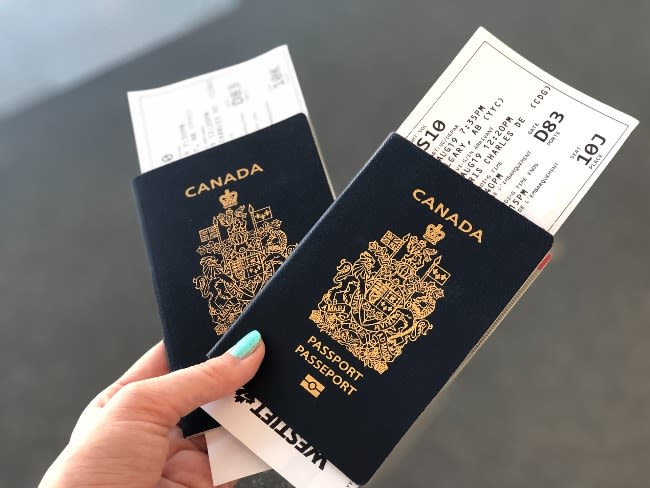 You only need to contact iVisa.com and follow 3 simple steps to get your passport in only 25 business days.
Canadian Passport renewal overseas - Read all about it on our FAQs.
Frequently Asked Questions
Who is this service for?
To apply for this process you need to meet some requirements:
You must be 16 years old or older to apply.
Your passport must be in good condition without any paint or scratches.
The passport personal information must match your ID.
The passport can't have expired over 3 yeras ago.
Canadian Passport renewal overseas - These requirements are mandatory to apply for a new passport.
Why use a completely online Passport Renewal service?
One of the advantages of processing your new Canadian Passport with iVisa.com is that you will be able to save a lot of time in long lines and traffic by doing it from your home or office.
This process is secure and we can assure you that all your information will be safe during the whole process.
Canadian Passport renewal overseas - You must validate that your country of residence belongs to the countries that can process this document.
How does the Passport Renewal Service with iVisa.com work?
You can apply for the new passport by following these 3 easy steps:
Step 1: Fill out our online forms and upload the required passport photo. Then review that all your information is correct before paying for the processing alternative. With all this information iVisa.com will send you your renewal kit to your home.
Step 2: With your renewal kit at home, you must read the instructions and follow them step by step before sending the Passport Renewal Kit to the government of Canada using the country postal service.
Step 3: You can always track your application from any electronic device. It takes 25 business days for you to get your new passport.
Canadian Passport renewal overseas - iVisa.com guarantees that you will get your documents on time.
How much does it cost to get my passport renewed?
At this moment there is no price range for this service. Nevertheless, we will have this information soon! You can always check back for more information or contact us directly.
Canadian Passport renewal overseas - iVisa.com has the best prices on the market.
How soon will I get my new passport?
After sending your iVisa.com renewal kit, you will get your Canadian Passport in 25 business days.
For you to complete this process you will need to pay a government fee. If you are applying for the 5-year adult passport the cost is $120 CAD and for the 10-year adult passport it is $160 CAD.
Canadian Passport renewal overseas - You will need to pay this fee to start the process.
Can I trust iVisa.com?
Of course! iVisa.com has a secure information processing system. This allows us to ensure that all customer information is kept confidential at all times.
Canadian Passport renewal overseas - Read some feedback from former clients in our review section.
I have some concerns about the Passport Renewal process, who can I talk to?
Just contact our customer service experts, they are available 24/7 to help you with any concern you might have about the passport renewal process.
iVisa.com Recommends
Now that you have your new passport, it is time to plan a new trip around the world. We recommend you to visit Peru, a country full of magical places where you can discover its history and culture.
One of the most interesting destinations in the country is Ica, a region located south of the country's capital, approximately 3 hours from the historic center of the capital. Ica is known for two reasons mainly Nazca and Paracas.
Nazca has the marvelous Nazca Lines. This place is unique in the world, full of mysticism, with incredible forms of immense figures and lines in the desert. The Nazca Lines have been declared a World Heritage Site by UNESCO. One can enjoy all this by taking one of the small planes around the sanctuary.
Finally Paracas, this destination is an excellent ecological destination for nature lovers. You can take a tour to the Paracas National Reserve or embark on the boats and stroll around the Ballestas Islands, where you can observe marine fauna such as sea lions, seals, and guano birds. If you are a lover of water sports you can also do activities such as windsurfing, diving, and deep-sea fishing.