If you are a Canadian citizen and want to renew your passport quickly and easily, iVisa.com is the best place for you. We offer the service of applying for the Canadian Passport from your home.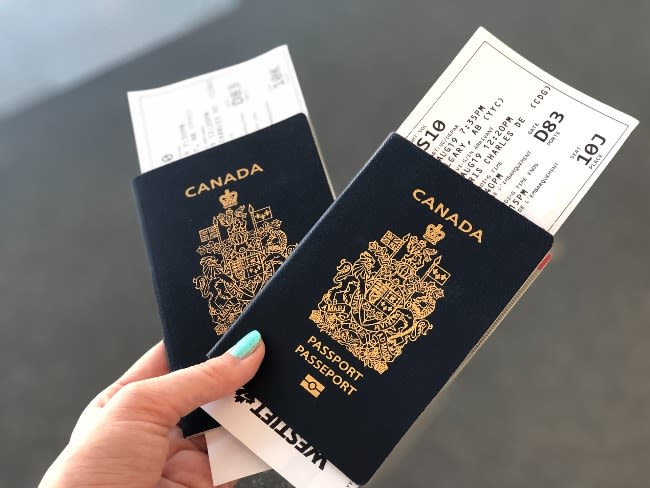 You can apply for this document from any electronic device. However, this article is only for Canadian citizens who live in Canada and want to renew a Canadian Passport.
How to renew Canadian Passport - Learn more about this process down below on our FAQs.
Frequently Asked Questions
Who is this service for?
You must meet these requirements to apply for this process.
You must be 16 years old or older.
Your passport must be in good condition.
The passport information must match your ID.
The passport must be valid or expired less than 3 years ago.
How to renew Canadian Passport - Just follow our easy and user-friendly steps to apply for it.
Why use a completely online Passport Renewal service?
One of the advantages of doing the process with iVisa.com is that it is a completely electronic process, which allows you to be sure that your personal information will be kept completely confidential.
There is a validated and secure process that only involves interested parties that allows you to have your passport sent to your home. How to renew Canadian Passport - You must follow all the instructions given by iVisa.com to get your new passport.
How does the Passport Renewal Service with iVisa.com work?
You can apply for the new Passport by following these simple steps:
Step 1: Complete and review the forms, upload the required passport photo and check that all the information entered is correct before paying for the processing speed. With all this information iVisa.com will be able to send you your renewal kit.
Step 2: Once you get your renewal kit, you must follow the detailed instructions before sending the Passport Renewal Kit to the Canadian government using the Canada post service.
Step 3: Finally you will wait for your needed passport which will be delivered to your doorstep by the government. You can always track your application from any electronic device.
How to renew Canadian Passport - iVisa.com fees don't include the printing of the documents or the envelope needed for the application process.
How much does it cost to get my passport renewed?
The Canadian passport renewal works with one processing alternative:
Standard Processing: 4 Day Shipping for $40
How to renew Canadian Passport - You can find the best prices at iVisa.com
How soon will I get my new passport?
You will get your new passport 25 business days after the date you ship your iVisa.com Kit.
There is a government fee depending on the passport renewal. If you are applying for the 5-year adult passport you will pay $120 CAD and for the 10-year adult passport you will pay $160 CAD.
How to renew Canadian Passport - Remember these prices are in addition for the iVisa.com process fee.
Can I trust iVisa.com?
Yes! iVisa.com is a safe company that has been handling the personal information of all its customers without any problems. You, like them, can trust us and get your travel document as soon as possible.
How to renew Canadian Passport - Read our positive feedback in our review section.
I have some concerns about the Passport Renewal process, who can I talk to?
If you have any questions you can always contact our customer service experts, they are available 24/7 to help you with anything you need.
iVisa.com Recommends
It is time to plan your dream trip and what better place than Peru to start new adventures. Peru is a country full of tourist diversity depending on whether you visit the coast, the highlands, or the jungle. The city of Arequipa, also known as the White City, has several tourist destinations that you will want to visit. Starting with its historic center, which has been recognized as a World Heritage Site for the architecture of its incredible colonial buildings in white sillar.
Just outside the city, you can visit the Colca Valley and the Colca Canyon, these are protected natural areas. Here you can see large snow-capped mountains, as well as canyons and rivers. There is also a viewpoint where conders often fly over. If you are staying in the valley, do not hesitate to visit the hot springs to relax after a long day of sightseeing. .