Visa Policy for Chile
The Chile visa policy provides all the details you need to know about traveling to Chile. According to your nationality, you could need a visa to enter Chile. Other factors that could influence the visa requirements could be the length of stay and the purpose of your trip.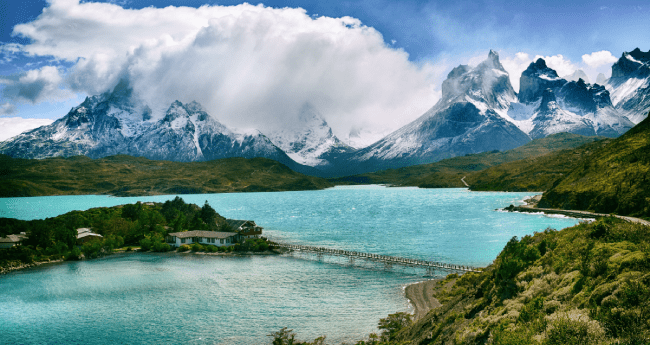 The Chile visa policy states that 90 countries don't need a visa to enter Chile, which means they have free access. In this case, the stay could last 90 days per entry. For some countries in Latin America, there isn't even a need to have a passport. You will need a national ID, and your country should have an international agreement. These countries are Argentina, Bolivia, Brasil, Colombia, Ecuador, Paraguay, Peru, and Uruguay.
On the other hand, if your country isn't among this list of countries, you may need to acquire a visa through an embassy or consulate. Over 150 countries need to go through a consular visa process. In other words, you will need to bring the required documentation and have an appointment at the embassy. If you want to stay for an extended period in Chile, you would need to apply for a consular visa.
Tourist Visa Policy for Chile
If you want to enjoy tourism activities in Chile, you will likely need a tourist visa. There could be two alternatives according to your nationality. Chilean authorities could let you in without the need for a visa or you may need to apply for a consular visa at a Chilean Embassy or Consulate.
In case you have free access to Chile, the time of your stay could vary between 30 days to three months. This situation will depend on your nationality and the information stated in the Chile visa policy.
Continue checking all about the Chile visa policy for more details of the entry requirements to Chile.
Tourist Visa for Chile
According to the Chile visa policy, foreign travelers from certain nationalities who want to spend time in Chile for recreational, sport, health, study, business, family visits, religion, and other similar reasons will need a consular visa.
The requirements for this type of visa are:
Valid Passport. Your passport should have a validity longer than your stay in Chile.
Four passport photos. The photos must measure 5x5 cm and have a white background. Make sure your face is at the center.
Show enough funds for your trip to Chile.
Invitation Letter. A person from Chile should issue an invitation letter or you can show your accommodation details.
You have two alternatives for this process. Gather all the documentation and enter the online portal of the Ministry of Foreign Affairs of Chile and go to the 'visto de turismo' tab. Complete all the information and attach your documents. After that, confirm when to pick up your visa from a Chilean Embassy or Consulate.
On the other hand, you can do the procedure in person at the Chilean Embassy or Consulate. Take all the requirements and go to the embassy. Explain the motive of your application, in this case, for tourism. Fill out the application form and give away the documentation. Authorities will confirm when you will receive the tourist visa. Keep checking the Chile visa policy for more details about your next trip to Chile.
You have the alternative to apply for single or multiple entries. If you're looking to migrate, have a residence permit, or have a job in Chile, the tourist visa isn't available. The tourist visa is only valid for tourism activities in Chile. The maximum validity of this document is 90 days. Still, the validity will depend on your nationality.
The countries that should get a tourist visa for Chile are the following:
Afghanistan
Aland Islands
Algeria
American Samoa
Angola
Anguilla
Armenia
Aruba
Azerbaijan
Bahrain
Bangladesh
Belarus
Benin
Bermuda
Bhutan
Bonaire
Botswana
British Indian Ocean Territory
British Virgin Islands
Brunei
Burkina Faso
Burundi
Cambodia
Cameroon
Cape Verde
Cayman Islands
Central African Republic
Chad
China
Christmas Islands
Cocos Islands
Comores Islands
Congo (Dem. Rep.)
Congo (Rep.)
Cook Islands
Cuba
Curacao
Djibouti
Dominica
Dominican Republic
Egypt
Equatorial Guinea
Eritrea
Ethiopia
Falkland Islands
Faroe Islands
French Guiana
French Polynesia
Gabon
Gambia
Ghana
Gibraltar
Greenland
Guadeloupe
Guam
Guernsey
Guinea
Guinea-Bissau
Haiti
India
Iran
Iraq
Isle of Man
Ireland
Ivory Coast
Jersey
Jordan
Kazakhstan
Kenya
Kiribati
Kuwait
Kyrgyzstan
Laos
Lebanon
Lesotho
Liberia
Libya
Madagascar
Malawi
Maldives
Mali
Marshall Islands
Mauritius
Martinique
Mauritana
Mayotte
Micronesia
Montserrat
Morocco
Mozambique
Myanmar
Namibia
Nauru
Nepal
New Caledonia
Niger
Nigeria
Niue
Norfolk Islands
North Korea
Northen Mariana Islands
Oman
Pakistan
Palau Islands
Palestinian Territory
Papua New Guinea
Philippines
Pitcairn Islands
Puerto Rico
Qatar
Reunion
Rwanda
Saint Barthelemy
Saint Helena
Saint Martin
Saint Pierre and Miquelon
Samoa
Sao Tome and Principe
Saudi Arabia
Senegal
Seychelles
Sierra Leone
Sint Maarten
Solomon Islands
Somalia
South Georgia and the South Sandwich Islands
South Sudan
Sri Lanka
Sudan
Suriname
Svalbard and Jan Mayen
Swaziland
Syria
Tajikistan
Tanzania
Timor-Leste
Togo
Tonga
Tokelau
Tunisia
Turkmenistan
Turks and Caicos Islands
Tuvalu
Uganda
United States Virgin Islands
Uzbekistan
Vanuatu
Venezuela
Wallis and Futuna
Yemen
Zambia
Zimbabwe
Due to the current pandemic, the Chilean Government has requested a mandatory document known as Traveler's Affidavit (COVID-19). The application requests information about your current health state.
Other Visa Information for Chile
If you want to travel to Chile for other reasons besides tourism, the process is very similar, as stated before. You will need a valid passport, passport photos, documentation proving the funds for your trip, and an invitation letter. In case of business reasons, the invitation letter should be issued by a Chilean company. It should mention the reasons for your trip and where you will stay. Remember to follow all the details from the Chile visa policy before you go ahead with the consular visa.
The Chilean Government provides consular visas related to temporary work in Chile, temporary residency, student visas, among other purposes to enter Chile. If you want to work in Chile, the company that will hire you needs to prove that your position is indispensable for the development of the country.
Besides, the Chilean Government has a special program known as 'Work and Holiday' with Australia and New Zealand. This provides benefits if you decide to work or study while you visit Chile during your holiday, in case you're from New Zealand or Australia. Some of the requirements for this agreement mention that you need to show your degree, police records, birth certificate, and passport.
According to your nationality, the Chilean Embassy or Consulate could request other documents and provide specific processing times. Don't worry about anything! All you need to know about traveling to Chile is available with the Chile visa policy. Travel to Chile and have a smooth entry with your visa!