Is it one of your dreams to retire in a beautiful South American country? Chile is the perfect place for retirees to live a peaceful and tranquil lifestyle, in addition to the affordable cost of living. In order to apply for a Chilean permanent residence permit, all you need is a pension or retirement income. Find out more about the Chile Retirement and Periodic Income Visa in this blog.
Chile is located along the South Pacific Ocean, and is one of the safest countries in Latin America. Staying in the capital, Santiago, you are close to both the seaside and ski resorts, as well as beautiful landscapes and vineyards.
It's now possible to apply online with iVisa for the Chile Retirement and Periodic Income Visa. With our easy online application process, you can apply for this retirement visa from the comfort of your own home.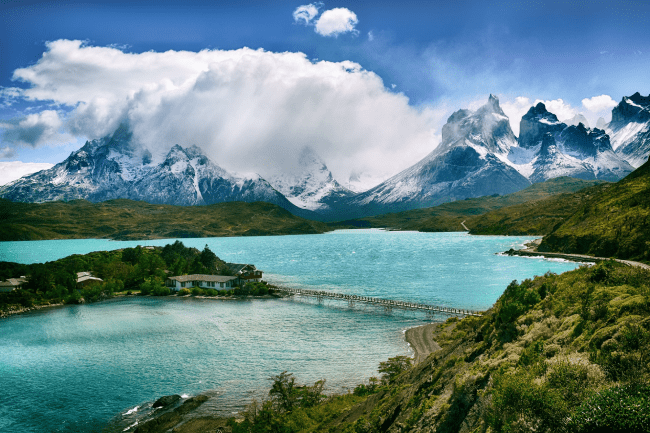 Why should you consider retiring in Chile?
There are many reasons why many people choose to live in Chile. Here are some of them:
Quality of life: Chile is a safe country with a low level of corruption, one of the strongest economies on the continent, and one of Latin America's highest standards of living.
Health: The country offers a great private healthcare system, ranking 33rd out of 190 countries. Its clinics and hospitals have a developed infrastructure and are equipped with modern technology and equipment. All people residing in Chile can choose between private and public healthcare.
Security: Chile is considered a safe destination for both tourists and residents, with a relatively low crime rate compared to other countries in the region. By retiring in Chile, you can enjoy a quiet and pleasant life in a safe country.
Climate: The weather in Chile is perfect all year round. The northern and central regions are warmer from November to February, while in the south, the weather is warmer from January to March.
Nature: Chile is an incredible country where you can find the most impressive landscapes. Beautiful beaches, imposing mountains, immense deserts, what does Chile not offer?
People: Chileans are considered very polite and welcoming.
Gastronomy: The local cuisine combines traditional and European cuisines, especially from Germany. The best of all? Most of the ingredients of their dishes are fresh, and come from all regions of Chile.
How much does it cost to retire in Chile?
In recent years the cost of living in Chile has increased, and it is now one of the most expensive South American countries. However, according to Numbeo statistics, the average cost of living is 42.79% lower than in the United States.
According to InternationalLiving.com, a retiree can live comfortably with USD 2,500 to 3,000 per month. Keep in mind that big cities are always more expensive than smaller towns and rural areas.
Chile's retirement system for foreigners
You do not need to be retired to get a Chile Retirement and Periodic Income Visa. All that is required is that you must receive a frequent income to support yourself during your stay in Chile, such as pension, social security, rent from real estate, annuities, or other.
Chile issues Retirement Visas for 12 months (one year), which can be renewed once they expire.
Which documents do you need for the Chile Retirement Visa?
You mainly need to show a source of income demonstrating that you have sufficient means to support yourself and your family in Chile.
The Chilean immigration Office accepts pension, rent from properties, and income from financial investments, for example.
To apply, you must upload the following documents with your Chile Retirement Visa application:
Original passport: Your passport must be valid for more than six months after the date you arrive in Chile.

Police certificate: You must present a legalized police certificate stating that you have no criminal record at the national level. The certificate must be issued within 60 days before traveling to Chile.

Financial solvency: Demonstrate that you have sufficient periodic income to support yourself and your family.
Can I bring my family members with me to Chile?
If you plan to retire in Chile, with the Chile Retirement and Periodic Income Visa you can bring your spouse and children. You may be required to present additional following documents:
Original and copy of marriage certificate.

Original and copy of the children's birth certificate.
The best cities to retire in Chile
When you decide to live in a foreign country, you should consider several things. To help you choose the best city where you can enjoy your retirement, we have chosen some of the best cities to retire in Chile:
Santiago
Chile's capital is usually the first choice to live in Chile. Santiago offers economic stability and security and beautiful parks, hills, lively city center, as well as great food experiences. On your doorstep you'll find ski resorts and national parks with hiking trails to explore.
Valparaíso
This seaside city is the second-largest in Chile and is easily reached from Santiago. It is an important seaport and has a naval base. Valparaíso is known for its steep hills full of colorful houses. In 2003, it was declared a World Heritage Site by UNESCO. Many artists are based here, and you can enjoy bohemian street art and galleries all over the city.
Viña del Mar
This beautiful coastal resort city offers beautiful gardens and beaches with crystal clear water. Viña del Mar is also called the garden city by locals. It is one of the most popular places for tourists and residents to spend their vacation.
La Serena
This is the second-oldest city in Chile, known for its long beaches and colonial and neo-colonial architecture. La Serena has a desert climate and is home to one of the largest shopping centers in the country. La Serena is also the gateway to the Elqui Valley, known for having the clearest skies in the southern hemisphere.
Punta Arenas
Punta Arenas is a coastal city about 1,400 km from Antarctica and a departure point for many cruise ships. In addition to the sea, the city is surrounded by mountains and a ski center, quite a unique setting. If you like a cooler climate, you will love living here.
Puerto Varas
A perfect place for retirees who like to enjoy tranquility. Puerto Varas is located on the shores of the beautiful Lake Llanquihue, where you can see the Osorno volcano. The architecture and cuisine reflect a fascinating mix of Chilean and German cultures.
Santa Cruz
The wine capital of Chile! Santa Cruz is surrounded by beautiful vineyards, which offer tasting tours and gorgeous views. Santa Cruz is quiet and has well-preserved colonial architecture.
Where can I contact you?
If you want to know more about retiring in Chile, our professional executives of the customer service team will be happy to help you with anything you need. Also, you can email us at [email protected]. We are available 24/7.