While there's still much to know about the 2022 Beijing Olympics, it's important to note that there are already some key details for those who want to travel to China in that season. The first thing that's already available is the Beijing 2022 Olympics logo, as it was published in 2017.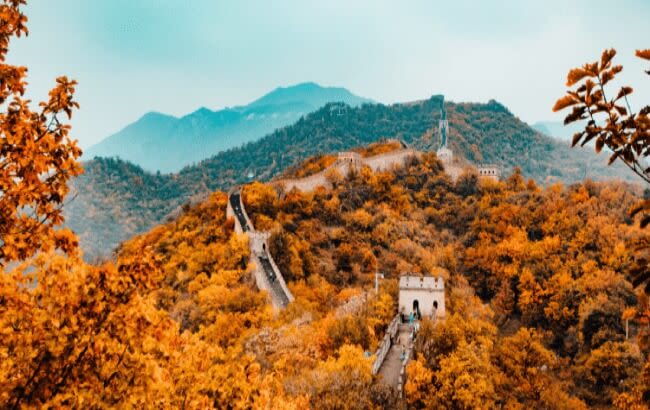 The second thing that's already available is information about the documents required to enter China. Keep in mind that this country asks more than 90 countries around the world for a Visa, so it's very likely that you'll need to apply for a China eVisa before entering. The good news is that you can get this eVisa in a few days using the online application at iVisa.com.
This online application allows you to speed up the entire visa process because as soon as you finish it, you receive the confirmation voucher to attend your interview as soon as possible. This way, you receive the visa in a matter of days, without so much bureaucratic stress.
Do you want to know more about this procedure? Then read the questions below.
Frequently Asked Questions / FAQs
What is a China eVisa?
Anyone wishing to enter China needs authorized travel documents. It's very likely that in your case, you need a China eVisa, as it's the mandatory document for any foreign citizen, except those who are entitled to entry under the Chinese visa-free program.
The Chinese eVisa is an automated document that you receive at the end of your online application. This document allows you to enter China without difficulty, but it's important that you attend a personal interview at the embassy after receiving the confirmation receipt by email. At the end of that interview, you should receive the visa itself.
This document was imposed by the Chinese Government to allow the due entry of foreign travelers. You only need to attend a personal interview and finish an online form on iVisa.com to get it.
What information about the Beijing 2022 Olympics is already available?
We can tell you that the only information available at the moment is the one related to the travel documents. The other thing that's already available, is the details about the Beijing 2022 Olympics logo.
Don't forget to visit iVisa.com to learn more about it.
How many types of Chinese eVisa are there?
By now, there are at least 3 types of Chinese eVisa. These types of eVisa might vary depending on the applicant's nationality and also the purpose of the travel. These are the available Chinese eVisas on iVisa.com:
What are the requirements needed to apply online?
Before getting your Chinese eVisa, you need to complete an online form on iVisa.com. This form doesn't ask you many things, in fact, you probably have all the documents required on hand. These are:
A valid hotel or accommodation booking.
Your passport with a scanned copy of the first page, 2 blank pages, and a validity of 6 months minimum.
Your current credit/debit card or PayPal account to pay for the service.
Your current email address to receive the eVisa and all the updates about the process.
You might need to provide more things depending on the type of eVisa, so don't forget to visit iVisa.com to verify that information.
How much does the China eVisa cost?
The cost of your China eVisa will depend on the type of eVisa you select, the nationality you have, and also the processing time you prefer on iVisa.com. As for the processing times, we can give you information about them, but keep in mind that the following prices are based on the China Paper eVisa:
Standard Procedure Time: This procedure allows you to get your confirmation receipt in

4 days

if you pay

USD 28.99

.
Rush Procedure Time: This option allows you to get your confirmation email in only

2 days

if you pay

USD 89.99

.
Super Rush Procedure Time: This time, you'll only wait

6 hours

for your confirmation email, but it'll cost

USD 131.99

.
How can I apply for the China eVisa on iVisa.com?
Using iVisa.com is quite easy and safe. This website offers a user-friendly online form that speeds up the visa process. This way, you don't have to worry about the tedious part of it, as we work on that. You only have to do the second part, which is to attend the interview.
To apply with iVisa.com, complete these steps:
Firstly, fill in the online application form on this link and get ready to choose your favorite processing time depending on your travel plans.
Secondly, review all the details you offered before paying for the service with the debit/credit card or the Paypal account.
Thirdly, upload the documents required and attach them to the form so you can finish the entire process.
The last thing you have to do after that is to print the confirmation email to take it with you to the interview. At the designated consulate you'll receive the actual visa to enter China.
How much time do I need to apply for the Chinese eVisa?
The best advantage of iVisa.com's service is that the online form only takes 15 minutes to complete. By using this form you won't need to spend too much time on complicated forms. Get ready for your trip by using this application form, you won't regret it.
Is it secure to use iVisa.com to get my China eVisa?
We can guarantee that it is because iVisa.com has a high-security system that won't put your details in danger. You can use iVisa.com's online form at any time without feeling unsure about the service, as our servers are always working and ready to process your eVisa. You can also check our reviews on this link if you want to see what our clients think of us.
If I have more unresolved questions, where can I find more information about the Beijing 2022 Olympics logo?
To learn more important details about the Beijing 2022 Olympics logo, reach out to iVisa.com. You can contact iVisa.com's customer service via chat online whenever you like if you have questions or doubts about any travel document.