If you are a sports fanatic, you may already know that a Beijing 2022 winter Olympic museum will be available for the Beijing 2022 Olympics. This museum will be in charge of showing the most important things in these Olympic games, in order to further promote tourism in the country.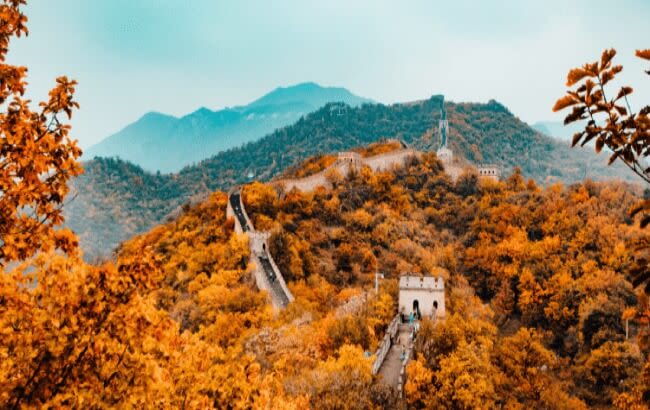 The Beijing 2022 winter Olympic museum was created by the architects of Maison H, a Dutch company in charge of major architectural works around the world. You can visit this museum during the Beijing Olympics season, but for this, you'll need to have a China eVisa because that's the mandatory document to enter the country.
Most of the countries in the world need this visa to enter China, so you shouldn't worry about the process to get it. This process can be very simple if you use iVisa.com because we provide an online application form that can quicken the visa process so you can be ready for the interview at the consulate in a few days.
You can read the FAQs below to learn more about the entire process to get your Chinese visa.
Frequently Asked Questions (FAQs)
Why do I need a Chinese visa to travel to China?
You need a Chinese visa because you might not be exempt from this document, meaning that you'll have to apply for it to enter the country without issues. However, we can guarantee that the visa process can be easier than usual by using our online application form. This form is only part of the entire process, but it's convenient to save a lot of time that could be used in other important things for your trip like the planning of guided tours.
After you finish this online form, you receive a confirmation receipt. This is the receipt you have to print before going to the interview at the embassy. Once there, you just have to finish your interview and offer the rest of the documentation required, including the receipt, so you can receive the actual visa safely.
This process tends to be the same every time for a Paper Visa, but it can change if you need a group visa or a business eVisa on arrival.
Where can I verify what type of Chinese visa I need?
You cannot only apply for a Paper Visa, you can actually apply for other types of visas depending on your travel purposes. On iVisa.com we created an advanced system that allows you to verify which visa could be useful for you depending on your nationality and what you want to do in China.
That tool is visible as soon as you enter the website. Simply choose your nationality on this link and wait a few seconds to receive the entire information.
Does the Chinese visa have multiple entries?
One advantage of the Chinese visas is that most of them are available for 30 days after arrival. But, keep in mind that this amount of time can change depending on the type of eVisa.
If you apply for a China Paper Visa, remember that it can be used for 10 years after issued. As for the number of entries, most of these visas have a Multiple Entry.
What documents do I need to get my Chinese visa?
You don't need many things to complete the application form on iVisa.com, only the following:
A hotel booking or an accommodation reservation. This can change depending on the type of eVisa you want.
You must offer a scanned copy of your passport's information page.
You also need a valid credit/debit card or a PayPal account to pay for the service.
The last thing you need is a valid email address to obtain the confirmation email.
You could need other requirements but only to attend the interview, which is why we invite you to check that information on iVisa.com.
How much do I have to pay for the visa?
The China eVisa isn't free. It has a price that will vary depending on three things: your country of origin, the type of visa, and the processing time you choose with iVisa.com.
We always give 3 options for processing, which are Standard, Rush, and Super Rush. Each of these options have different prices. You can have an idea based on these prices for the Chinese paper visa:
Standard Processing Time: With this option, you only have to wait

4 days

and pay

USD $51.99

.
Rush Processing Time: By using this option you have to pay

USD $90.99

and wait

2 days

.
Super Rush Processing Time: This processing time costs

USD $132.99

, but it allows you to get your receipt in only

6 hours

.
How can I apply online?
To use the online form on iVisa.com, you only have to follow these 3 steps:
Firstly, you have to provide your basic details on this online form, available on iVisa.com, and select your processing time.
Second, double-check the information, being quite careful with the spelling. After that, pay for the service with the debit/credit card or the Paypal account.
Lastly, upload all the requirements necessary and click on 'submit' to complete.
You'll receive your confirmation email depending on the processing time you choose and also just after you complete these steps. Print the confirmation receipt and take it to the interview so you can receive your Chinese visa.
How safe is iVisa.com?
By using iVisa.com's online form, you can feel safe because we have strong and trustworthy software that won't put any detail you offer in danger. Also, we have an incredible team at our disposal that will process your visa quickly and carefully. They will take care of your personal information the best way possible.
Where can I find more information?
If you want to get more details about the Beijing 2022 winter Olympic museum, click on iVisa.com and read the other blog posts we have for you. You can reach out to our customer service center at any time if you need personal assistance while filling in an online form.