Obtaining the right documents for German citizens who want to visit China is now more accessible than ever. iVisa can help you with that, and all you need is a few minutes of your time: no need to visit a Chinese embassy. You will get the document on your own time from the comfort of your own home. iVisa started helping people get their necessary documents for China since November 2017, and it has witnessed great success. Nothing is better than taking the hassle out of bureaucratic application forms and endless visits to embassies. Keep reading to know how to apply online with iVisa for a China visa.

Frequently Asked Questions (FAQs)
If I'm from Germany, do I need a visa to travel to China?
German visitors need to apply for a China Group eVisa. Find the requisites here.
What is a China Group eVisa?
This type of visa is granted to tourist groups that have at least 2 people who travel together inside and outside China. Remember that your passport will not have a sticker as it is with a traditional Chinese tourist visa.
How long is the China Group eVisa valid for?
The China Group eVisa is valid for 30 days after arrival and will permit Germans to stay in the country for 30 days in Total. This visa provides you a Single Entry.
What documents do I need to apply?
Here is what you will need to apply online:
At least 2 applicants traveling together.

A digital passport scan of each voyager. Take into consideration that your passport needs to maintain at least another 6 months from your arrival in China.

A recently-taken color passport picture.

Return flight ticket.

Copy of the Chinese hotel booking/Invitation letter from your Chinese host.

Credit or debit card or even PayPal account to pay for your visa request.

Mailing address.
What are the processing times and prices?
The amount of the China Tourist Visa for German citizens depends on the processing time.
For the processing time, you have three options:
Standard processing time – your application will be processed, and your passport will arrive within 6 days. As for the price, you'll pay USD $198.49. While this may not be cheap, it is the cheapest option you have.

Rush processing time – you must wait for your passport 4 days, and the price is USD $243.49.

Super Rush processing time – you will get your visa along with your passport within 2 days, and the cost is USD $275.49.
All the prices mentioned above cover the service fee.
Click here to start your application.
How does the China Group eVisa work?
You just simply complete our virtual form and then everything is in our hands. When your visa is granted by the Chinese government, we'll FedEx the current visa to your home address at least 15 days before your departure. Applicants need to bring the document we FedEx together with their passports to travel to China. This visa is approved by the People's Republic of China.
How long does it take to apply for a China Group eVisa?
You only need 10 minutes to apply online and we do the rest.
How can I apply for a China Group eVisa?
The process for German citizens is very simple. There are only a few steps that you need to follow, and if you need any help, iVisa has a support service that you may call 24/7. Make sure to complete all the steps to get your visa:
First, you need to complete the online form provided by iVisa. You provide your necessary information, you select the processing time, and you upload the documents you are asked to.

The next step will require you to send your passport to iVisa. You will be sent a label via email that you need to stick to the package.
From there, iVisa will take care of everything. They will process the request with the Chinese government so that you do not have to worry about anything. After that, you'll just wait for your passport to arrive with the visa sticker inside. It is as simple as that.
Click here to start. After you are done, send it and wait for your visa to arrive. In case you need assistance to complete your application, iVisa has a fantastic support service that you can call 24/7.
What happens when I have already sent my application??
Once your visa application is issued by the Chinese Port Visa Division - Ministry of Public Security, your tourist visa will be sent via FedEx.
How will I get my China Group eVisa?
When your visa has been granted, we will send you through FedEx. Also, we will give you a PDF copy by email. Remember that you have to show the original copy upon entry.
Can I see a sample of a China Group eVisa?
Here it is: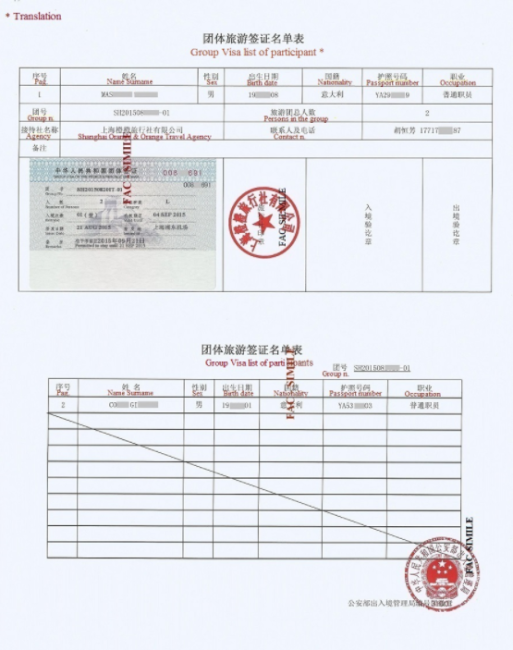 What should I do if I make a mistake in my application form?
If this is your case, just contact one of our customer service immediately. We are available for you 24/7.
If we already sent your application, you are not able to modify anything and you'll need to apply once more, but in that case, you don't need to pay additional money for the service.
Is it safe to use iVisa to get my China Group eVisa?
If you're worried about your personal data being leaked or reveal, this is not an issue with iVisa. Trust us, we invest a lot to protect our security system in order to keep safe not only your information but also the whole process as well. We always do our best to provide the best service for you. We invite you to read the testimonials from our clients.
I HAVE MORE QUESTIONS WHAT CAN I DO?
Do not worry, if you still have doubts or unresolved questions. We provide you more than one way to obtain more information about it. If you would like to have this info by talking personally to one of our customer service professionals, click here. Moreover, if you prefer reading, enter here.