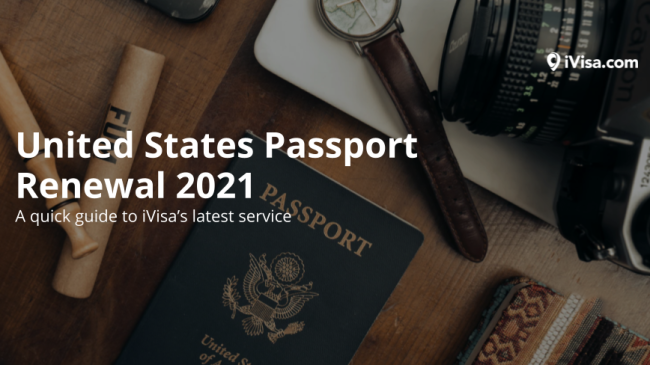 After several months of research and design, we are proud to announce that we have launched iVisa Passport Renewals, a new option for United States nationals to renew their passports and prepare for when the international travel industry reboots.
In the following article, you will find all the information needed about this new service.
What is iVisa Passport Renewals?
A One-Stop Shop to renew your passport securely and error-free
iVisa Passport Renewals is a new option for completing this important process. No need to spend long hours on government websites or researching other third-party services. With iVisa Passport Renewals, customers can renew their passports securely and error-free.
What makes us different?
Unlike other third-party renewal services, we don't ask customers to send us their passports. This allows them to have control over the process and reduces the risk of their passport going missing in the mail.
With iVisa Passport Renewals users will get all the requirements in a single, streamlined process. We take care of everything for the customer, so they won't need to waste time finding information, drawing a check, filling out a complicated form, getting a government compliant passport photo, or navigating the logistics of other online renewal services, such as acquiring postage and an envelope.
Our orders can be tracked every step of the way, so the customer stays in control and has no need to worry.
Finally, we offer the best value for money compared to any other competitor service!
Who is this service made for?
iVisa Passport Renewals is made for those travelers who want to be prepared when travel starts again and enjoy their journeys, but do not want to worry about the boring and stressful task of updating their documentation. Our team of experts will take care of all the details!
This service is also made for those who don't trust their own skills! Our experts will help them from start to finish to reassure them that every step is completed correctly and securely.
We provide our users with end-to-end visibility of the whole process, so they never have any doubts about the status of their passport!
How does the process work?
It takes just 3 simple steps to complete a passport renewal:
1. Fill out the form & upload a photo: The user will have to fill out an online application that contains all the information needed to renew their passport. The user must also upload a photo. Simply take a selfie with an electronic device, and our team of experts will make sure the photo is government-compliant.
2. Receive the passport renewal kit: Once the information is verified and the photo is compliant, we will ship a kit to the customer by mail which includes:
A Complete and Reviewed DS-82 Form ready to sign
A Passport Photo, Reviewed for 100% Government Compliance
Bank Check to cover the Government Fee: The US Department of State doesn't accept digital payments so this makes it easier for everyone.
A Checklist to ensure the customer doesn't forget anything Envelope and Postage so the completed kit is ready to be dropped off at the nearest mailbox or Post Office.
3. Send & Track: Once the kit is at home, the customer will sign the DS-82 form and place their passport in the provided envelope along with all the documents listed in the checklist. After that, the customer simply drops off the envelope at the nearest mailbox or post office. Tracking will be available to follow up on the status of the package.
The renewed passport will arrive according to the selected processing speed:
4-6 weeks with government expedited service
10-12 weeks with government standard service
If you are looking forward to renewing your US Passport, you can start the process by clicking here. Our experts will guide you through the entire process.
If you are a travel agent or corporate manager and want to use our services, feel free to contact us at partners@ivisa.com.