Please notice: Since April 1st, 2022, the Costa Rica Health Pass is no longer necessary to enter the country.
A dream surf destination, a sanctuary for diverse species, and endless natural beauty: welcome to Costa Rica.
This Latin American country uses their indigenous wisdom to preserve the terrific forests and nature's treasures. However, it's always a good idea to consider purchasing travel insurance before embarking on this Costa Rica trip.
You can take out insurance for international trips in a few clicks online. This simple health care measure can avoid expensive medical bills. It is important to be prepared in case of an unexpected accident while doing adventure sports or in case of any other health emergency while visiting Costa Rica.
During the COVID-19 pandemic, travel insurance was mandatory for international travelers to meet Costa Rica's requirements to enter the country. While it's no longer mandatory for entry, it's still highly recommended to at least have basic medical coverage for any trip.
Continue reading this article for more info about insurance, other travel requirements such as visas, and enjoy the white sand beaches of South America!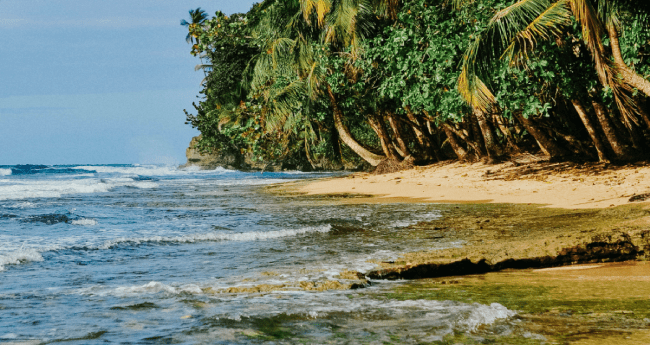 Visiting Costa Rica: Travel insurance requirements
This trip does not require travel insurance due to the COVID-19 restrictions no longer in effect in Costa Rica. Travelers are free to choose the insurance that fits well in their budget and have the best comprehensive coverage for them.
Costa Rica travel insurance costs
The Costa Rica Travel Insurance prices might vary, depending on your personal preferences, like the company you choose and the coverage.
The National Insurance Institute of Costa Rica (INS) also provides travel insurance policies for foreign travelers at reasonable prices. The average price ranges from USD 9.50 to USD 21.50 per person per trip.
COVID-19 travel insurance for Costa Rica
Since the beginning of the pandemic and the Costa Rican insurance requirement, most travel insurance offer options with COVID-19 medical coverage.
The main difference in the plans is the coverage for treatments. You can find cheaper options, but with limited coverage. Most travelers choose plans that cover at least USD 50,000 to USD 1,000,000 for COVID-19 treatment and hospital visits.
There are also more complete insurance options that include a budget for quarantine accommodation. This can be a good idea to avoid spending money on hotels when you can't even enjoy the trip or if you have to stay longer than you planned because you contracted COVID-19.
Additionally, you should consider trip interruption insurance, trip delay insurance, and trip cancellation insurance for Costa Rica just in case.
Recommended minimum coverage of Costa Rica travel insurance
The minimum insurance coverage you will receive depends on which company you choose for your travel plans.
However, keep in mind the following recommendation about travel insurance when traveling to Costa Rica:
Make sure that international insurance policies cover at least USD 50,000 in medical expenses, in case of COVID-19 or another medical emergency in Costa Rica.

USD 2,000 is a good amount for coverage of quarantine accommodations.

Some options also offer trip interruption coverage, trip delay, or trip cancellation, but not all of them. For interruption or cancellation, most policies generally cover around USD 7,500 and USD 2,000 trip delays.
On top of these COVID-19 related coverages, your basic policy will likely cover theft or loss of baggage and possessions, which entirely depends on the value of what you are bringing on your trip.
Is it mandatory to Get Travel Insurance to Travel to Costa Rica?
No, it's not mandatory to get travel insurance to enter Costa Rica. Travel insurance for Costa Rica has been optional since March 31, 2022. The immigration officials in Costa Rica won't ask you to present proof of insurance to visit the country.
However, it's always sensible to take out insurance when traveling anywhere, knowing that if you have any health problems, your insurance will cover some or most of the expenses.
COVID-19 restrictions in Costa Rica
The country canceled all COVID-19 restrictions at airports and Costa Rica's borders.
About the Costa Rica Health Pass
The Costa Rica Health Pass was an online requirement designed to screen international visitors, to reduce the risks associated with the COVID-19 pandemic. This travel document was mandatory to enter Costa Rica and intended to help the immigration officer notify travelers of any danger related to COVID-19.
However, since April 2022, the Costa Rica Health Pass is no longer required.
Do I need a COVID-19 vaccination certificate or PCR test to visit Costa Rica?
Costa Rica used to request a negative PCR test result before vaccinated or unvaccinated visitors could enter the country.
However, since then the government has dropped the COVID-19 protocols for tourists. Proof of COVID vaccination status or PCR-tests are no longer part of Costa Rica's requirements to enter the territory.
Visas or other entry requirements for Costa Rica
Besides getting travel insurance, you may need a visa to enter Costa Rica. If you're not sure, consult our handy visa checker tool or contact your nearest Costa Rican embassy or consulate.
Where can I learn more about traveling to Costa Rica?
If you want personal assistance with obtaining the correct travel documents for your trip to Costa Rica, our customer assistance service is available 24/7 via online chat or email at [email protected].