COVID-19 continues to be a health hazard in most countries around the world. For this reason, some states have started to implement health measures that will stop the COVID-19 spread. Croatia has created a new online form called the Croatia Travel Announcement Form that is mandatory for all incoming visitors. Also, there is a PCR test requirement for certain nationalities. If you decide to visit Croatia, you will need to comply with all health guidelines.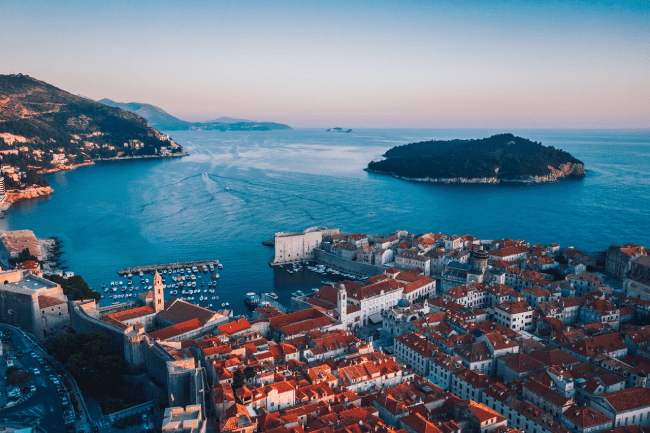 This might seem overwhelming, but you can relax because iVisa.com can help you. Start the Croatia Travel Announcement Form here with iVisa.com. Try this simple, fast, and 100% trustworthy service!
Read the following FAQs about Croatia's latest announcements regarding entry requirements during COVID-19.
Frequently Asked Questions (FAQs)
What do I have to do to visit Croatia?
You have to complete the Croatia Travel Announcement Form before traveling. This is a mandatory online form for all international visitors. However, the form doesn't replace other travel requirements such as visas. If you want to know if you need a visa to Croatia, check iVisa.com's visa checker tool here.
There are other restrictions such as a PCR test requirement that is requested from certain nationalities.
I'm a European citizen, can I enter Croatia?
If you are a citizen from an EU Member State, EEA or Andorra, San Marino, Monaco, and the Holy See, you can enter Croatia without restrictions. You only need to complete the Croatia Travel Announcement Form. Completing the form also indicates you will follow the health guidelines in the country, like wearing masks in public spaces, among others.
I'm not from Europe, do I have restrictions in Croatia?
As a non-European traveler, you need to fill out the Croatia Travel Announcement Form before arriving to this country. There are no other covid restrictions to follow.
Do I need a COVID vaccine or vaccination certificate to enter Croatia?
COVID vaccination certificates are not mandatory to enter Croatia. WHO-approved vaccines are accepted. You are considered vaccinated if all doses of a vaccine against SARS-Cov-2 have been administered for at least two weeks before traveling.
Since information may change quickly, we advise you to follow up on the latest Croatia travel updates and/or contact your local embassy.
How long is the Croatia Travel Announcement Form valid for?
Travelers with a Croatia Travel Announcement Form can stay up to 90 days after issued in Croatia. However, the form only allows a Single Entry.
Get in touch with a support agent if you have any doubts and remember to bring a negative PCR test, in case you are a non-EU traveler.
What information should I provide?
The online form is easy. You only need to complete details like name, passport number, countries you visited the last 14 days, accommodation details in Croatia, among others. Also, give details of your health information in case you had contact with someone with COVID-19.
Provide the following too:
Passport scan, your passport should have a validity of at least 6 months.
An email address that iVisa.com will use to send you the form.
Payment options- now pay iVisa.com's minimum fee using a credit/debit card or Paypal.
If you are a non-EU visitor, you can either show a negative PCR test upon arrival or complete a 14-day self-isolation.
What is the cost?
iVisa.com has different fees according to the time you are willing to wait:
Standard option, pay only

USD 20.00

, and the form will be with you in

24 hours

.
Rush option, a waiting period of

4 hours

by paying

USD 35.00

.
Super Rush option, the form will be yours in

30 minutes

, for a

USD 60.00

fee.
What is the process?
The process is simple:
Answer the questions in the electronic questionnaire and select a processing time (Standard, Rush, or Super Rush).
Review the information and pick a payment method, use a Paypal account or a credit/debit card.
Attach the passport scan and any other documents required.
How will I receive the form?
iVisa.com will send the Croatia Travel Announcement Form to your email address. Make sure to provide a valid email address, so your document arrives safely.
As soon as you arrive in Croatia, show the document to border officials. As well, if you are not from Europe, you should provide a negative PCR test or follow the guidelines to do a 14-day quarantine.
You will probably go through medical screening to confirm you don't have COVID-19 symptoms. All incoming visitors must comply with these health guidelines.
How secure is iVisa.com?
iVisa.com is very safe. International visitors from all over the world have trusted iVisa.com with countless travel documents. During COVID-19, our customers continue to trust iVisa.com with travel procedures. Read reviews from our clients here.
Where can I find more info?
Continue exploring the iVisa.com main page or contact a support agent who will be happy to take upon your questions. We are available 24/7!
If you are a non-EU visitor, don't forget to follow the requirement to bring a negative PCR test. You can wave goodbye to 14 days of self-isolation with the test!