If you are a Colombian wanting to spend holidays in Cuba, you will need a Cuban tourist visa or eVisa. The process to get a Cuba eVisa can be done virtually, and you won't need to go to the Embassy. iVisa.com offers a secure and high-speed online service to get your eVisa or Cuba visa for the citizens of Colombia.
Our online service to procure the Cuba visa for the citizens of Colombia won't make you waste any time. On the contrary, it has been tailored for people who want a quick solution and to prioritize other important activities such as planning their itinerary.
Start your Cuba eVisa application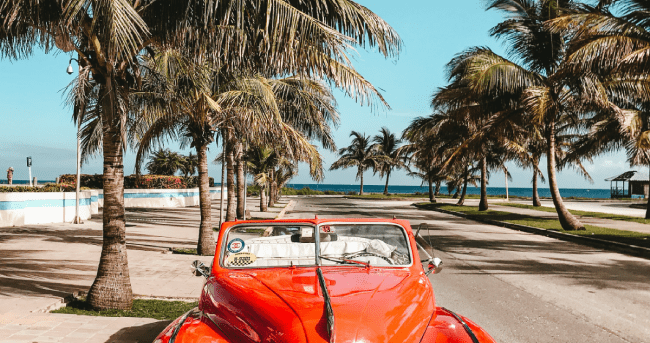 What path should I follow to access iVisa.com's services?
Fill out this online application form with your essential data.
Upload the demanded documents to process your eVisa.
Decide your most liked processing speed alternative.
Choose your online payment method: PayPal, debit, or credit card
Send your application.
Wait until you receive your eVisa in your email, depending on your chosen processing Speed.
Print your eVisa and get ready to hang out in Cuba.
Is it convenient to apply for my eVisa in advance?
Yes, it is. By applying in advance for your eVisa, you gain more time to focus on your regular life stuff and to fix any errors that can happen while filling out and uploading your information.
Start your eVisa application now
Frequently Asked Questions
What is the validity of the Cuba visa for the citizens of Colombia?
The validity of the Cuba eVisa is up to 30 days. In case, you want to stay more, you can extend your time to 30 more days. This will grant you a sum of 60 days in Cuba.
What is the maximum length of time I can stay inside the country?
The Cuba visa for the citizens of Colombia permits you to stay the entire 30 days of the eVisa valid period. Consider, this eVisa only allows one entry.
Get started to access your eVisa
What backup documentation is mandatory to procure my eVisa?
The backup documentation to process your Cuba visa for the citizens of Colombia is:
A digital photocopy of your passport
A personal email address
Your preferred online payment method: Paypal, debit, or credit card
How much are the charges to procure my eVisa?
Our rates differ taking into account the processing speed of your document:
Standard Processing Speed - Pay our most affordable fee to get your eVisa at a standard speed.
Rush Processing Speed - Pay a bit more to acquire your visa faster.
Super Rush Processing Speed - Pay our highest fare to receive your visa at our most rapid speed possible.
Start completing our online form
Where can I reach iVisa.com in case I have questions?
If you have questions or concerns about how to get the Cuba visa for the citizens of Colombia, you can talk to our Customer Support Representatives. They will assist you any moment since they are available for you all day long: 24/7
Is it safe to trust iVisa.com's services?
Yes, indeed. We have several years working in this industry, serving thousands of clients who have acquired all their travel documents with us. Read their impression of our work here
iVisa.com Recommends
Havana is a fascinating place that you fall in love with as soon as the plane lands at the airport. It is the largest city in Cuba, its capital, and its economic-cultural nucleus. In Havana, culture is condensed and amplified. It is the most populated city in the country. Here, you can find the main universities and government buildings. It is a good place to soak up Cuban atmosphere, its warmth, its people, its dance, its gastronomy, and its music. There are many cultural options, many things to do and see in Havana, and many places to go out to have a few dances and a few drinks.
One of the first things to do and see in Havana, as soon as you arrive, is to visit the Malecón for a walk. The Malecón measures 8 kilometers that go from Old Havana to the beginning of Miramar. One of the most visited sections and routes is the one that covers Old Havana since from there you can enjoy good views of the Castillo del Morro.
Finally, enjoy strolling through Old Havana. It is one of those mandatory things to do in Havana. Stroll through Obispo Street, Oficios Street, O'Reilly Street, or Mercaderes Street, the main arteries of Old Havana. Enjoy restored buildings of colonial and baroque architecture, mixed with neoclassicism, Art Deco and Art Nouveau. Sit down to have a rich and thick coffee in one of the bars in the Plaza Vieja, the liveliest in the area, with live music in the afternoons in some of them. Admire the Convent of San Francisco de Asís and walk through the Plaza de Armas, one of the largest.