Here we discuss how citizens of France can enter Cuba during Coronavirus. Citizens of France can enter Cuba with the proper travel documents. You need to fill a health declaration form before arrival. You should also take a PCR COVID-19 test and must have a negative result to travel, you should also have medical insurance to cover all the medical expenses while in Cuba.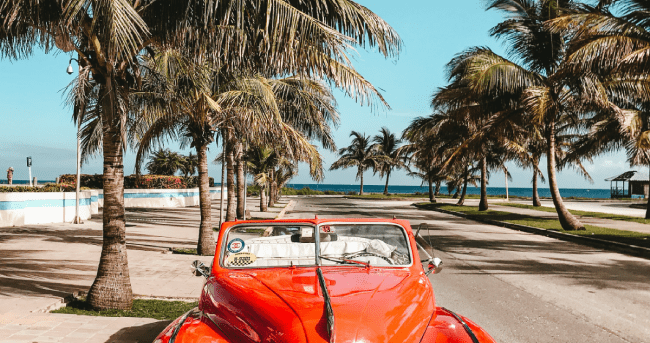 It is very easy to get a Cuban health declaration with iVisa.com. It has a user-friendly application process, and it just takes a few minutes to fill the application. You just need to fill the electronic form with your personal health and travel details. There is no need to wait until the last minute to get your health declaration, you can apply for it in advance and iVisa.com will process your application at the right time. iVisa.com will help you get your health declaration in time. Continue reading this article to know more about health declaration and how citizens of France can enter Cuba during Coronavirus.
Apply for the Cuban Health Declaration with iVisa.com
HOW CAN I GET A HEALTH DECLARATION WITH IVISA.COM?
Visit the application page.
You fill out some basic information about yourself and your trip.
Select a processing speed.
Our experts review your application and let you know if there are any problems.
Receive your travel document via email.
Print or display your travel document at the airport in Cuba.
Set the application process in motion as early as possible to save time and to rectify common errors. Apply in advance with iVisa.com and learn how citizens of France can enter Cuba during Coronavirus. Our team of experts will review and handle your order in time.
Frequently asked questions
DO CITIZENS OF FRANCE REQUIRE A VISA TO ENTER CUBA?
Citizens of France require a visa to enter Cuba. iVisa.com can assist you in processing your application. If you are not sure about the travel requirements, use iVisa.com's Visa Checker tool to see whether you need a visa to enter your destination and see how citizens of France can enter Cuba during Coronavirus.
WHAT IS A CUBAN HEALTH DECLARATION CARD?
The Cuba Health Declaration Card is a travel requirement that applies to all travelers who wish to enter Cuba. It is part of the additional health measures taken because of the coronavirus pandemic and aims to prevent outbreaks within the country's borders. It will not replace other documents you may need to travel to Cuba, such as your visa, passport, or any other travel authorization. Apply with iVisa.com and learn how citizens of France can enter Cuba during Coronavirus.
WHAT ARE THE ITEMS REQUIRED TO APPLY WITH IVISA.COM?
Fill the online application with your personal information and details of your trip to Cuba. You must have the following document:
A valid passport, to get basic contact details.
Your current email address, to get the travel document via email.
A valid payment method, to pay the application fee. Visit iVisa.com for more information on how citizens of France can enter Cuba during Coronavirus.
WHAT ARE THE PROCESSING OPTIONS AVAILABLE WITH IVISA.COM?
iVisa.com offers three processing options to process your Cuban health declaration card.
Standard Processing Time: it is the cheapest option available with iVisa.com and it processes your application at a standard time.
Rush Processing Time: when the cost increases, the processing time taken will be less. This option processes your application faster than the standard option.
Super Rush Processing Time: if you are in a hurry then you can choose this option, it processes your application within a few minutes and it is the most expensive option available with iVisa.com.
WHAT ARE THE STEPS IN APPLYING FOR HEALTH DECLARATION WITH IVISA.COM?
First: Fill out the application and choose a processing option as per your need.
Second: Before paying the application fee, you should review the information, and then you can pay using your credit/debit card or PayPal account.
Third: Upload all the required documents.
When your health declaration is ready, it will be sent to you via the email address you provided. You can submit this while traveling. If you have any queries, contact our customer support team. They are available 24/7.
WHY SHOULD I APPLY WITH IVISA.COM?
iVisa.com is a reliable option to process your travel documents. The application process is simple and fast. We use advanced security software to keep your information safe. See the customer reviews for more clarification.
HOW TO GET MORE DETAILS ON HOW CITIZENS OF FRANCE CAN ENTER CUBA DURING CORONAVIRUS?
If you have any unresolved issues, contact our customer service agents. They are available 24/7 to help you. If you need further information on how citizens of France can enter Cuba during Coronavirus, visit iVisa.com's webpage. You can also contact us via email at [email protected]
iVisa.com recommends
Cuba may be a small island country, but there is a lot to explore. Here are some suggestions to check out while in Cuba. The fort overlooks Plaza de Armas, the birthplace and heart of Old Havana. Step into the cool colonial elegance of the Palace of the Captain General, once the home of governors, today the home of the Museum of the City of Havana. Browse the vintage books and posters in Plaza de Armas, then take the short walk to Plaza de la Catedral where fortunes are told and salsa spills from beneath the arches.
Made from blocks of coral cut from the ocean floor, The Cathedral of Saint Christopher is a Cuban Baroque masterpiece that has been called music set in stone. For 100 years, it was also the resting place of Columbus, who claimed these fertile lands for Spain in 1492. Another of the Old Town's squares is Plaza de San Francisco, which has changed little since the days when the crews of passing galleons filled their barrels at the Fountain of the Lions. A more recent addition to the square is 'La Conversación', a statue that reminds us of the need for dialogue in contemporary society. Cubans, however, need little reminding of the importance of such simple pleasures. Experience for yourself the beauty of Cuba.