Although the situation is still complicated in some parts of the world, there is excitement in knowing that Cyprus is reopening their borders. An ideal destination to enjoy during the summer by relaxing around their islands and its beaches.
It's even enjoyable in winter because its weather stays warm while other European countries get below zero temperatures. Now that travels are heading towards a more normal situation you can plan your trip to the perfect Mediterranean weather all year round in Cyprus.
Though we'd love to say that everyone is invited to the Cyprus party, there are still some limitations before the complete normality and fluency of tourists is reached. Not all nationalities from around the world have a green light to visit Cyprus, but they can show some documents to prove their current situation regarding Covid-19. Additionally, the government has determined that each tourist must apply for a Cyprus Flight Pass that serves as a Health Declaration Form before landing.
In this article are the most insightful FAQs you need to know about the Cyprus Flight Pass and which countries are allowed to enter the country. Additionally, we have included the application process details, and how iVisa.com can help.
Note: Since April 18th, 2022, the Cyprus Flight Pass is no longer necessary to enter the country.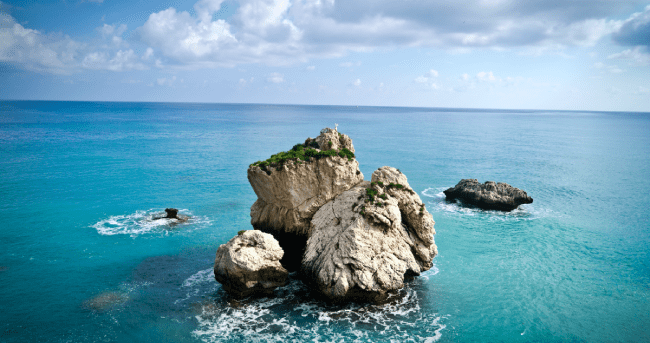 FREQUENTLY ASKED QUESTIONS
Do I need a COVID vaccine or vaccination certificate to enter Cyprus?
Yes, Cyprus has been taking steps to restore travel within its borders. Travelers need to display their COVID-19 vaccination certificate.
Travelers aged 18 and over should have received the booster dose if a period of 9 months has elapsed since their last shot.
Accepted vaccines are Janssen, AstraZeneca, Pfizer, Moderna, Sputnik V, Sinopharm, Sinovac, Covaxin, CovaVax, Sputnik Light, and Novavax.
Do I need to take a COVID test before traveling to Cyprus?
COVID test prior to arrival: PCR within 72 hours or antigen within 24 hours
COVID test exemptions: Children under 12 and fully vaccinated travelers.
Do I need to quarantine when I arrive in Cyprus?
Quarantine requirements: There are no quarantine requirements.
What is the Cyprus Flight Pass?
While the world is still living through a pandemic, some countries such as Cyprus, are reopening borders. To do so the Republic of Cyprus government is requesting that all tourists register and apply for Cyprus Flight Pass.
It's a digital form that will work as an "entry pass" to Cyprus, and it will ensure that your information meets the local Health authorities requirements. You will have to request this document at least 24 hours before your flight departs.
Which European countries can visit Cyprus during Covid-19?
You can visit Cyprus if you are flying from any of the following European Countries. Based on the category definition of these countries, you must only need to present your Cyprus Flight Pass. You might also need to have a Laboratory Test Certificate that reflects your negative results against Covid-19.
Currently, 34 out of the 44 European countries are allowed to be departing countries towards Cyprus. Category A hold the countries considered the low-risk, Category B are low risk but higher than A, and Category C countries show a higher risk compared to the previous ones.
Category A: Austria, Germany, Denmark, Estonia, Iceland, Ireland, Latvia, Lithuania, Lichtenstein, Hungary, Norway, Slovakia, Slovenia, Switzerland, and Finland
Category B: Belgium, France, Italy, Croatia, Netherlands, Czech Republic, Greece, Poland, Portugal, Vatican City, United Kingdom, San Marino, Monaco, Andorra
Category C: Algeria, Bulgaria, Sweden, Luxembourg, Romania, Spain, Malta, Serbia, and Montenegro
Which non-European countries are allowed to enter Cyprus during Coronavirus?
All countries with permission to enter Cyprus have been categorized. The ones that are not part of the European Union are also required applying for the Cyprus Flight Pass.
Category A: Canada, New Zealand, and South Korea
Category B: Georgia, Uruguay, Australia, China, Japan, Rwanda, Thailand, and Tunisia
Category C: Morocco
Category A countries only need to present their Cyprus Flight Pass, while the other countries must have a test certificate done 72 hours before departing and show the negative results for Covid-19. Category B and C passengers should also keep in mind that they may be asked to take a Covid-19 test at the airport, and/or go into self-isolation for 14 days.
Which documents do I need for the application process?
To apply for a Cyprus Flight Pass you will only need your passport to include your personal information on the application form.
Additionally, as part of the questionnaire you will need to provide information about:
Flight details
Purpose for travel
Where you will be staying once in Cyprus
Emergency contact details while staying in Cyprus
Do I need a Cyprus Flight Pass if I'm in Category A?
Whichever country you are coming from, if it is part of the Category A list, you will only be required to present a Cyprus Flight Pass. You must apply for the Cyprus Flight Pass at least 24 hours before departing.
All travelers that arrive from Category A countries are not required to present a Covid-19 laboratory test certificate, nor do they have to go into self-isolation.
What is the difference between a country in category B or C?
Every foreigner traveling to Cyprus from a Category A, B, or C country must present their Cyprus Flight Pass before boarding your flight.
Additionally, both Category B and C countries' passengers follow the same rule that they must have a Laboratory Test Certificate showing negative results for Covid-19 and it must have been done no more than 72 hours before departing.
If you are a Cypriot citizen and reside in the Republic, you are allowed to take the molecular test upon arrival. As for Category C countries visitors, you may be required to take a molecular laboratory test if your flight is randomly selected. You must also remain in self-isolation for 14 days.
In summary, Category B needs a Cyprus Flight Pass and a Negative COVID Test Certificate.
While Category C must present the Cyprus Flight Pass, Negative COVID results, maybe a random molecular test, and need to quarantine for 14 days.
How is the Cyprus Flight Pass application?
For your Cyprus Flight Pass application you must first fill out the following details:
Personal Information
Flight specifications
Make Legal Declarations; these are related to your stay in previous countries and accepting to take a Covid-19 test if the country you are flying one requires one.
Provide evidence of a Covid-19 test if requested while applying.
Then, you must select how fast you want your application process to go and make an online payment.
Once done, the last step is to submit and wait for the results to arrive in your inbox.
How much does the Cyprus Flight Pass cost?
The main cost of the Cyprus Flight Pass depends on how fast you want your application form to be delivered. You must also consider that there might be an additional fee if you are part of Category B or C and will want to take the molecular Covid-19 test once in Cyprus.
On how fast can my application be delivered and for you to get the results back, these are your options:
Standard process time: application results within

24 hours

.
Rush process time: get your results in about

8 hours

.
Super rush process time: be Flight Pass ready in no more than

4 hours

.
Is it safe to pay for the Cyprus Flight Pass on the iVisa.com website?
iVisa.com knows how crucial your personal information is, that is why the platform and databases work with the most dependable security system. This way, your information is protected from the moment you type it in on your Cyprus Flight Pass application form, up to payment. It is then stored on the iVisa.com databases, and safe from any digital threat.
You can review what some customers have commented about our services here.
I still have questions about the Cyprus Flight Pass, who can I ask?
We have put together the most relevant questions we consider to answer your doubts about the Cyprus Flight Pass, but understand there might still be unsolved topics. Our team is ready to help you answer those questions. Please send us an email with your doubts to assist, or head over to the iVisa.com Website to discover more information about the Cyprus document.
Let us get you on your way! Start your application here.