When arriving in Cyprus, you can travel through time by seeing its historical monuments or visit Turkey and Greece through the local cuisine. It hasn't been very easy to enjoy these activities due to Covid-19, but Cyprus is now reopening borders.
This is not a simple task, but it will allow future travelers to enter Cyprus by following the established rules. After such an extended lockdown, foreigners are more than willing to go through some declaration forms just to spend some days in the magical beaches of Cyprus. Their spacious open-air tourist attractions are perfect for keeping the social distancing recommendations easily.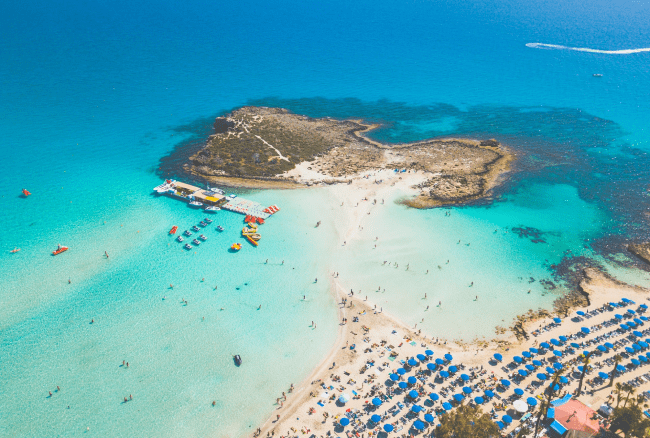 Countries that are allowed to visit the Republic of Cyprus are currently categorized based on their epidemiological situation. These categories go from a simple presentation of your Health Declaration to a more radical request of going into self-isolation.
It means that you might only need to apply for a Cyprus Flight Pass and present it before boarding, or will have to have your COVID test results on hand as well.
What else might have changed with the pandemic? Every visitor must fly with a travel insurance that covers COVID; there will be no exceptions about this aspect.
In the lines below, you can read some FAQs related to the Cyprus rules for travel during Covid-19, its online application process, and how iVisa.com can provide guidance.
FREQUENTLY ASKED QUESTIONS
Why do I need a Cyprus Flight Pass?
Although the situation has improved, the COVID-19 pandemic has not disappeared, and countries opening like Cyprus need to establish some border regulations for incoming foreigners. The most crucial requirement for citizens coming from other countries will be to apply for the Cyprus Flight Pass.
This document will serve as a filter about the incoming travelers and confirm that they are not holders of the COVID-19. Additionally to the Flight Pass, you will need to check which Category the country you are coming from is located. Depending on the category it's in you may need to present a Laboratory Certificate that ensures you are negative to COVID-19.
How can I know if I can visit Cyprus?
Currently, almost every European country is able to visit Cyprus but with some limitations. And there are also other states which are not part of the European continent that have the flexibility to enter Cyprus. To do so, they will all need to request a Cyprus Flight Pass.
Based on the following categories in which your country of travel departure is located, you might need to take a Laboratory Test Certificate that proves your negative COVID-19 results.
Category A: Austria, Germany, Denmark, Estonia, Ireland, Latvia, Lithuania, Malta, Hungary, Slovakia, Slovenia, Finland, Switzerland, Iceland, Lichtenstein, Norway, Canada, New Zealand, South Korea
Category B: Belgium, France, Spain, Italy, Croatia, Netherlands, Czech Republic, Greece, Poland, Portugal, Andorra, Monaco, Vatican City, San Marino, United Kingdom, Georgia, Uruguay, Australia, China, Japan, Rwanda, Thailand, Tunisia
Category C: Portugal, Sweden, United Kingdom, Serbia, Algeria, Bulgaria, Sweden, Luxembourg, Romania, Spain, Malta, Morocco, Montenegro
Which citizenships need to apply for a Cyprus Flight Pass?
Every traveler going to Cyprus and departing or making connections through any of the countries mentioned above can enter the Republic of Cyprus. They must all apply and present the Cyprus Flight Pass before boarding the flight.
The factor that could change is based on which Category the country you are boarding at is in. In addition to the Cyprus document, you might need to show proof of a negative result for COVID-19, or be ready to go into self-isolation for 14 days.
Which documents do I need for the application process?
To fill out your Cyprus Flight Pass application form you do not need any particular document but need to provide information regarding your trip to Cyprus.
These points of data in question include:
Information about your flight
Purpose of travel to Cyprus
Personal details found on your passport, and contact details such as phone number and email address
Name and address of the location where you will stay
Your emergency contact during the trip
Do I need to complete a quarantine when I arrive in Cyprus?
Yes! All travelers are obliged to complete a quarantine for a period of 14 days on arrival to the country.
However, if you hold a Covid vaccine certificate and are arriving from the following countries, you do not need to complete a quarantine nor to present negative PCR test results on arrival:
EU member states (including Norway and Iceland), Armenia, Bahrain, Belarus, Canada, Egypt, Georgia, Israel, Jordan, Kuwait, Lebanon, Qatar, Russia, Saudi Arabia, Serbia, Switzerland, Ukraine, UAE, UK and USA.
Which is the application process for Cyprus Flight Pass?
Most travelers can complete this application process virtually, but in case the system is down, you will need to print out the documents and present them before boarding as proof that you applied for it.
The Cyprus Flight Pass application starts with filling out a form that requests personal information of the passenger and contact information such as email to deliver the results.
The second step is to provide info about your flight and any additional the system feels is necessary regarding your trip to Cyprus.
Your third step is to read and answer the legal declarations, which are mostly to confirm that you accept the possibility of taking a COVID-19 test upon arrival. Finally, you must make an online payment and submit the form.
Once finished, you can only wait for the results to reach your email inbox.
What does the system mean by Legal Declarations?
Part of the filling out the Cyprus Flight Pass application form is to include you give consent to any activity regarding COVID-19 screening. This means you might have to show your Certificate of negative COVID-19 results, or you might be subject to a random virus test at the airport at the moment of arrival.
You might even be in Category C, which means you must go through self-isolation for 14 days and sign on the legal declarations that you are aware of this to accept the conditions.
How quickly can I get the Cyprus Flight Pass?
Once you submit the Cyprus Flight Pass application form, your information is checked on the digital systems. You will then receive the final results on your email inbox and will have to present this document before departure.
It's recommended that you request your Flight Pass no less than 24 hours before your flight. But, if you still wish to ensure your documents arrive on time, you can make use of the fast processing times iVisa.com offers.
Standard processing time: get your pass ready in

24 hours

.
Rush processing time: be ready for your flight with the Cyprus Flight Pass in less than

4 hours

.
Super rush processing time: your flight document will be delivered in about

30 minutes

.
Can a Cyprus Flight Pass be denied?
A traveler Cyprus Flight Pass application may be denied due to false information, or false health declaration. In this case, the passenger is automatically sanctioned.
Are my details safe on the iVisa.com website?
At iVisa.com we know how important your data is and how untrustworthy the internet can be. To protect your information from digital threats and phishing, our platform and databases use the most secure software.
You may confirm our statement by seeing some of our client reviews about our services and platform here.
Where can I find additional information about Cyprus Flight Pass?
To find more information on the Cyprus Flight Pass we suggest you visit the iVisa.com website. You can also write us an email at help@ivisa.com or chat message with your questions to help resolve them.
Welcome aboard! Start your trip with iVisa.com here.