After suffering a good amount of time under lockdown due to Coronavirus it's no surprise that citizens of Switzerland are looking for destinations outside of the home where they can relax a bit. Cyprus, the third-largest island in the Mediterranean Sea, can be their ideal spot.
Yielding clear water, wide sandy beaches, and a lot of space between travelers can be the way to keep social distancing while relaxing under the warm weather. An even better perk is knowing that Cyprus is one of the safest countries in Europe, so you can move around the country with no fear of being robbed, even while at the beach!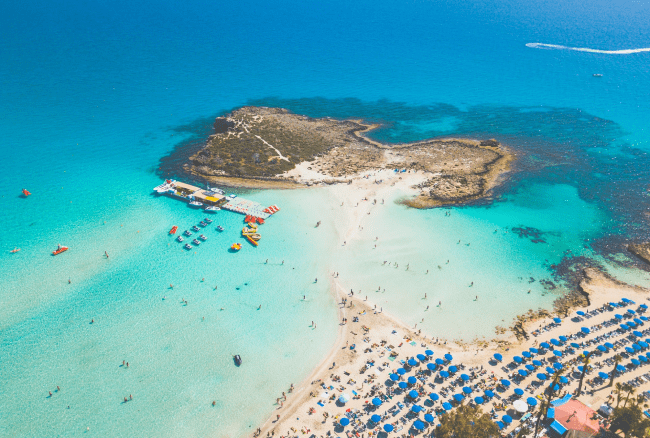 We simply cannot forget their cuisine. From their traditional mezedes to their spiced loukaniko sausages you will never run out of delicious options.
All of this can only be done by the citizens of Switzerland under one condition. That is to request and present a Cyprus Flight Pass before departing. The file will serve as a Health Declaration that you have not been in contact or are not a carrier of the COVID-19 virus.
Below, are some of the most recent and essential FAQs about the Cyprus Flight Pass. They work as a guide to understand the purpose, its process, and how you can apply for the Flight Pass with iVisa.com.
FREQUENTLY ASKED QUESTIONS
Do I need a COVID vaccine or vaccination certificate to enter Cyprus?
No, you don't. COVID-19 vaccination passports or certificates are not mandatory to enter Cyprus.
Now if you are a Covid vaccine certificate holder, you won't need to present a negative PCR test nor to follow a quarantine. However, you need to hold a valid certificate of vaccination issued by the following states: EU Member States, Iceland, Liechtenstein, Norway, Switzerland, Israel, United Kingdom, Russia, United Arab Emirates, Saudi Arabia, Ukraine, Jordan, Lebanon, Egypt, Belarus, Serbia, Qatar, Bahrein, United States of America, Armenia, Georgia, Canada Kuwait, and China.
Accepted vaccines are Pfizer/BioNTech, AstraZeneca, Moderna, Janssen, Sputnik V, Sinopharm, or Sinovac.
Since information may change quickly, we advise you to follow up on the latest Cyprus travel updates and/or contact your local embassy.
What is the use of the Cyprus Flight Pass?
Cyprus has recently reopened their borders for tourism and incoming visitors in general. To verify that the percentage of infections stays low, the Government created what can be seen as a Health Declaration. This is the Cyprus Flight Pass, and all travelers must apply for one before entering Cyprus.
The Flight Pass will help to pre-screen the visitors and be able to keep locals and visitors away from potential exposure to the COVID-19 virus.
Must all the citizens of Switzerland request a Cyprus Flight Pass during Coronavirus?
If citizens of Switzerland want to enter Cyprus during Coronavirus they are obligated to have a Cyprus Flight Pass before departing. Without this document, you can't disembark in Cyprus.
In case you aren't asked for the document at the moment of departure, you will need to show the Flight Pass when arriving in Cyprus. If you don't have one, you will have to choose between being sent back to the country from where you boarded, or pay a significant fine and pay for the COVID-19 test onsite.
Does everyone need to take the COVID-19 test at the Airport?
All travelers entering Cyprus from any of the countries authorized to travel must present their Cyprus Flight Pass. Some of these passengers might even need to show a COVID-19 Test Certificate if they are flying from a Category B or C country.
Although there is no specific rule about the test at the airport, the Health Department can randomly select a flight and have all the passengers take a COVID-19 test upon arrival.
How will citizens of Switzerland enter Cyprus during Coronavirus?
Because Switzerland is among the countries with the lowest risk of spreading the COVID-19 virus, it has been listed as Category A.
By being in Category A, the citizens of Switzerland that want to enter Cyprus during Coronavirus are only required to apply and present a Cyprus Flight Pass. This document will provide enough proof for the local health department that they haven't been in contact with the virus.
You must request the Flight Pass at least 24 hours before boarding your flight.
Do I need to complete a quarantine when I arrive in Cyprus?
That depends! Travelers arriving to Cyprus from Green and Orange Countries do NOT need to quarantine.
However, if you hold a COVID vaccine certificate and are arriving from the following countries, you do not need to complete a quarantine nor to present negative PCR test results on arrival: EU member states (including Norway and Iceland), Armenia, Bahrain, Belarus, Canada, Egypt, Georgia, Israel, Jordan, Kuwait, Lebanon, Qatar, Russia, Saudi Arabia, Serbia, Switzerland, Ukraine, UAE, UK and USA.
Can I speed up the Cyprus Flight Pass results?
Although the Cyprus Flight Pass is straightforward and requires very few details, its process after submitting can be sped up if desired.
To do so, you must apply for the Cyprus Flight Pass through iVisa.com, and chose one of the three processing times:
Standard process speed to obtain your Flight Pass in 24 hours.
Rush process speed to get a faster service and receive your documents in about 4 hours.
Super rush process speed helps travelers get their documents in 30 minutes.
Is the Cyprus Flight Pass application process easy for citizens of Switzerland?
Yes, all citizens of Switzerland that want to enter Cyprus only need to present their Cyprus Flight Pass when arriving, which makes their process more convenient than other countries.
To submit your application form, you must follow these four simple phases:
1.Start the process by filling out your application with your data and picking the process speed of your application.
2.The second phase has questions regarding your trip in general: flight, accommodation, emergency contact.
3.Part of the third phase is to go over the legal statements in relation to your exposure to the COVID-19 virus.
4.Finally, you must make the fee payment and click on submit.
How reliable is the iVisa.com platform with my information?
iVisa.com keeps your personal details on their website and databases safe by using the best security systems. These constant updates verify that your information is safely stored and out of reach from virtual threats. Once your data is used for the Cyprus Flight Pass application it is immediately stored on the database.
You can view some comments past customers have provided regarding our services here.
Is there a website where I can find more info on the Cyprus Flight Pass?
For more information about the Cyprus Flight Pass, you can visit the iVisa.com website and find an entire compilation of data. You can also email us with your questions or call +1 (786) 460-2707 so one of iVisa.com's representatives can help you.