The Czech Republic is an amazing country in Europe. One of the best places to visit is Kroměříž. Go to the Flower Garden and enjoy a peaceful stroll in one of the best-preserved Baroque gardens in the world. Also, visit the Lednice-Valtice Cultural Landscape, this magical site has palaces, gardens, ponds, and fountains. Start planning your trip to the Czech Republic and think about the travel documents you will need.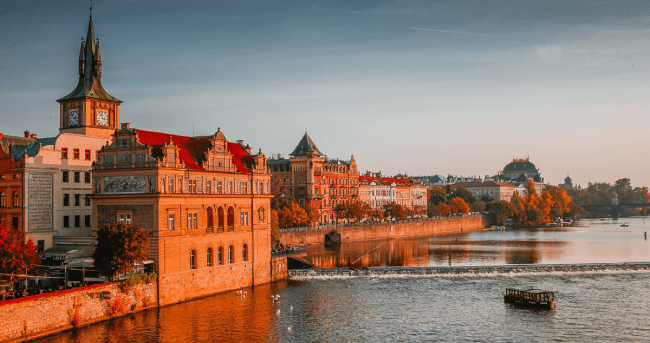 The European Union is establishing a new system to better control incoming visitors. This process is called ETIAS. Non-EU visitors, like Albanians, will have to comply with this new rule and obtain an ETIAS before traveling.
But you don't have to worry because iVisa.com is already working on the ETIAS process. iVisa.com offers a fast, simple, and 100% reliable service.
Continue reading about Czech ETIAS.
Frequently Asked Questions (FAQs)
What is an ETIAS?
ETIAS is the European Travel Information and Authorization System. The ETIAS authorization document will be required of countries that are visa-free to the Schengen zone. Albania is exempt from the Schengen visa, therefore, citizens of Albania will need an ETIAS.
The main reason for the ETIAS implementation is safety. High crime rates and illegal immigration are current issues the EU is trying to handle. The ETIAS will hopefully help collect information to stop these illicit activities.
It's time to travel to Europe! Explore more of the ETIAS application.
Is ETIAS a visa?
No, ETIAS is not a visa. The ETIAS is not comparable to a visa process in which interviews at the embassy and tons of paperwork are required. The ETIAS is much easier with only an online form to complete. iVisa.com makes it even easier! You can read more about the application here.
Travelers who don't require a visa to the Schengen area need an ETIAS. This is the case of Albanians who require an ETIAS if they want to visit the Czech Republic.
How many countries can I visit with ETIAS?
The ETIAS gives you access to the 26 countries in the Schengen zone which includes the Czech Republic. iVisa.com supports you with the iVisa.com Visa Checker so you can explore which countries are Schengen.
Any doubts about this? Get in touch with the support team.
How long is the Czech ETIAS valid for?
The Czech ETIAS can be used for 3 years from the issued date. However, you can only stay a maximum of 90 days in a 180-day period in the Schengen zone.
Learn more about ETIAS and travel to the Czech Republic soon!
What info do I need for Czech ETIAS?
The online form will request details about your name, date of birth and phone number, etc. You could also be asked about criminal records, medical conditions, and previous trips to risky countries.
The next requirements are relevant too:
The a scan of your passport.
A valid email address so you can obtain the ETIAS electronically.
Payment, iVisa.com charges a minimum fee to acquire the ETIAS and you can pay using a Paypal account or a credit/debit card.
What are the waiting times?
iVisa.com knows time is important, for this reason, we give you three options according to your needs:
Standard service, the typical service with a moderate waiting period.
Rush service, iVisa.com will work faster.
Super rush service, when you need the ETIAS as soon as possible.
Not sure which one to choose? Contact customer service to give you the best advice.
What is the process for the Czech ETIAS?
First, complete the information in the electronic form. Then pick a waiting period.
Second, review your details in case you made some mistakes and correct them. Proceed to pay with a credit/debit card or a Paypal account.
Third upload the documents required, like the scan of your passport.
After these three steps, you will receive your ETIAS!
What will I receive in my email?
iVisa.com will send the ETIAS document to the email address detailed in the application, so make sure this is a valid email address. Once you obtain the ETIAS authorization document, print it or save it in an electronic device so you can show it upon arrival.
How secure is ETIAS with iVisa.com?
It is 100% secure. iVisa.com is constantly updating its system with the best security guidelines so all traveler information is carefully managed. Read through our customer reviews and confirm the satisfaction with iVisa.com services.
I have some questions, who should I contact?
Contact the support team with any inquiries you might have, the team is available 24/7. You can also write to help@ivisa.com and we will make sure to give you a prompt answer.
Apply and get your Czech ETIAS!